55$ Short deck & 5.5$ NLHE Bounty Series.
Hello Cardmates,
It's been a wild session with ups and downs, like always - true poker. I won a ticket yesterday to 55$ Short deck 6+ Hold'em Bounty Series event at Pokerstars and this was quite fun, because of the bounty! It's the first 6+ knockout event I've seen, if not the only one ever. I'd have to double check that.
The tourney itself was quite unlucky to me, I haven't been dealt any good cards for two hours and finished before ITM. It's kinda sad, especially in a short deck, not even AKo for two hours... Best I've been dealt is pocket tens and AJs which is hard to push preflop with and play even worse post flop. Anyways, I feel good about the tourney itself and happy I played it.
The 5.5$ event on the other side was way too successful at the very beginning, I was hitting quads, full houses, sets, flushes and managed to get a big stack, but after 4 breaks something happened, like someone turned the "bad beat" button on and I kept losing every hand. I stick to mega tight and agro style, when big stack in MTTs and even that didn't help. There was one hand, where I lost pocket tens to pocket queens, the board was dry, 3bet pot. I couldn't play it differently postflop. Maybe 4bet fold pre is the option to save chips, but I chose to call 3 bet.
So after this hand, I lost a few pots by kicker and the last bullet was set vs set. Deuces vs Queens. You can see it in the picture below.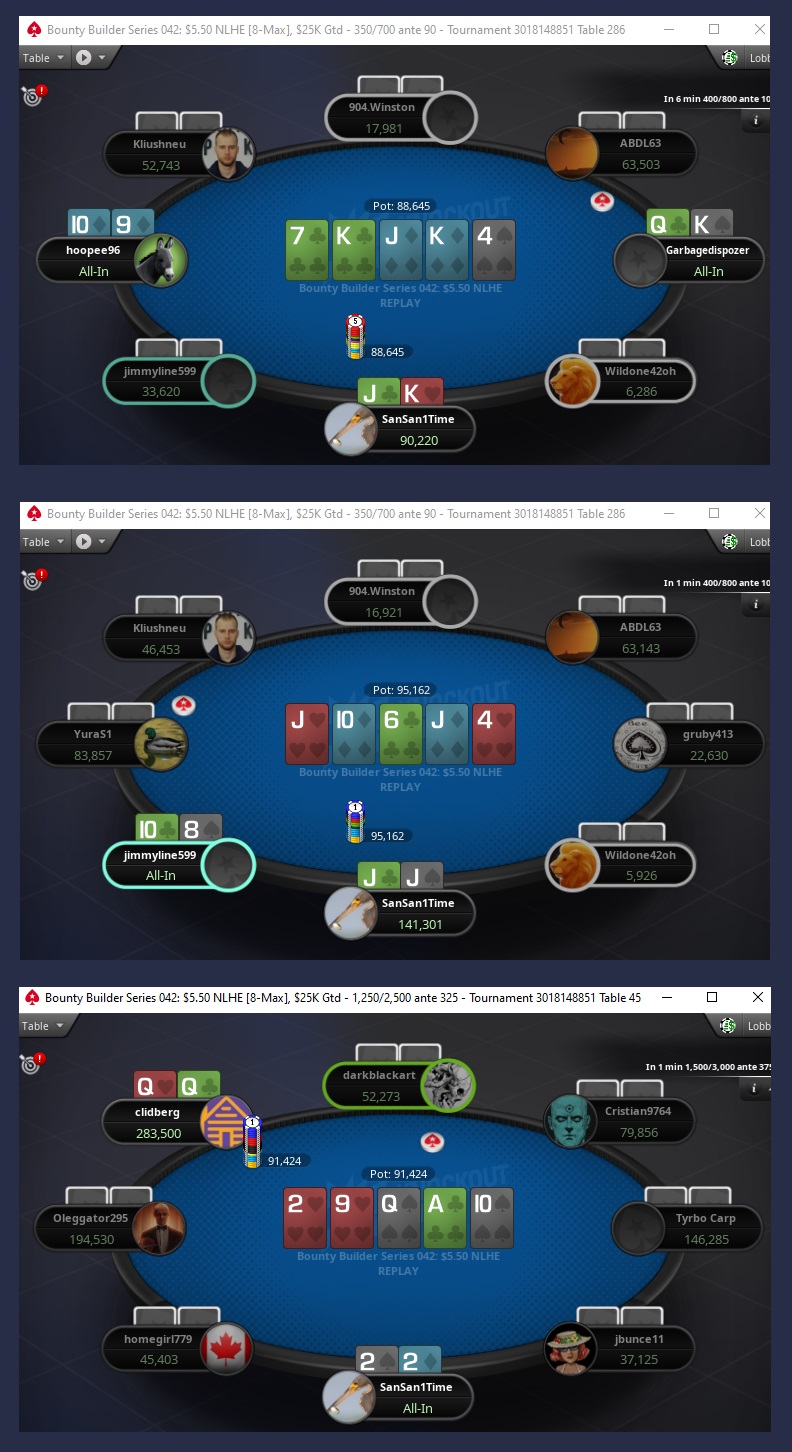 I managed to get 4$ in bounties, so only a buck down after this one.
Cheers,SanSan
Overall rating of this post: