888Caption Review

888caption is a tool designed to make life easier for the players of the 888 network rooms. It does not do anything supernatural: it does not display detailed statistics on opponents, such as PokerTracker 4 or Holdem Manager 3. It is designed for a comfortable game, because it significantly simplifies the use of the game client.
This multifunctional program is suitable for both amateurs and professionals.
An annual license costs $25. However, you will not have to pay for the software when playing at NL10 / PLO10 limits and for tournaments with a buy-in of no more than $3.
There is a monthly trial period – the opportunity to try out the full functionality of the program for free for 30 days (on request only!).
To activate it, you must first log in to the poker client, and then select "Request for Trial" in the "License" tab.

If you don't have an account yet, you have a great opportunity to create one and claim your 888 poker sign up bonus right now!

888 Caption Capabilities
Setting of automatic bet sizing; possibility to make bets in blinds.
Hotkeys – you can set hotkeys for management convenience, quick creation and notes configuration.
Odds for call and push.
SPR, bluff equity, fold equity, pot odds.
Information about a tournament in real time.
Information about a country of player's residence.
Information about player's actions on previous streets (by pointing on a player with a mouse cursor).
​Displaying of stacks in BB (it is useful when playing at different limits and also when moving to another limit: the numbers will not create psychological pressure and you will be able to focus on a game and on making positive decisions).
You can hide ads and promotions of 888 poker room.
You can cut the bottom uninformative part of the lobby:

Auto-buy-in, auto-rebuy.
"Table manager" tool will help you to customize a convenient table placement during multi-tabling.
SNG Registrator – automates the registration in tournaments due to your criteria.
Table configurations: color, font, window size, players' nicknames, buttons, pot.
System Requirements and Download
For the correct operation of the program, it is necessary that your device meets certain characteristics. The minimum requirements for installing the discussed software are relatively simple, they are listed below:
| | |
| --- | --- |
| OS | Windows 7, 8 or 10 (x86 / x64) |
| DirectX version | 9.0c or newer |
| RAM | min 2 GB |
| Video card | min 512 MB |
Instructions for Downloading Software
The first use and setup of 888caption for beginners can be quite tricky. But still, if you decide, then read our guide ahead.
So, download the installation file and follow these steps:


Step 1
In order to avoid problems with launching the program in the future, initially after installing 888poker.exe, right-click on the program icon and check the box "Running as a Admin".

Also check that you are using an English version of the client.

Step 2
Make a request for a trial, or place an order for the purchase of a utility, indicating your License ID (the number is displayed only after authorization in the game application).


Step 3
If you are working with the first version of the program, then you definitely need to enable animation in the room settings (Settings → Game Effects / Game Display → Enable animation or Options → Information during the game → Enable animation).


Step 4
Next, you should check if the time and (IMPORTANT!) time zone are set correctly on your computer. If this item is omitted, the inscription may appear when the application starts: "License server is not responding".

Program Configuration Details
Now let's start talking directly about the 888 caption program configuration itself. There are a lot of tabs in the lobby, let's go through each separately.
Tab of Betscript (Bets)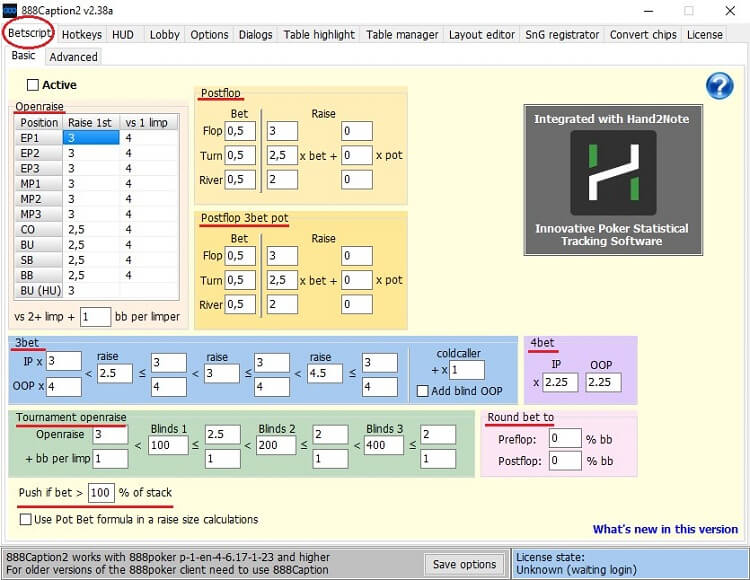 How to configure bet sizing on the preflop?
OpenRaise – bets are made on the preflop depending on a position. 1st raise – if you make an open raise. Vs 1 limp – if someone has called the blind (has made a limp).
3Bet – setting of your 3Bet stakes (the bet made after someone already made the first bet before you). IP means that you are in position against the open-raiser, OOP – you are out of the position.
4Bet – selection of 4Bet stake, which will depend directly on the size of the opponent's 3Bet. You need just to set a multiplier.
The following step – postflop bets configuration:
Postflop – setting of bets in a usual pot.
Postflop 3Bet pot – setting of bets in a multi-pot.
The "Round bet to" item indicates how the bets will be rounded up.
Push if bet > % of stack – choose when to go all-in depending on the ratio of the opponent's bet size to the size of your stack.
Hotkeys Tab
You can set up convenient game management at the table in order to take the necessary actions as fast as possible.
Every action can be implemented by clicking on a button. You can choose which keys will implement certain actions. At multi-tabling, the hotkeys will work for the table where a mouse cursor is located.
You can set up HotKeys in such a way that one key will implement several actions (max - 4) depending on which part of the screen the mouse cursor will be at while clicking on keys: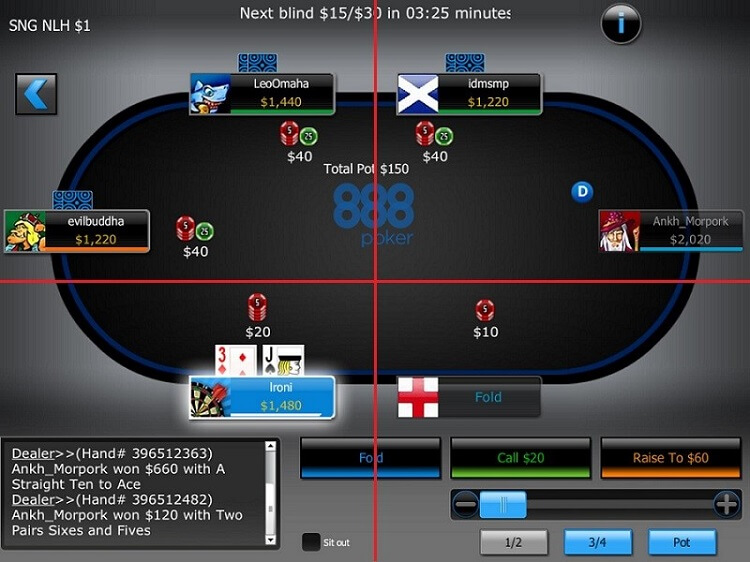 If you select all 4 zones, the button will work regardless of the position of the mouse cursor.
If it is convenient for you to change the bet with the mouse wheel, then put a tick in "Mouse wheel" (Activate) and set up the bet sizing step (in BB, $ or in percentage of a pot).
The Betting hotkeys tab will allow you to set up the bet sizes on certain formulas in details: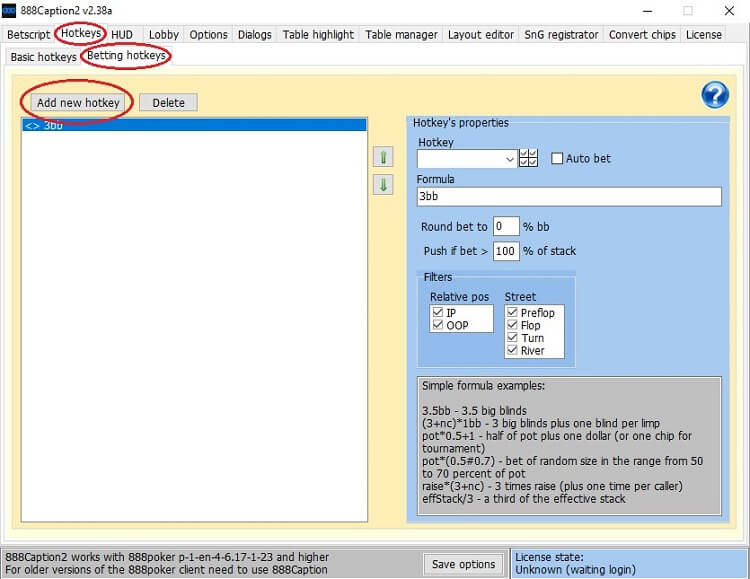 HUD 888 Caption Configuration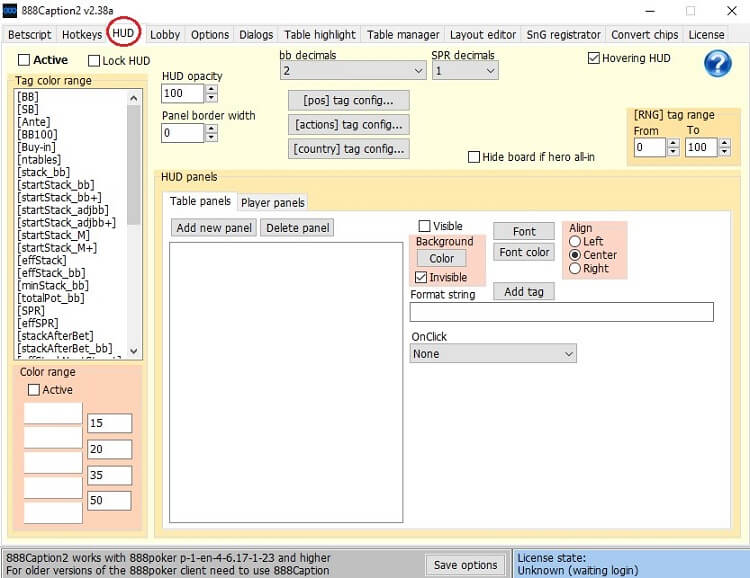 Click on Add new panel, then on Add tag; select stats for displaying in HUD.
Click on Font and Font color buttons to set up the font.
Background – color of background. Click on Invisible to make it transparent.
Lobby
Hide Advertisement – to hide advertising, promotions, offers of the poker-room.
Do not hide the lobby after table opening - to prevent minimizing of the tournament lobby when the table opens.
Sizable lobby - adjusting the size of the poker-room window.
Global HotKeys - fast opening of SNAP-poker, cash-tables and registration in a tournament.
Options
Minimize to tray and Start minimized – to minimize the program with icon in the bottom right corner.
Attach delay - enable if you want to start the program after opening the room.
Tooltips – configuration of displaying the tooltips.
Table Cropping
New table size & position - adjusting the size and location of tables (for example, if you want to tile your tables or place them otherwise).
Auto click timebank - automatic activation of timebank.
Remote topmost style - excludes the possibility of glitch appearing when 888poker tables hang over all the windows (it is very important when you play in several rooms simultaneously).
Sit out next bb if stack is more than... - is useful when playing according to the middle stack strategy (MSS). When the stack reaches a certain value, you will leave the table automatically.
Moving tables holding Left+Right mouse buttons - if you have cropped a top frame of the tables, you can move the windows by pressing left and right mouse buttons simultaneously.
Dialogs
Put ticks above the messages that disturb you when displaying.
«Auto accept all one-button dialogs» – when you activate this option, all pop-up windows, which have only one button (ok, agree, familiarized, etc.), will be closed automatically by clicking on this single button.
Buy-in – set up the buy-in by default (in BB).
Auto rebuy (cash) – set up the size of a stack and amount for auto rebuy.
Table Highlight
Set up the table light according to the parameters. In order to activate the highlight, put the tick next to Activate.
In "Rule", select the conditions when the table will be highlighted with this color or the other.
The highlight will work with a certain size of stack, pot, time bank, etc.
You can find the rules and set a priority of the highlight on the left. For example, you should place Hero Action (your action) or TimeBank on the top in order to see them first.
Table Manager (Management of the Tables)
Table Manager of 888 Caption will be useful during multi-tabling.
You can either leave the default settings or select one of the following variations manually:
Stack – an arrangement of tables will be stacked.
3×2 - usual variant which is in the client.
3×2 with activation - the size of the table increases when you point it with a mouse cursor.
Mini tile with activation - tables will be even smaller, but they will also increase when pointing.
Put the tick next to "Table stays in active slop until end of hand" for remaining the table active (big) until you make a move.
Convert Chips
At this tab, you can configure displaying of stacks in the blinds for cash-games or as M number for tournaments, and also you can make that the color of the stack to be changed depending on its size.
In the Label item, you can select an inscription that will be shown next to the value of the stack.
In "BB decimals" you need to indicate how many symbols you want to see after the comma (2 is put by default).
888Caption Pricing
As far as pricing is concerned, those playing micro stakes can use 888Caption for free. These are cash tables up to NL10/PLO10 and tournaments worth $3 or less. If the software detects any other games, it will close automatically.
The annual license for this program costs $25 per year. With it, you are entitled to register the program just on one computer. If you are to replace the computer, then you can reset your license free of charge.
888 Caption Trial Version
It is also possible to activate a free 30-day trial if you want to test the tool before purchasing. You can use it at any limit without restrictions. However, a player needs to request the trial version to use it on all limits. To that end, launch the poker client, login to the system but don't run tables. Click on the "License" tab in the program and select "Request for Trial" to activate it.
If you make a purchase after the expiry of one month, it will be only available for free at micro-stakes.
In this video you can see this software yourself.
​
Compatible Poker Rooms
888Caption is an auxiliary tool for automating actions when playing on 888Poker and other platforms of the same network. The program is perfect for both cash and tournament players.

888poker
The following are the terms and conditions of the "£20 Bonus Package Promotion" (the "Promotion") for www.888poker.com (the "Site"). The Promotion is organized by 888 UK Limited.

This Promotion is an ongoing Promotion, currently without an end date, we will provide reasonable notice of when the Promotion is to come to an end (the "Promotion Period").
888poker may cancel, modify or suspend the promotion, and any of the bonuses or benefits offered hereunder, where required for security reasons, to comply with applicable law or regulation, due to abuse or otherwise where the promotion is not capable of being conducted as specified as a result of exceptional circumstances. Other than where necessary to prevent fraud or other similar unlawful behavior, any such modification, suspension or cancellation will not apply to you if you have already opted into the promotion, made a deposit in expectation of receipt of a bonus or other benefits offered, and/or commenced play in relation to the promotion, bonus or special offer prior to the date of the communication of the modification, suspension or cancellation.
No-one under the age of 18 may participate in the Promotion and the Promotion is only available to eligible members located in the UK.
You may be asked at any stage to provide us with a proof of age and/or identity.
You may only enter this Promotion once.
For security and verification purposes, we reserve the right to limit participation in this Promotion to: (i) one per household; (ii) one per computer terminal; or (iii) one per mobile device.
During their engagement period and for a period of 24 months thereafter, none of our officers, directors, employees, consultants or agents or any other company within our group of companies or our suppliers, vendors or white label partners are permitted to participate in the Promotion, nor is any supplier or vendor. This restriction also applies to relatives of such persons and for this purpose 'relative' means any of a spouse, partner, parent, child or sibling.
If you have a pending message on the Site's cashier regarding your recent gaming activity, we reserve the right to revoke your eligibility to participate and/or continue to participate in this promotion. In such event, any bonus and/or other benefit which you have received and/or are eligible to receive under this promotion, shall be forfeited by you.
The Promotion is a new registration offer with the Site and completely replaces any similar registration offer with the Site.
All bonuses and promotional offers, and any winnings generated through the wagering of either of the aforesaid, will be cancelled at withdrawal if any of the applicable conditions have not been met in full.
You hereby agree to these terms and conditions which govern the Promotion, along with the "User Agreement" which includes but is not limited to the "Bonus Policy".
Withdrawing funds your deposit balance (otherwise known as "Transaction Balance" in our Withdrawal Policy) is available for withdrawal at any time. General withdrawal terms apply, for further info see our Withdrawal Policy.
In order to meet the applicable wagering requirement, no real money shall be deemed to contribute (in full or in part) to the wagering requirement, unless otherwise specified by us.
Available funds will always be used before Restricted Funds (to include Money transferred) and the balance of both will be displayed in your My Account
Promotion

You may only participate in the Promotion, if you have not previously registered with the Site. If you benefit from this Promotion you will not be eligible to benefit from any other first deposit bonus or first deposit offer with the Site. If you have benefited from another first deposit offer with the Site you are not eligible to benefit from this Promotion.
You may not combine this registration offer with any other type of registration offer provided by the Site.
In order to be eligible and receive the Tournament Tickets (as defined below) granted under the Promotion, during the Promotion Period: (i) you must either download the 888poker client on PC or mobile application or click 'Instant Play' on the English non-download version of the Site; (ii) open a new user account with the Site; and (iii) verify his/her e-mail address by clicking on a link within the e-mail body or by SMS to the phone number entered within 14 days of the Site sending the email to you, otherwise the bonus offer will expire and you shall forfeit the bonus offer.".
Under the terms of this Promotion, eligible players will be entitled to receive £20 worth bonus (granted in USD at equivalent value of USD 25 in accordance with the Exchange Rate as defined in the User Agreement referenced above) that will be given as Tournament Tickets, according to the following allocation: 50 tickets of $0.1buy-in and 20 tickets of $1 buy-in.
Once claimed, Tournament Tickets will be granted in batches as follows:
First batch worth $5 (10 tickets of $0.1buy-in and 4 tickets of $1buy in) will be granted following your fulfilment of point 3 above.
Second batch worth $10 (20 tickets of $0.1buy-in and 8 tickets of $1buy in) will be granted 3 days after the bonus was claimed.
Third batch worth $10 (20 tickets of $0.1buy-in and 8 tickets of $1buy in) will be granted 7 days after the bonus was claimed.
If you don't use the Tournament Tickets granted under the Promotion within 24 hours of being credited to your account, such Tournament Tickets shall expire and you shall forfeit each of such Tournament Tickets.
Tournament Tickets
A Tournament Ticket possesses a fixed value and may only be used in tournaments that have a buy-in equal to that of the value of the Tournament Ticket. For the avoidance of doubt, Tournament Tickets may not be used as a buy-in for a tournament where the buy-in is less than the value of a Tournament Ticket.
A Tournament Ticket can't be used by a player to re-buy chips or to add chips to his/her stack during a tournament.
Tournament Tickets may not be: (i) exchanged or converted into cash; (ii) joined together to create a higher value ticket; or (iii) transferred by a player to another player.
For further terms and conditions in relation to the use of Tournament Tickets, please see our Bonus Policy.

A

Available for players from your country
FAQ
✨ Where can I download the latest version of 888Caption?
You can download 888 caption on the developer's official website or on Cardmates. All the details are collected in a special article describing the functionality and cost options.

📢 What poker software is 888 Caption compatible with?
With programs like Hand2Note and TableScan Turbo.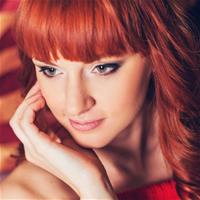 Editor, translator. Part of Cardmates team since 2015. Started playing poker and other card games in high school, played a lot with friends and relatives. While studying at the university, I explored online games on various websites.