888Caption review

​888Caption is a tool designed to facilitate the 888poker players' life.
It doesn't do anything supernatural, doesn't display detailed statistics on players, it just makes it easier to use the poker room. However, this poker tool quickly gained popularity among regulars due to its functionality and simplicity in use.
A lot of players over the world have been grinding along with 888caption and many pro grinders use it. 888Caption will help you customize the poker client according to your liking, and make the gameplay comfortable, fast, and easy.
This is specific poker software that will suit both amateurs and professionals, tournament and cash players.
To understand, whether you need the program or not, let's consider its features, configuration, and pricing.

888Caption capabilities
Setting of automatic bet sizing; possibility to make bets in blinds.
Hotkeys - you can set hotkeys for management convenience, quick creation and notes configuration.
Odds for call and push.
SPR, bluff equity, fold equity, pot odds.
Information about a tournament in real time.
Information about a country of player's residence.
Information about player's actions on previous streets (by pointing on a player with a mouse cursor):


​Displaying of stacks in BB (it is useful when playing at different limits and also when moving to another limit: the numbers will not create psychological pressure and you will be able to focus on a game and on making positive decisions).
You can hide ads and promotions of 888 poker room.
You can cut the bottom uninformative part of the lobby:

Auto-buy-in, auto-rebuy.
"Table manager" tool will help you to customize a convenient table placement during multi-tabling.
SNG Registrator - automates the registration in tournaments due to your criteria.
Table configurations: color, font, window size, players' nicknames, buttons, pot.
888caption and Hand2Note
It is recommended to use both tools together. Thus they are complementary to each other by giving you more opportunities.
It should be noted from the start that there are several versions of the application. The first one is designed for playing in all rooms of 888 network and for an old 888poker client. The second one is designed only for playing on 888poker with the latest version of the client.
888Caption configuration
Since the interface of the program is in English, it can be quite complicated to set it up for some beginners. But if you have decided to do it, then go ahead and read our instructions.
Instructions for running the program
First steps:
In order to avoid problems with starting the program in the future, click with the right mouse button on the program icon and put a tick as shown in the photo below right after installing 888poker.exe:
If you work with the first part of the program, then you must enable the animation in the settings of the room (Settings - Game Effects / Game Display - Enable animation; or Parameters / Information during the game / Enable animation).
Next, you have to check whether you have installed time and (IMPORTANT!) time zone on your computer properly. If you miss this item, the inscription "License server is not responding" may appear when starting the application.
Now let's start talking directly about the program configuration itself. There are a lot of tabs in the lobby, let's go through each separately.
Tab of Betscript (bets)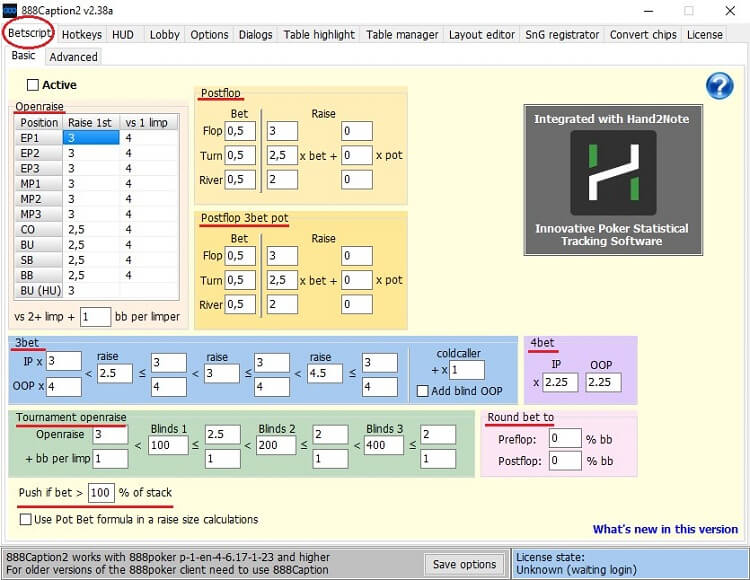 How to configure bet sizing on the preflop?
OpenRaise – bets are made on the preflop depending on a position. 1st raise – if you make an open raise. Vs 1 limp – if someone has called the blind (has made a limp).
3Bet – setting of your 3Bet stakes (the bet made after someone already made the first bet before you). IP means that you are in position against the open-raiser, OOP – you are out of the position.
4Bet – selection of 4Bet stake, which will depend directly on the size of the opponent's 3Bet. You need just to set a multiplier.
The following step – postflop bets configuration:
Postflop – setting of bets in a usual pot.
Postflop 3Bet pot – setting of bets in a multi-pot.
The "Round bet to" item indicates how the bets will be rounded up.
Push if bet > % of stack – choose when to go all-in depending on the ratio of the opponent's bet size to the size of your stack.
Hotkeys tab
You can set up convenient game management at the table in order to take the necessary actions as fast as possible.
Every action can be implemented by clicking on a button. You can choose which keys will implement certain actions. At multi-tabling, the hotkeys will work for the table where a mouse cursor is located.
You can set up HotKeys in such a way that one key will implement several actions (max - 4) depending on which part of the screen the mouse cursor will be at while clicking on keys: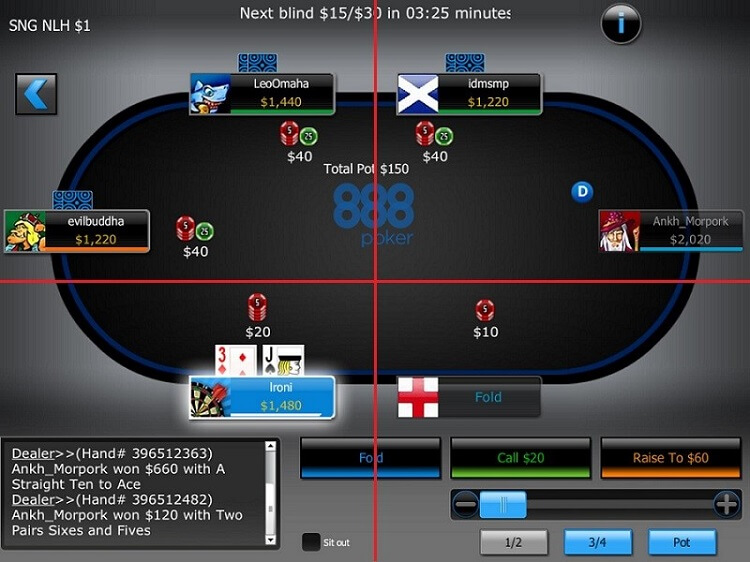 If you select all 4 zones, the button will work regardless of the position of the mouse cursor:

If it is convenient for you to change the bet with the mouse wheel, then put a tick in "Mouse wheel" (Activate) and set up the bet sizing step (in BB, $ or in percentage of a pot).

The Betting hotkeys tab will allow you to set up the bet sizes on certain formulas in details: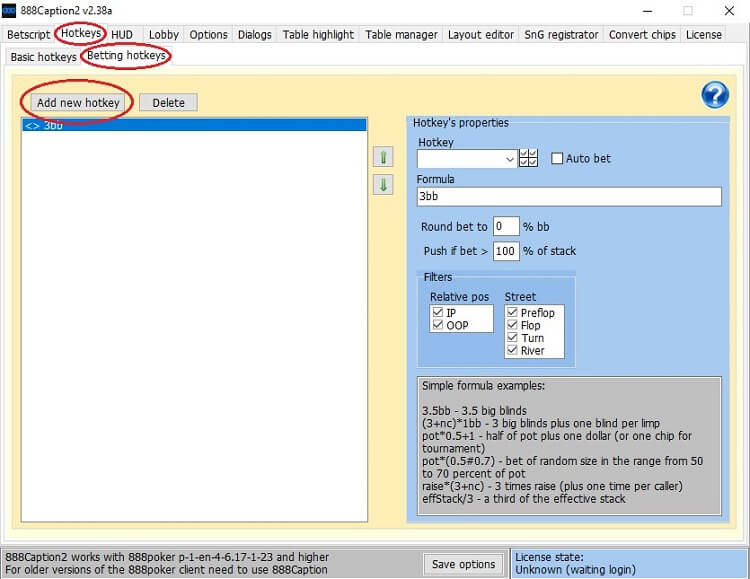 HUD 888caption configuration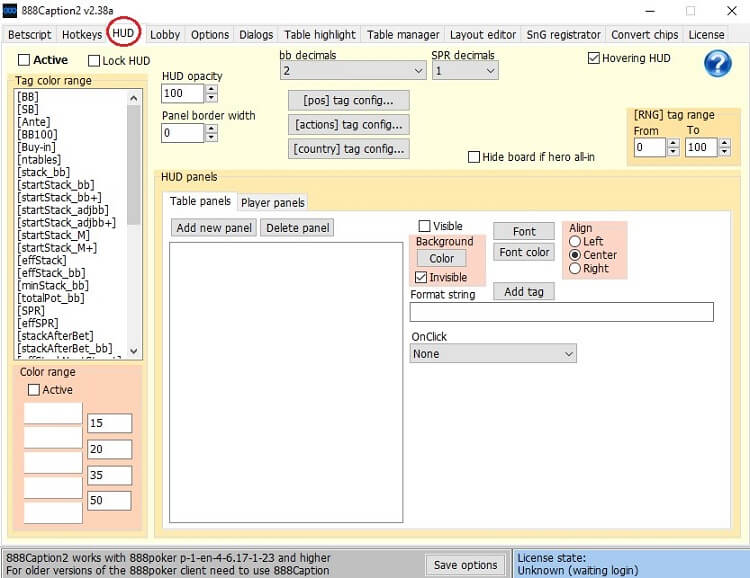 Click on Add new panel, then on Add tag; select stats for displaying in HUD.
Click on Font and Font color buttons to set up the font.
Background – color of background. Click on Invisible to make it transparent.
Lobby
Hide Advertisement – to hide advertising, promotions, offers of the poker-room.
Do not hide the lobby after table opening - to prevent minimizing of the tournament lobby when the table opens.
Sizable lobby - adjusting the size of the poker-room window.
Global HotKeys - fast opening of SNAP-poker, cash-tables and registration in a tournament.
Options
Minimize to tray and Start minimized – to minimize the program with icon in the bottom right corner.
Attach delay - enable if you want to start the program after opening the room.
Tooltips – configuration of displaying the tooltips.
Table Cropping
New table size & position - adjusting the size and location of tables (for example, if you want to tile your tables or place them otherwise).
Auto click timebank - automatic activation of timebank.
Remote topmost style - excludes the possibility of glitch appearing when 888poker tables hang over all the windows (it is very important when you play in several rooms simultaneously).
Sit out next bb if stack is more than... - is useful when playing according to the middle stack strategy (MSS). When the stack reaches a certain value, you will leave the table automatically.
Moving tables holding Left+Right mouse buttons - if you have cropped a top frame of the tables, you can move the windows by pressing left and right mouse buttons simultaneously.
Dialogs
Put ticks above the messages that disturb you when displaying.
«Auto accept all one-button dialogs» – when you activate this option, all pop-up windows, which have only one button (ok, agree, familiarized, etc.), will be closed automatically by clicking on this single button.
Buy-in – set up the buy-in by default (in BB).
Auto rebuy (cash) – set up the size of a stack and amount for auto rebuy.
Table highlight
Set up the table light according to the parameters. In order to activate the highlight, put the tick next to Activate.
In "Rule", select the conditions when the table will be highlighted with this color or the other.
The highlight will work with a certain size of stack, pot, time bank, etc.
You can find the rules and set a priority of the highlight on the left. For example, you should place Hero Action (your action) or TimeBank on the top in order to see them first.
Table Manager (management of the tables)
Table Manager will be useful during multi-tabling.
You can either leave the default settings or select one of the following variations manually:
Stack – an arrangement of tables will be stacked.
3×2 - usual variant which is in the client.
3×2 with activation - the size of the table increases when you point it with a mouse cursor.
Mini tile with activation - tables will be even smaller, but they will also increase when pointing.
Put the tick next to "Table stays in active slop until end of hand" for remaining the table active (big) until you make a move.
Convert Chips
At this tab, you can configure displaying of stacks in the blinds for cash-games or as M number for tournaments, and also you can make that the color of the stack to be changed depending on its size.
In the Label item, you can select an inscription that will be shown next to the value of the stack.
In "BB decimals" you need to indicate how many symbols you want to see after the comma (2 is put by default).
Using TableScan Turbo with the program
If you are going to use TableScan Turbo with 888caption, then use an old version of 888caption (888Caption v0.54a) since the application doesn't support the new one.
888Caption Pricing
As far as pricing is concerned, those playing micro stakes can use 888Caption for free. These are cash tables up to NL10/PLO10 and tournaments worth $3 or less. If the software detects any other games, it will close automatically.
The annual license for this program costs $25 per year. With it, you are entitled to register 888Caption just on one computer. If you are to replace the computer, then you can reset your license free of charge.
888Caption trial version
It is also possible to activate a free 30-day trial if you want to test the tool before purchasing. You can use it at any limit without restrictions. However, a player needs to request the trial version to use it on all limits. To that end, launch the poker client, login to the system but don't run tables. Click on the "License" tab in the program and select "Request for Trial" to activate it.
If you don't purchase 888Caption after the expiry of one month, it will be only available for free at micro-stakes.
In this video you can see this software yourself.
​
Poker rooms compatible with 888Caption
888Caption is an auxiliary tool for automating actions when playing on 888Poker and other platforms of the same network (888poker.es, 888poker.dk, 888poker.ro, 888poker.it, etc.). The program is perfect for both cash and tournament players.
888 Support Service has officially approved 888Caption. It means that you can use this program when playing on 888poker without any worries.