888Poker setup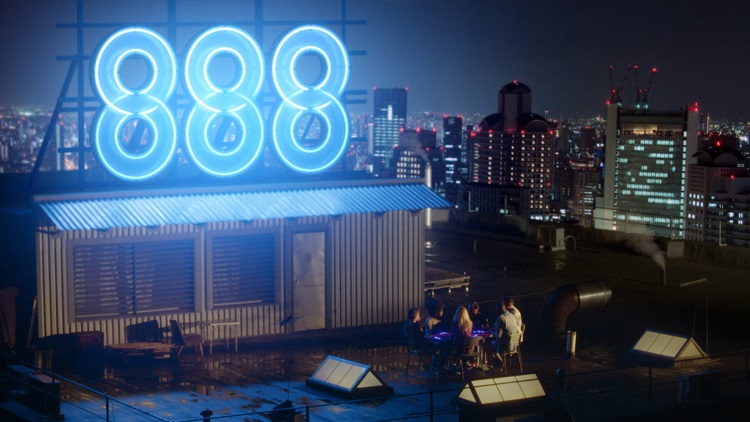 ​
Upon registering at 888Poker, installing an official client and entering the lobby, even an experienced player can get confused by abundance of games, various play disciplines and limits offered by the poker room. To organize your lobby and find your favorite discipline, you need to set up 888Poker correctly.
In this article, we will tell you how to configure 888Poker for the most comfortable and enjoyable play.
Configuring filters at 888poker (My Favorites)
888Poker offers its users an opportunity to filter all games by categories and add their favorite disciplines to the «My favourites» tab.
In order to add your favorite discipline to the Favorites, you need to do the following:
Open the 888 Poker lobby;
Select the «My favourites» tab;
In the open window, you will be able to specify the desired discipline (cash games, Sit & Go and MTT tournaments).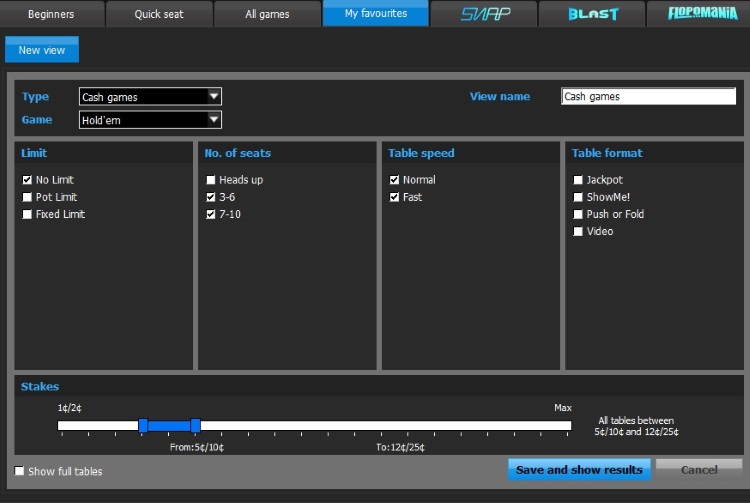 ​
Configuring 888Poker filters for cash games
If you are a cash game player, then you can choose the game type: Hold'em, Omaha, Omaha Hi-Lo, 7 Card Stud, 7 Card Stud Hi-Lo.
Players' number: heads-up, from 3 to 6 players, from 7 to 10 players.
Playing speed at the table: fast or regular tables.
Table format: tables with jackpot, push/fold tables, webcam tables.
At the very bottom of the page, you can select the desired limit.
Please note: you can choose both the exact limit (for example, $0,5/$0,10) and the range of limits (for example, from $0.25/0.50 to $1/2). The limit is set by moving a slider.
Configuring 888Poker filters for tournaments
In the «Tournaments» tab, you can choose your favorite play format and a tournament that is most suitable to you by setting ticks near the formats of your interest.
For example, you want to participate in a tournament in the Turbo Deep Stack format with a buy-in of up to $8.
To do this, set ticks near Turbo and Deep Stack formats.
Set the buy-in slider at the maximal mark of $8 and the minimal mark of $1 (unless you want freerolls to hit your filter).
If you want to play a tournament shortly, then set the «Start time» slider at «From: Now».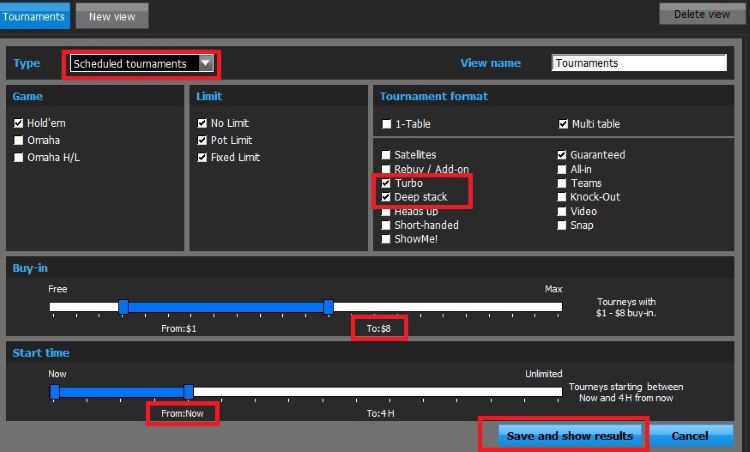 ​
Click on the «Save and show results» button and you will see tournaments that correspond to your search criteria.

​
Bet sizing setup at 888Poker
Unfortunately, the 888Poker client software doesn't provide for the individual bet sizing adjustment. Players can only choose the minimum bet by default (from 1 to 6 big blinds). To do this, open the «Settings» tab in the lobby, select «Game Settings» and set the necessary minimum bet.

​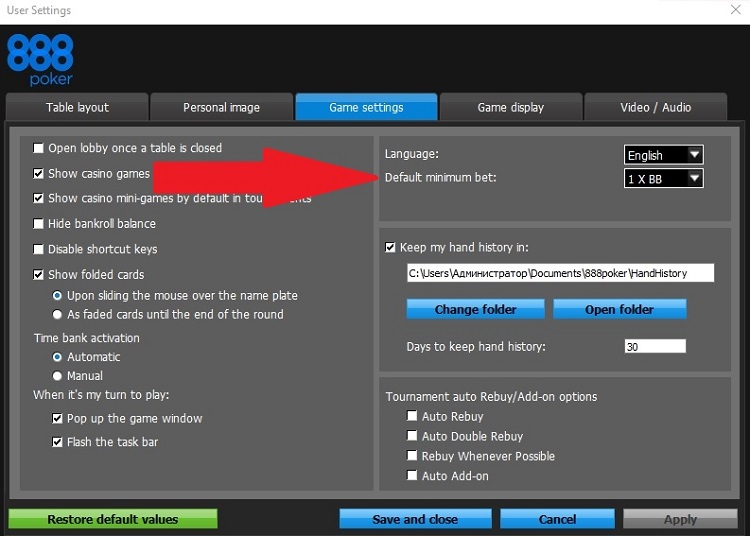 ​
If you are an advanced player and need individual bet sizing settings (for instance, you always want to raise at the rate of 2,5 big blinds), then you need 888Caption program. With this program, you can set up completely individual bet sizing, which depends on your needs. You can get familiar with the full functionality of the program and download its trial version in our material on 888Caption.
Table layout setup
At 888 Poker, you can customize a table theme, as well as cards' back and face at any time. If you want to change appearance of the above, then go to the «Settings» tab (in the lobby) and select «Table layout».
In the menu, you will have an opportunity to select standard 888Poker table themes and card decks: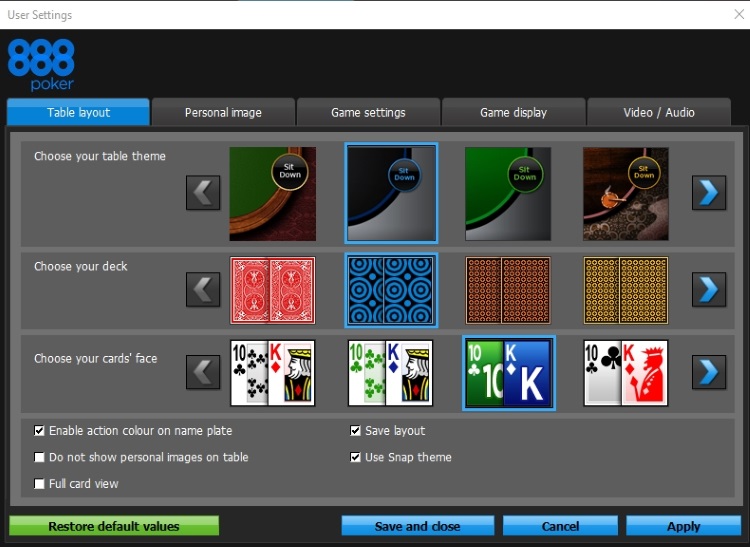 ​
If the standard and same type table themes are not good enough for you, then you can get more information on layouts at 888Poker, as well as choose and download the most suitable layout for free in our special material.
How to choose the preferred seat at the table
You can choose your favorite seat at the poker table at 888Poker. This will be especially useful to regular players who use stat tracking programs and have long had the preferred seat (and settings for it) in other rooms.
In order to select the favorite seat at the poker table at 888Poker, you need to go to the «Settings» tab and choose «Game Display»: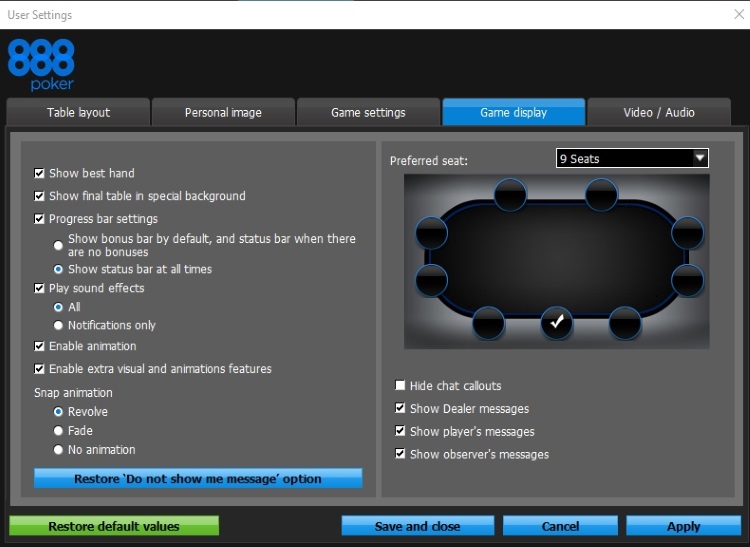 ​
In the pop up, you will see a thumbnail view of a standard 888Poker table.
Select a poker table (heads-up, 6-max, 9-max, 10-max).
Set a tick near the preferred seat at the table.
Click on the «Save and close» button.
Now, during the game, the 888Poker client will automatically place you in the chosen seat.
We hope that this material will help you set up 888Poker according to your preferences. If you haven't created an account at 888Poker yet, then register by the link right now and receive a no deposit bonus of $88. Good luck on the grind!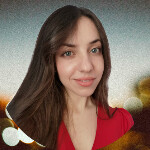 I've been working in the Cardmates team since 2018. Started playing poker the same way most people usually do – socially, with friends and fellow students. I adored those exciting poker nights but never thought my life would be connected with this game, even tangentially.