Alek Stasiak became the first two-time WSOP 2020 champ

​
Canadian player Alek Stasiak, who has been called the new Moneymaker, produced excellent results again. Last week, Stasiak qualified for a WSOP bracelet event through a $10 qualifying tournament, following which he captured it, receiving $343 000, and a gold bracelet.
On August 7, Alek managed to replicate his success and become the first two-time WSOP 2020 champion. It is quite difficult to win two bracelets in a week, especially online. But Stasiak from Quebec showed that everything is possible, bagging two WSOP bracelets in just 7 days.
The WSOP Online Event #52 worth $1 000 collected 2 006 entries, which formed a prize pool of $1 905 000. Many famous players entered the tournament in the closing minutes of the late registration period. The prize zone consisted of 278 places and all of the participants were eager to enter it.
Such poker pros as Chris Moorman, Yuri Dzivielevski, David Peters, and Ryan Riess failed to reach the finals. It took 4 hours for the final table to be formed after the bubble popped.
Read also: Connor Drinan played at the final table of WSOP bracelet event

Kunal Bhatia began the final table with the second largest stack but quickly became a chip leader. Soon, Federico Molina, Jimmy Guerrero, and Jesse Mercado were knocked out of the game. The players then started leaving the final table one after another.
Shortly after the last tournament break, Dejan Kaladjurdjevic lost all of his chips to Stasiak, who started the final heads-up having almost 70% of all chips that were in the game. The leader was constantly changing, as the chips passed from one heads-up participant to another.
At some point, Stasiak had 22 BB, but he doubled and continued to bear pressure upon Bhatia. When Kunal's stack accounted for 13 BB, he considered A-4 to be a good enough hand to go all-in. Bhatia was ahead until the river brought a king, securing Stasiak's victory as he had K-Q. This is how Alek won his second gold bracelet at the WSOP 2020.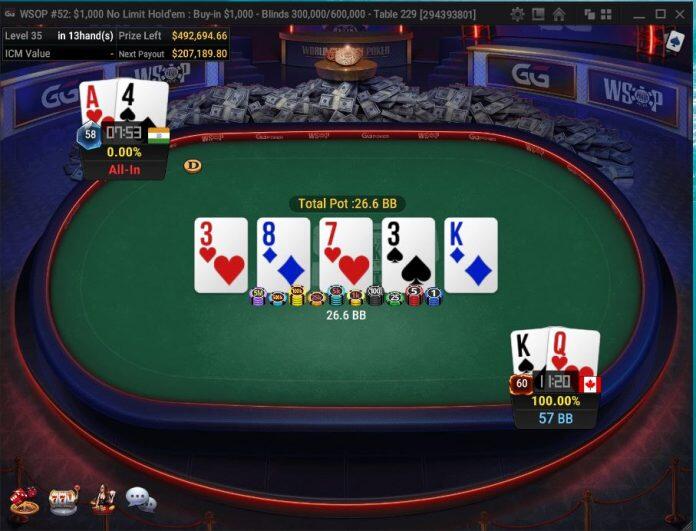 WSOP Online Event #52: $1 000 NLHE results
| Place | Player | Country | Payout |
| --- | --- | --- | --- |
| 1 | Alek Stasiak | Canada | $273 500 |
| 2 | Kunal Bhatia | India | $207 100 |
| 3 | Dejan Kaladjurdjevic | Montenegro | $150 300 |
| 4 | Denis Peganov | Latvia | $109 100 |
| 5 | Vincas Tamasauskas | Lithuania | $79 100 |
| 6 | Thomas Hueber | Austria | $57 400 |
| 7 | Jesse Mercado | Canada | $41 700 |
| 8 | Jimmy Guerrero | France | $30 200 |
| 9 | Federico Molina | Argentina | $21 900 |