Abe Mosseri's biography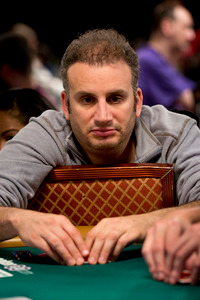 Abraham Mosseri
(49 years)
over $2 260 000
Offline prizes
exact amount is unknown
Online prizes
The best result:
$402 700 (4th place in the $50 000 Poker Players Championship at the WSOP 2014 in Las Vegas)
Main achievements:
2 WSOP bracelets
Can be found by nickname:
American poker player, Abe Mosseri, is more known in the poker community by his nickname "EazyPeazy", as the guy used to play at Full Tilt Poker and crush high-stakes online cash games before the events of Black Friday.
The player was born in Brooklyn (New York) on the 21st of June 1974, but now he lives in Manhattan. Before showing great results in poker, Abe used to play backgammon and was also successful in this field. Both poker and backgammon are games of skills, and it was, therefore, no surprise that Abraham quickly adjusted to new rules and felt like a fish in the water at the poker table.
As Mosseri loves high limits, he has played in the Big Game at the Bellagio ($4 000/$8 000 stakes) with such poker pros as Doyle Brunson and Barry Greenstein.
World Series of Poker
There isn't a poker player who doesn't want to win a WSOP trophy, and Abraham Mosseri has managed to get two such golden bracelets in his life. The first victory at the WSOP came in 2009, when Abe captured the $2 500 Deuce to Seven Triple Draw and earned $165 500. It took the guy 8 years to gain the second bracelet, but it was worth the wait.
Mosseri participated in the $10 000 Omaha Hi/Lo Championship at the WSOP 2017 and made it to the final table. The finalists were leaving the table one by one, but not Abe, as he was determined to take it to the bitter end. In the final heads-up, the player was opposed by another poker professional Daniel Negreanu, who also wanted to add one more trophy to his collection. As a result, Abe turned out to be stronger that day, since he eventually defeated Daniel and gained the second career bracelet. For the first place, the guy received $388 800, and following this victory Doyle Brunson called the guy a "scary good" player.
Overall, Abraham has earned more than $2 260 000 in live poker throughout his career. He now rarely appears at live events and still plays well, but Mosseri's biggest successes seem to be left behind.

​
Interesting facts about Abe Mosseri:
Mosseri has appeared in a few TV poker shows, for example, in the Big Game (Season 1) sponsored by PokerStars, where he participated together with Daniel Negreanu, Doyle Brunson and David Williams.
Mosseri was implicated in the case of Molly Bloom, who used to organize high-stakes poker games in Hollywood.
In 2013, American federal prosecutor Preet Bharara, who organized Black Friday in April 2011, again arranged a large-scale operation against illegal gambling. As a result, a few well-known poker pros were detained, including Abe Mosseri. FBR found $30 000 in cash and $215 000 in chips in Mosseri's safe and decided that he was allegedly engaged in money laundering. The player pleaded guilty to relatively minor violations: tax dodge, incorrect completion of tax reporting and outreaching a financial institution to participate in the lottery. This helped him avoid prison time.