Benjamin "bencb789" Rolle's biography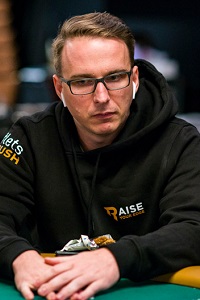 Benjamin Rolle
Germany/Austria/UK
Male
Unknown
exact amount is unknown
Offline prizes
exact amount is unknown
Online prizes
The best result:
$1 172 000 (1st place in WCOOP 2016 SHR for 102 000$ on PokerStars)
Main achievements:
champion of the most expensive tournament in the history of online poker WCOOP $102 000 (in 2016), wrote his own poker course
Can be found by nickname:
The player under the nickname "bencb789" is perhaps one of the most secretive people in the poker world. The network does not have information about his date of birth, his statistics on SharkScope is hidden and there is no information about his personal life either. Benjamin has only recently begun to emerge from the shadows and only a few facts are known about him.

Benjamin Rolle is 29 years old and now he lives in Vienna, Austria. In his youth, Rolle played a lot in Counter Strike, but did not become a professional, as he did not consider e-sports something serious. Poker appeared in his life in 2009. It was then that Ben first started playing poker with friends. Then Benjamin began to confidently rise in limits and reached the SNG tournaments of $5,000, which he had to play on a daily basis.
The poker player was forced to leave Germany due to high taxes. He lived in England, then in Sweden, and now is based in Vienna. Ben gained his fame after winning a $100 000 buy-in tournament at WCOOP series. In heads-up, he managed to beat Fedor Holtz and received $1 172 000 for this victory. After that, Ben began to write his own poker course, which became very popular.