Charlie Carrel's biography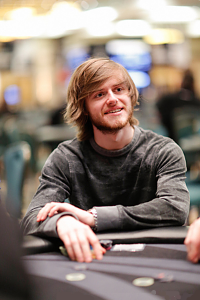 Charlie Carrel
(30 years)
over $9 500 000
Offline prizes
exact amount is unknown
Online prizes
The best result:
$1 601 853 (1st place in the SHR tournament for £50 000 at the Triton Poker London in 2019)
Main achievements:
3rd place on the England All Time Money List (as of May 2020), 4 EPT titles, WPT title, champion of Main Event GUKPT London Grand Final 2014, WCOOP and SCOOP titles
Can be found by nickname:
British poker professional Charlie Carrel was born on the 7th of November, 1993 in St. Brelade, Jersey (Channel Islands). When the boy was 7 years, his family moved to London, and this is his current place of residence. As an intelligent child, Charlie experienced ruthless bullying throughout a significant part of his school years.
In his teens, Charlie had different hobbies: the boy used to focus his attention on some activity until he got enough of it. But, Charlie was never tired of one thing – playing poker.
Online poker
Carrel's story in poker is similar to most poker professionals' ones – everything started with the small home games with friends. Then, Charlie made a small deposit of around $15 on PokerStars and managed to win $40 in his first online tournament. That was the first and the last time he deposited to play poker. This is how the initial success grew into a passion, which Charlie gave all his time and energy to.
Not long afterward, Carrel turned his $40 bankroll into $1 300 and then, boosted it to a huge amount. All this can't be compared to winning the lottery, because poker game requires time and hard work, especially online as it's developing so fast. In order to keep track of trends and new programs that help improve, Charlie spent many hours training, playing and repeating. According to the player, poker destroyed his social life, and he had lost touch with over 90% of his friends, but he had known that poker would probably be one of the most important challenges of his life. So it did, and such a sacrifice wasn't in vain.
At the age of 19, already having good results, Carrell came up with a plan to return to Jersey, stay with his grandmother and leave only when he gets rich. The guy wanted to turn $2 500 into $100 000, and it didn't take him long to reach the goal, since he was able to win $201 711 in the Sunday Million (large weekly online tournament) at PokerStars.
Live poker
Since 2014, Carrel has started to participate in live events. Having earned a few six-figure amounts, the 21-year-old player managed to win the €25 500 High Roller event at the EPT Grand Final 2015 in Monte Carlo and enriched by €1 114 000.
Another 7-figure winning was recorded in August 2019, when Charlie took down the Super High Roller tournament worth £50 000 at the Triton Poker SHR London. Back then his payout for the 1st place amounted to £1 321 000 or $1 601 853, and this is Carrel's best live result so far.
Overall, Carrell has earned more than $9.5 million in live poker tournaments, which makes him the third most successful British poker player after Stephen Chidwick and Sam Trickett. He also takes the 98th place in the All Time Money List.
Now, Charlie Carrel plays poker much less and works on developing his poker recourse Epiphany77.

​
Interesting facts about Charlie Carrel:
Became a millionaire at the age of 21.
At some point in his life, Carrel got into drug-dealing and even used to take drugs himself (DMT, mushrooms, LSD and other drugs).
In January 2017, the guy won $1.2 million in the SCOOP Main Event.
The player's aim is to help others find the same success he did.
Runs his poker recourse called Epiphany77, where he teaches playing micro- and small-stakes poker. Has created Poker Masterclass devoted to moving through 2NL, 5NL, 10NL and 25NL.
In addition to poker, Charlie is also interested in meditation, self-development (physical, mental, spiritual) and charity.
Charlie Carrel on social networks: