Chris Moneymaker's biography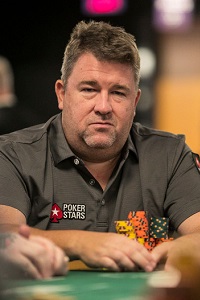 Chris Moneymaker
(47 years)
over $3 880 000
Offline prizes
exact amount is unknown
Online prizes
The best result:
$2 500 000 (victory at the WSOP ME in 2003)
Main achievements:
champion of WSOP ME in 2003
Can be found by nickname:
Chris Moneymaker is not just a poker player – he is a part of poker history. His performance at the World Poker Series in 2003 and the first tournament prize money have prompted a real poker boom. All these happened because he, being an ordinary accountant, managed to win the Main Event of the World Series of Poker and turn 39$ (a buy-in of online satellite to the Main Event WSOP 2003) into 2 500 000$. This reminded people that it is not necessary to be a professional to play poker. Within a few days, Moneymaker turned from an unknown amateur into a well-known all over the world poker player.

As it turned out later, Chris's love for the cards was instilled by his grandmother, who played bridge with him, and by his father, who loved blackjack. But after watching "Rounders" movie, he switched to poker, and more specifically - to Texas Hold'em.
At the time of his first appearance at the WSOP Chris Moneymaker was an amateur, but now he can be certainly called a professional. It is hard to overestimate Chris's contribution to the poker development. Over 10 years he has been representing PokerStars Team Pro. Furthermore, the poker player does not just play with the patches of the room, but also deals with various poker promotion programs.
Now no one is asking the question: "Who is Chris Moneymaker?". Everyone in the poker world knows this name.

​Interesting facts about Chris Moneymaker:
Chris Moneymaker has a very interesting surname (it can be divided into 2 words: money and maker), it represents the "one who makes money." The surname is derived from Chris' ancestors who minted the coins.
He has a master degree in accounting and before the "great victory" he had two jobs, among them an accountant in a restaurant.
In the poker world there has appeared such a notion as "Moneymaker's effect" - a so-called fact that crowds of amateurs started to play poker after the American's victory at the WSOP ME 2003. People, who did not know about the game until recently, began to familiarize with the poker rules, register in poker rooms and try their hand at playing.
Chris Moneymaker won a ticket to the Main Event in an online satellite for 39$, having beaten 18 opponents. He did not even have money for a trip to Vegas and accommodation in it, not to mention money for 10 000$ buy-in. Therefore, he sold shares to his father and friend. At that time they did not even imagined how this investment would turn out for them.
Being a significant chip leader in heads-up play of the main poker event 2003, Chris offered his opponent Sam Farha, a professional player, to split the prize money, but Sam refused.
According to rumors, he celebrated the victory at a local strip club, having spent there 25 000$. Soon he donated the same amount to the cancer research fund.
Chris is the father of four children. He has a daughter Ashley from his first marriage; a girl was born 3 months before the victory that changed the guy's life. In the second marriage, the couple has three children (two girls and a boy). The poker player's wife is Christina Wren.
Moneymaker has got his own company called Moneymaker Gaming.
A computer game, based on Chris's story at the WSOP 2003, "Chris Moneymaker's World Poker Championship" appeared in 2005.
Moneymaker has described the story of his incredible success in an autobiographical poker book "Moneymaker: How an amateur player turned 40$ into 2 500 000$ at the World Series of Poker."
In 2018, Moneymaker won two SCOOP events in New Jersey and has played at the final table in two more tournaments.
Chris Moneymaker on the social networks: