Dan Bilzerian's biography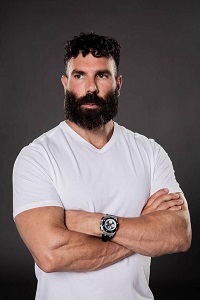 USA/Armenia
Male
12/7/1980
exact amount is unknown
Offline prizes
exact amount is unknown
Online prizes
Main achievements:
$36 626 - according to official data; over $50 000 000 according to Bilzerian's words, King of Instagram, founder of Ignite company
Dan Bilzerian embodies an image of a real poker player in the eyes of many people who are far from the game. However, in poker circles he is often considered a fake player.

But Bilzerian's net worth is really huge: according to popular sources, for 2020 it is 200 million dollars.
Who is Dan Bilzerian?
Bilzerian himself states that he has won millions by playing poker, but of course there is no 100% evidence of this fact. What are real Dan Bilzerian poker wins? In the official reports, you can find the only visible player's result – 180th place at the WSOP ME in 2009 (Dan's winning – 36 626$). But even having no weighty results and titles, nowadays Bilzerian is considered a poker star.
The American is famous not for his game successes, but for his lifestyle. The guy is not ashamed to share it with other people on the social networks. Because of this Bilzerian is often called a "King of Instagram", and in fact, Dan is an Instagram-celebrity. As every celebrity, he has a lot of haters, and their main argument is that "Dan Bilzerian fake".
If to close the eyes to all the disagreements about Dan's status in poker and to believe that he has earned his money with the help of the game, but not by laundering his father's illegal money, then the guy's results are impressive. Bilzerian has a huge house in Los Angeles, a personal plane, several expensive cars and a collection of weapon. Dan is always surrounded by dozens of half-naked beauties, and he has got about 20-people staff to do the housework.

In poker Bilzerian is considered to be a cash player. He prefers to play private games with famous businessmen and visits casinos from time to time. Dan usually plays high-stakes games. However, he sometimes can be met at the inexpensive tables.

Interesting facts about Dan Bilzerian
Bilzerian has Armenian roots. His ancestors immigrated to the USA from Western Armenia after the Armenian genocide. In 2018, Bilzerian got Armenian citizenship, and now he is a citizen of both the USA and Armenia.
Bilzerian could have carved a military career at the US Naval Forces SEAL, where he was trained, but the guy was kicked out for insulting an officer just a couple days before his graduation. However, this fact does not prevent Dan (being a millionaire now) to help wounded soldiers who suffered during the military operations. They often become guests of famous Bilzerian's parties. Most likely, Dan also provides them with financial assistance, but the poker player prefers not to publicize this information.
Both his parents, Terri Steffen (Dan's mother) and Paul Bilzerian (Dan's father) studied in Stanford University. They were classmates.
Dan's younger brother - Adam Bilzerian is also a poker player. According to King of Instagram, it was his brother who taught him to play. Unlike Dan, Adam is married, has two children and his official poker results are more impressive. However, he can only dream about such popularity in the poker community as elder Bilzerian has.
Bilzerian has two cats (Smushball and Penelope) and two goats. The pets' life is no less elegant than their owner's life. Dan has a special affection for the cat named Smushball. This three-pawed beauty has its pages on Instagram and Twitter that are read by almost a million users.
Bilzеrian has had 3 heart attacks. Two of them happened to him for one day, when the poker player was only 25 years old.
Dan was one of the founders of a poker room called Victory Poker.
Dan Bilzerian has starred in a few movies. He has appeared in such films as "Olympus Has Fallen ", "Lone Survivor ", " Cat Run 2 ", "The Other Woman", "The Equalizer" and "Extraction".
PixelBay Studios Company has created a Blitz Poker game for Android and iOS on the basis of Dan Bilzerian's life. There are applications for smartphones: TheBilzerianLife and TheBeardofDanBilzerian. Also, Dan's image has been embodied in the cartoon.
Bilzerian has his own set of emoji, which are available for downloading on the Internet.
In 2016, Dan made a bet with Bill Perkins that he would be able to drive on a bike from Las Vegas to Los Angeles in 48 hours. As a result, he did it in 33 hours and received more than a million dollars from different bets. In order to get a victory, the player used a special bike, took lessons from professional rider Lance Armstrong, and through all the road there was a van driving in front of him to protect the poker player from the headwind. Some considered such trick as "cheating", but in fact, he complied with the terms of the bet.
For many years Dan Bilzerian has been friends with a famous musician Steve Aoki. They even organized "steve aoki dan bilzerian" parties with a lot of celebrities invited.
Dan is a famous womanizer, and he is often surrounded by half-naked girls, but polygamy does not prevent the guy from having a relationship. Until recently, Dan Bilzerian and Andrea Cristina has been considered a couple. The brunette was often seen in the photos with Dan and his pets. In 2017, it became known about the relationship between Bilzerian and Sofia Beverly – a 21-year old model. But lately, she started to rarely appear in his photos on the social networks, so, perhaps, the couple broke up. So now the position of official Bilzerian's girlfriend can be called vacant.

In early 2018, Dan Bilzerian founded the Ignite Company, which is engaged in the cultivation and selling of cannabis and all the needed stuff for its usage. For now this is the best source of income for Dan and that is an answer to a question how does Dan Bilzerian make money.
In the spring of 2018, Bilzerian bought a house in a prestigious area of Los Angeles, which costs around 250 000 000$. Around the same time he bought a new famous car Ferrari 812 Superfast. His another well-known car is Shelby Cobra.
In August 2018, Bilzerian shared a photo of his passport, where Armenia is put in a nationality line.
Once, Dan has brought a crocodile to his home, and it bit the player's leg.
Dan Bilzerian on the social networks: