David Williams' biography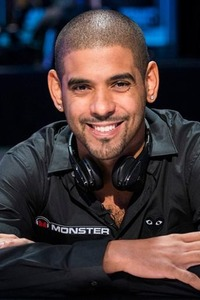 David Anthony Williams
(43 years)
over $8 700 000
Offline prizes
exact amount is unknown
Online prizes
The best result:
$3 500 000 (2nd place at the WSOP Main Event 2004)
Main achievements:
WSOP bracelet, WSOP Circuit ring, WPT title, EPT title, WCOOP title
Can be found by nickname:
David Williams, aka RugDoctor, is a w well-known poker professional who, being a "green" newbie, turned into a real superstar. His current place of residence is Las Vegas (Nevada), but the guy came into this world in Dallas (Texas) on June 9, 1980. He was born into the family of an African-American woman named Shirley and an Iranian-born man, however, it was a short marriage so David did not know his father. The player has a younger sister Tina, and they have an 8-year age gap.
Early days
His mother worked as a flight attendant, therefore young David often stayed with his grandpa and grandma. From the age of 12 years, the boy stayed at home alone (when his mum was at work), cooked food and did homework for school.
In his free time, David started to play "Magic: The Gathering". This is a kind of a card game where players attack each other, using special cards and magic spells. He was a true fan of the game, but later improved his skills and even took part in competitions around the world.
Studying at university
Williams loves science and math, and at school, he was dreaming of entering the Ivy League university. He received acceptance letters from the best U.S. universities and eventually chose Princeton University. However, the player left Princeton to enter the Southern Methodological University in his native Dallas, as campus life far from home turned out to be difficult for him.
Poker arena: offline and online
In Dallas, Williams began to use his logic and math skills to play poker. He first played illegal cash games, as well as tried his hand online. In 2004, the guy won a package for the World Series of Poker in the Bodog poker room, and this was a life-changing moment for David.
The guy made a deep run in the Main Event WSOP 2004 and almost managed to take down the tournament. David stopped a stone's throw from winning the ME, finishing second and losing the champion title to Greg Raymer. Despite this, Williams showed great results, since being a newbie he earned as much as $3 500 000. After that, Williams joined the Team Bodog was a presentative of the room for 6 years.
That very year, David became a champion for the first time: he got a victory in the $1 500 + 70 Limit Hold'em Event at the Five Diamond World Poker Classic held in Las Vegas, which brought him $121 000. It is much less than he received at the WSOP, but this time Williams finished first and proved his poker mastery.
In 2010, the guy added another 7-figure amount to his earnings by winning the $30 000 No Limit Hold'em Championship Event at the Eighth Annual Five Star World Poker Classic. Back then, David was given $1 530 000 for the first place, and this victory cemented his reputation as a strong player in the poker community.
As for online poker, the player also succeeded in this field. In 2009, RugDoctor captured the $2 100 WCOOP 8-Game Mix (Event #42) at PokerStars, defeating another poker professional Alexander "joiso" Kostritsyn, and enriched by $107 800.
For more than 16 years of playing poker, David has earned over $8 700 000 in live poker tournaments and thousands of dollars online, but Williams' biggest achievement to date is his performance at the WSOP 2006, where he gained his first gold bracelet and $163 000 in prize money, having won the 7-Card Stud tournament for $1 500.

​
Interesting facts about David Williams:
David is a faithful and loving father. He has a daughter Liliana, whose photos often appear on William's page on Instagram.
His mum Shirley also loves poker, and she is Williams' most loyal fan.
David likes to watch the Discovery Channel.
The guy is still fond of "Magic: The Gathering" and plays it in his free time.
David Williams was a member of the Team PokerStars.
As for David Williams poker net worth, different sources name the amount of 8 million dollars.
Williams has featured in a video game "Stacked" along with such famous players as Daniel Negreanu, Evelyn Ng and Erick Lindgren.
David loves to participate in various television projects. Thus, he took part in the cooking competition MasterChef and was able to reach the finals and then finished the contest as a runner-up. The guy also took part in a few poker shows: High Stakes Poker (Season 3) and Poker After Dark.
The player has a goal of getting a degree in economics and starting his own business.
David Williams on social networks: