Dzmitry Urbanovich's biography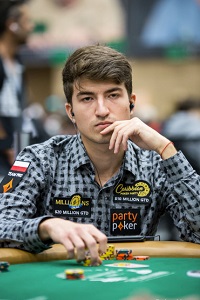 Dzmitry Urbanovich
(28 years)
Poland/Belarus
Male
5/18/1995
over $5 700 000
Offline prizes
over $2 600 000
Online prizes
The best result:
€1 446 600 or $1 600 000 (2nd in SHR tournament for €100 000 at EPT 2015 in Monte Carlo)
Main achievements:
1st in Poland All Time Money List (for 2019), 9 trophies in live PokerStars tournaments, 6 WCOOP titles, 2 SCOOP titles
Can be found by nickname:
Many professional poker players can envy the career of Dzmitry Urbanovich. By the age of 24, he became the champion of EPT 7 times (+1 PCA and 1 PokerStars Championship) and won 8 COOP tournaments at PokerStars.
Urbanovich played his first online game at the age of 13. He lost his first deposit in 48 hours, but that situation had a positive impact on him: he began to read books and articles about poker, as well as watch various videos. At the same time, he played free tournaments and increased his bankroll.
After finishing the Belarusian school, Urbanovich moved to Warsaw for studying at the university. At the same time, he decided to seriously engage in poker. At the age of 18, Dzmitry registered at PokerStars and managed to win more than a million dollars in various tournaments and got SCOOP and WCOOP trophies more than once. However, online games were not enough for him and he decided to switch to offline poker.
For the first time, Dzmitry took part in a live tournament in 2013. At first, he played in the small tournaments with modest prize pools.
The first major success of Urbanovich was at EPT in Malta in 2015. He won the high roller tournament and earned €572 300. A few months later, he earned €1 446 600 at EPT in Monte Carlo and €841 500 at EPT in Barcelona. He got these amounts for the second place in super high roller tournaments. These winnings are still considered the largest ones in Dzmitry's career. One year later, the poker player went to EPT in Dublin and that trip was also successful for him. He earned €561 000 for the first place in Main Event. All these winnings are in the top 5 of Urbanovich's largest winnings.
In 2017, Urbanovich became the ambassador of PartyPoker. He plays in this poker room under the nickname "Dzmitry_Urbanov".

​
Interesting facts about Dzmitry Urbanovich:
At the age of 16, Urbanovich lost $40 000 per day. As a result, his bankroll decreased to $2 000. Later, the poker player admitted that it was just "digits on the monitor" for him at that time.
The first victory of Urbanovich was at EPT in Malta in 2015 thanks to his friend Piotr Franczak. The fact is that Dmitry wasn't able to afford participation in such an expensive tournament. Franczak gave him such opportunity and as a result, Urbanovich won €572 300.
In 2016, Urbanovich made a bet with American player Vanessa Selbst. The dispute concerned the participation of poker player in World Series of Poker (WSOP), and more specifically his victory in this series. However, the championship wasn't as successful as he wanted: he got into prizes only in a couple of tournaments.
In 2015, Urbanovich set a unique achievement in Malta: 4 victories in the framework of one EPT series.
Urbanovich is one of the best online poker players. He won several times in SCOOP and WCOOP tournaments. He plays under the nickname "Colisea" at PokerStars.
Long ago, Dzmitry set a goal for himself to win WSOP bracelet and went to Las Vegas to conquer World Series of Poker as soon as he turned 21. However, he hasn't achieved this goal yet.
Dmitry Urbanovich on social networks: