Eric Baldwin's biography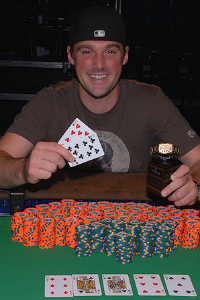 Eric Baldwin
United States
Male
Unknown
over $6 500 000
Offline prizes
exact amount is unknown
Online prizes
The best result:
$1 034 715 (the 2nd place in $25 000 NLH Championship Event at WPT in 2010)
Main achievements:
2 WSOP bracelets, Player of the Year title according to CardPlayer
Can be found by nickname:
Eric Baldwin is an interesting and all-around intellectually developed person. He is successful poker pro, former professional baseball player and has a degree in psychology.
Eric became interested in poker while studying at college. At the same time, he played baseball and demonstrated excellent results. In 2005, his baseball team won the Division 3 National Championship.
During his final year at college, Eric began to spend a lot of time for poker play. His hard work brought good results, since he managed to take the 3rd place in $5 000 No Limit Hold'em tournament at Canadian Poker Championship in 2006. This success enriched Baldwin with $57 528, and perhaps after that he decided to build a poker career, rather than a psychologist one.
One may say that he took the right decision, by making poker his main source of income. From that moment, Eric actively participates in different events and pleases his poker fans with good achievements.
In 2009, he became the champion of $1 500 No Limit Hold'em tournament at WSOP and earned $521 991 for the 1st place. In addition, he got his first WSOP bracelet. His success hadn't gone unnoticed, and in 2009 Eric got "Player of the Year" title according to CardPlayer.
However, he decided not to stop there and managed to get another gold bracelet. This time, his victory took place in $1 500 No Limit Hold'em event at WSOP 2018. It is also worth mentioning his 2nd place in $25 000 NLH Championship Event at WPT in 2010, which brought him $1 034 715 of prize money.
In total, Eric Baldwin earned over $6,5 million in live tournaments during his entire career.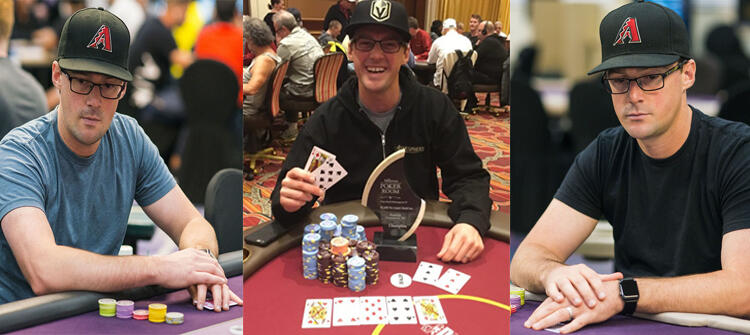 ​
Interesting facts about Eric Baldwin:
Baldwin was born in Beaver Dam, Wisconsin.

Eric studied at University of Wisconsin-Whitewater at the Faculty of Psychology.
Baldwin was a player of UW-Whitewater baseball team called "Warhawks".
He was successful baseball player and his poker nicknames "basebaldy" and "basebaldy31" originated from old sporting days.
NLH poker games are the favorite ones for Eric Baldwin.
He was the member of Ultimate Bet team.
Eric's father always supported his son and came to watch every final table at WSOP. But unfortunately, Baldwin Sr. passed away and wasn't able to witness his son's victory. Therefore, Eric dedicated his second WSOP triumph to his father.

Like many other poker players, Eric has a lucky charm: he puts a 50-cent coin in his right pocket before play.
He is married and brings up 2 children.
Sometimes people confuse Eric with another legendary poker player, Bobby Baldwin.
Eric Baldwin on social media:
Eric Baldwin on Twitter (@basebaldy)