Gustav Hansen's biography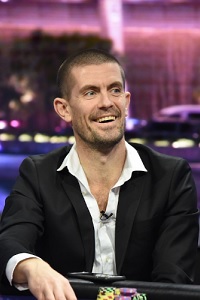 over $10 258 000
Offline prizes
- $22 000 000
Online prizes
The best result:
$1 714 800 (2nd place in NLH - $25 500 Championship Event at the Five Star World Poker Classic WPT Las Vegas 2008)
Main achievements:
won 4 WPT trophies, member of the WPT Hall of Fame, lost over $20 000 000 at high stakes online
Can be found by nickname:
Gustav Hansen, or as he is more often called - Gus Hansen, is a famous Danish poker player-high roller. Having high proneness to mathematics, Hansen showed himself well in backgammon in his youth, and then in poker. He mastered the card game in America, where he was sent to study at the University under the student exchange program. He lived in California for two years; then Gus returned to his native Copenhagen, served in the army and went back to the USA in 1996. Then, being an adult according to American standards, he went to the WSOP for the first time, but didn't manage to get into prizes.

In New York, Gus Hansen met his future fellow-poker players and, under their influence, focused exclusively on the career of a poker player, gradually sharpening his skills and improving a play style.
The Dane has actively played in tournament poker and expensive cash games since 2002. He has managed to achieve his best results in tournaments of the World Poker Tour. The player's first three victories took place at the WPT events and brought him a total of more than a million dollars of prize money. This served as an excellent start for Gus Hansen's professional career in poker.
In 2005, Gus Hansen became a member of Full Tilt Poker Team Pro and a few years later, when the poker room was bought out by PokerStars, he was honored to be the first player to have a sponsorship contract with Full Tilt.
Despite remarkable success, for a lot of people in the poker community Hansen is remembered for his loses and failures. He lost over 20 000 000$ online at Full Tilt, with which the player had a contract.
There are rumors that Gus Hansen is a bankrupt. However, there is no official confirmation of this fact. A poker player may sometimes be met in casino (at the cash tables mostly). After a long lull, in 2016-2018, the Dane started to more and more often appear in the headlines of poker news, however, this did not effect on his tournament results (the latest Hansen's prize money in offline is dated 2014). It is most likely due to the fact that the player focused on cash games.

Interesting facts about Gustav Hansen:
Gus Hansen was fond of sports in his youth, especially of European football and tennis. He also plays backgammon and bridge professionally.
He represented a brand of men's cloth in Denmark, and an authoritative magazine "People" put him into a list of the sexiest men in the world in 2004.
Initially, Gus Hansen chose "The Great Dane" as a nickname, then "Gus Hansen" became his screen name for Full Tilt (to be more recognizable). Now Gus Hansen's nickname at PokerStars is "broksi".
Hansen does not just play poker, but also comments on the game on the airs of Danish and American TV channels.
He was one of the players who used to participate in creation of online poker room - Pokerchamps.com, which was later sold for 15 000 000$ (BetFair bought it). In addition, Gus has invested money in other media projects related to poker and bridge, including launching the GusHansenTV website.
Gustav wrote a book - "Every Hand Revealed", in which he analyzed the hands he played at the Aussie Millions Main Event in 2007. Victory in this tournament brought him around 1 200 000$.
The poker player participated in the 2nd and 6th seasons of "High Stakes Poker" show.
In the winter of 2009, Gus Hansen had a boxing match against Theo Joggers, but he lost it and was forced to pay the winner 35 000$. Under the terms of the deal, if the poker player had won, he would have got 25 000$.
Gustav Hansen often travels to his native Denmark and America, but he lives in Monte Carlo.
In accordance with highstakesdb (only expensive cash games) Gus Hansen has lost 20,7 million at FullTilt and another 1,5 million at PokerStars (as of autumn 2018). He plays Omaha (PLO) mostly.
"Gus Hansen" at Full Tilt: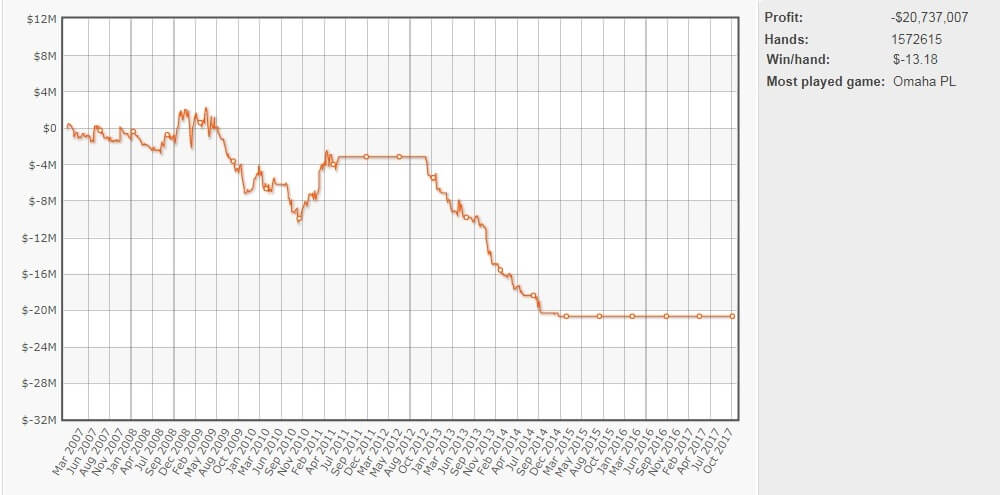 "broksi" at PokerStars: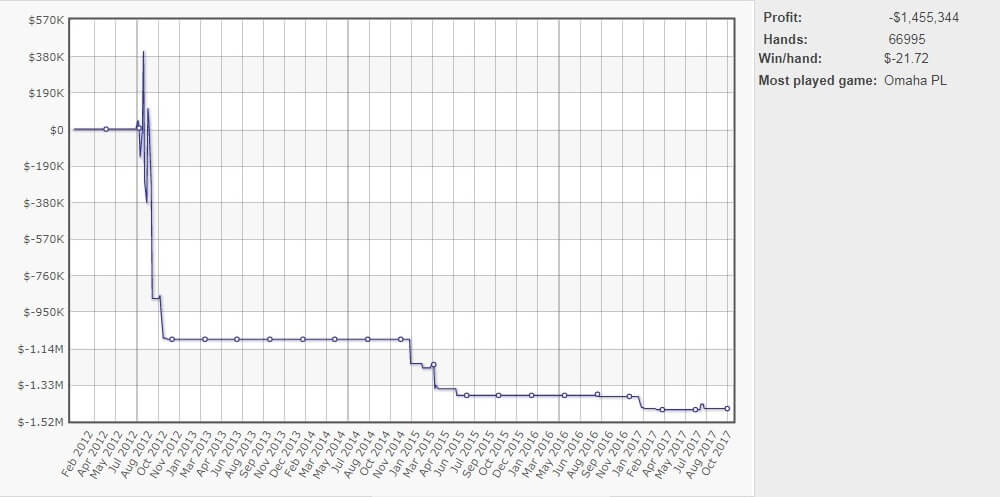 Gus calls himself "the worst in the table-selecting", and he hasn't almost played online since 2015, but in April 2018 Hansen dropped in at PartyPoker and played expensive cash (Pot-Limit Omaha with 100$ / 200$ stakes) at the Tricketts Room table (Gus's nickname at PartyPoker: "The Great Dane").
Hansen became a main character of Joe Ingram's music video in August 2018. The streamer posted the video on the 15th of August and set a goal to collect 100 000 views by the 6th of September.
In the summer of 2018 Gus Hansen played 652 hours in 70 days at Bobby's Room.
Gustav Hansen on the social networks:
Biography materials