Igor Kurganov's biography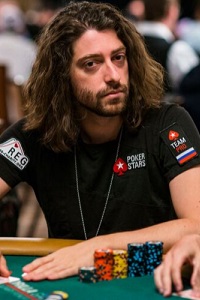 Russia/Germany/UK
Male
5/5/1988
over $18 700 000
Offline prizes
exact amount is unknown
Online prizes
The best result:
$1 559 373 or €1 128 300 (3rd place in €100 000 Super High Roller at Monte Carlo EPT in 2014)
Main achievements:
1st in Russia All Time Money List for 2019, top-50 best world players, WSOP bravelet, WSOP Circuit ring, 6 trophies in live Pokerstars tournaments
Can be found by nickname:
Igor Kurganov is a famous professional player born in Russia. Despite the fact that he has matured as a poker player in Germany and now resides in England, Igor continues to play poker under the flag of Russia and he is considered to be one of the best and most successful players in the country. In 2017, he joined the PokerStars team as a representative of Russia.

Unlike many poker players, Igor has started his poker career not with online, but with live tournaments. A winning of about 13 000$ (101 200$ HK) at the Asian Poker Tour in Macau in 2009 is considered to be a beginning of his professional career. Now Igor's bankroll is measured in millions. Kurganov often participates in high roller tournaments and it has become a habit for him to play at the same table with the most famous professionals of the poker world.
Kurganov does not have many titles of prestigious poker series, but he often hits a prize zone of major events. In addition, Igor has won sums over 1 000 000$ for three times. With every passing year his poker results are increasing, and one can assume that his main achievement is yet to come.

​2017 was an extremely successful year for Kurganov - he won two expensive PokerStars Championship events in Prague and Barcelona and got his first WSOP bracelet (along with Liv Boeree). During the year he won 2,6 million dollars.
In November 2019 Kurganov with his girlfriend Liv Boeree left PokerStars Team.
Interesting facts about Igor Kurganov:
Together with his colleagues and friends Liv Boeree and Philipp Gruissem, Kurganov has created a charitable organization Raising for Effective Giving (REG), which attracted more than 100 players into its ranks.
Every year Kurganov gives around 10% of his income to charity.
Until recently Igor did not have an account on popular social networks (Twitter, Facebook), since he does not like to be on the Internet. And even now there is not much activity on his pages, although the poker player's life is full of adventures.
Since 2014 Igor has been dating PokerStars ex-Team Pro Liv Boeree. Now the couple lives together in London.
In 2017 Igor Kurganov and Liv Boeree won the WSOP bracelets in a team tournament for 10 000$. It is the first trophy of the World Poker Series for each of them, but they have sold one of the bracelets and gave money to charity.
Igor Kurganov on the social networks:
If you are interested in Kurganov's photo - then it's best to open Liv Boeree's social networks, as Igor himself does not use his accounts so often. However, he still has got them.