Jamie Kerstetter's biography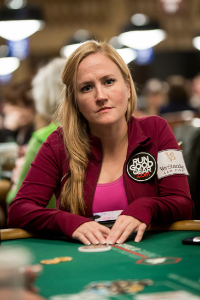 Jamie Ann Kerstetter
(40 years)
over $682 000
Offline prizes
over $788 000
Online prizes
The best result:
44 900 (12th place in the $3 500 NLH Championship at the WPT Borgata Poker Open, Atlantic City)
Main achievements:
WPT title, Twitter Personality of the Year award at the Global Poker Awards 2019
Can be found by nickname:
Jamie Kerstetter is a poker player, commentator and animal lover, leastways this information is mentioned on her Twitter page. She is known in the poker community for her great sense of humor and passion for poker. Throughout her poker career, this blond-haired woman has won over $680 00 playing live poker events and thousands of dollars online.
The girl was born on September 28, 1983, in the Township of Monroe, a little town in New Jersey. There were four children in her family, and she was the third oldest child. Jamie was a real nerd at school, and her whole life seemed to be mapped out since childhood: high school, college, university and a well-paid job, but fate, apparently, had bigger plans for her.
So it happened. Jamie was born to light up poker world, however, she first followed the roadmap, that is, finished high school, then graduated from college at Rutgers and finally entered a prestigious university.
Jamie Kerstetter could become a high-class lawyer since she was educated at the University of Michigan, where she earned a law degree. Having passed The Bar Exam, the girl took a job at a law firm but was laid off 18 months after hiring due to the economic crisis. Then, Jamie decided to choose card rooms over courtrooms, and it seems that she made the right call.
The girl dived into the world of calls, preflops and all-ins while attending the law school, but she first got acquainted with poker much earlier. Jamie used to play poker with her brothers and friends at college for fun. Later, the future poker pro spent time playing Sit & Go's at PartyPoker, instead of reading legal stuff. This was before online poker in the USA was rocked by the Black Friday.
When online poker was shut down, Kerstetter decided not to move anywhere for the sake of online games and shifted her focus on live games and tournament series. However, the girl eventually moved to Rosarito, Mexico, where she lived with another female poker player Katie Stone. It was time to return to online grind, which Jamie missed so much so that she stayed in Mexico for a year and a half.
In 2013, New Jersey legalized online poker, and Kerstetter returned back to the United States. She moved to the suburbs of Atlantic City and got her old life back. While being in Mexico, the girl was invited to represent PartyPoker brand in NJ, so she played a bit on the site, saw the product and then took a plane ticket and joined PartyPoker Team Pro.
​
According to Jamie, she started her poker path with cash games but always tried to add tournaments to her schedule. Now, Kerstetter gets much more pleasure from playing tourneys, whether it is live series or online MTTs, as the girl believes that one can't become famous playing cash games.
At first, Jamie's parents thought that she was playing poker because of ill finances, but, when their daughter became serious about the game, they began to worry for obvious reasons: she spent so many years studying law and chose to leave the profession by linking her life with cards. Now, fortunately, they understand that playing poker can be a serious profession as well.
Kerstetter's live poker results are just fine: a victory in the $600 Omaha Hi-Lo tournament held as part of the Deep Stack Extravaganza III in Las Vegas in 2012, which brought Jamie $26 530; 4th place in the $1 100 No-Limit Hold'em (Women's) at the PCA 2013 (+$6 000); final tables of the WSOP Circuit and WPT Borgata Winter Open stages. But for now, her best career result is 12th place, which she took in the $3 500 NLH Championship Event at the WPT Borgata Poker Open in 2012. Her payout that day equaled $44 900.
As for Jamie's recent results, they are quite modest: just one live tournament cash in 2020, however, it's not surprising, as she is now more a media poker star than a player. The girl has provided commentary for popular poker events, like Heartland Poker Tour, WPT Deepstacks, Seminole Hard Rock, and WSOP.

​
Interesting facts about Jamie Kerstetter:
Jamie was engaged in soccer (right half-back) and running while attending Rutgers University.
Her favourite poker hand is AsQs, and the best place to play poker – Borgata, Hard Rock.
As for hobbies, the woman likes rock climbing and hiking, as well as marathons and soccer.
She has a dog called Crouton, and his photos often appear on Jamie's pages on Twitter and Instagram.​
Having read Doyle Brunson's «Super System: A Course in Power», the girl headed to Atlantic City, where she played at the Taj Mahal and Tropicana casinos.
When events of the Black Friday occurred, Jamie had around $40 000 on her Full Tilt Poker account. Her balance, as well as balances of thousands of other players, was frozen for a long time. It was a pretty awful time for the girl.
In December, 2011, Jamie set a record for the most cashes at the WSOP Circuit stop in Atlantic City. Back then, she managed to reach the prize zone of the series 5 times within ten days. Her five WSOPC cashes totalled to almost $32 000.
Jamie joined the group of female poker players called «Grindettes» in 2011. Actually she founded it along with Katie Stone, Katie Dozier and Jennifer Shahade, who gathered together, driven by a common idea. The girls dreamed of poker and mastered their game skills. They were easy to recognize in live poker tournaments by the brand patches in the form of a red heart.
Kerstetter has appeared on such TV poker shows as «Friday Night Poker» and «Poker Night In America».
The girl was awarded as Twitter Personality of the Year during the Global Poker Awards 2019, which is no surprise since she has almost 25 000 followers on Twitter.​
As of June, 2020, Jamie has 33 WSOP cashes, which equates to almost $197 500 in prize money and 41 WSOP Circuit cash ($136 600).
Jamie Kerstetter on social networks: