Joe Cada's biography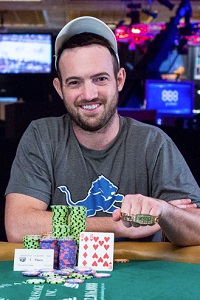 over $14 250 000
Offline prizes
over $648 000
Online prizes
The best result:
$8 546 435 (1st place at the 2009 WSOP Main Event)
Main achievements:
top-50 world best poker players, 4 WSOP bracelets, champion of WSOP Main Event 2009, PCA trophy
Can be found by nickname:
Joe Cada is a professional American poker player who was already familiar with an atmosphere of the gaming halls from the early childhood, because his mother worked as a croupier in casino.

At the age of 16 Joe registered on PokerStars and started to play online, but he was always overwhelmed by the desire to test his skills in live events. According to the United States laws, it's forbidden to play in casino under the age of 21, therefore Cada used to go to Canada for the opportunity to participate in live games (it is allowed to play live games from 19 years in Canada).
Like many novice poker players, Joe has decided to leave studies in the name of poker (he began studying at the Macomb Community College in Michigan). It is known that his mother was not enthusiastic about such a decision, but after her son won the 2009 WSOP ME, where he earned 8 500 000$ and a gold bracelet, she realized that Joe had been right. After such a loud victory, he immediately started to be invited to various TV channels and shows.
In 2012, he again got close to a victory at the WSOP but took the 2nd place and earned 412 424$, and in 2014, Joe still managed to win the bracelet of the series for the second time, having received 670 000$ of prize money on top.
Two more bracelets Joe Cada won in 2018: in NLH Shootout tournament for 3 000$ and in The Closer for 1 500$. The victories brought him not only desired trophies, but also significant profits (226 220$ and 612 880$ accordingly). In the same year, the poker player reached the final table of the WSOP Main Event for the second time but this time he took the 5th place. Joe's prize money was 2 150 000$.
Cada likes to play mini football in his spare time. He also does business: in 2011 he opened "Cada's Poker & Sports Grill" restaurant in Sterling Heights, near his home in Michigan.

​Interesting facts about Joe Cada:
Joe Cada was born in Shelby Charter, Michigan (Shelby Charter Township).
After winning the WSOP Main Event 2009, Cada became the youngest winner in the history of this tournament.
"jcada99" was a representative of Team PokerStars.
He has earned about $650 000$ playing online.
Joe Cada on the social networks: