John Cynn's biography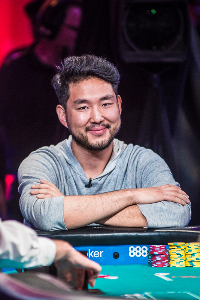 over $10 000 000
Offline prizes
exact amount is unknown
Online prizes
The best result:
$8 800 000 (1st place at the Main Event WSOP 2018)
Main achievements:
WSOP bracelet, award at the 2019 Global Poker Award in the category «Tournament Performance»
John Cynn is a professional poker player from the USA. The guy was born on December 24, 1984, in Northbrook, a suburb of Chicago, Illinois.
Life before poker
Having finished the high school, John entered the Indiana University in Bloomington, where he studied finance and supply chain management. Upon graduating, the future player worked as an IT consultant in California, but understood that he had to begin a completely new life and it turned out to be poker.
Poker path
Cynn started to be involved in poker while studying at Glenbrook North High School and passion for the game was growing with every passing year, therefore, it is no wonder that the guy continued to be stuck to this hobby at college.
Being fired from his post-college job, John decided to play full-time poker for a period of one year and see how that played out. The first attempt did not yield expected results, and the player was forced to return to the working life, but he didn't want to give up his dream of playing poker.
John Cynn began to show good results in tournament poker in 2010 and in 5 years managed to earn a few 5-figure sums. Besides, the player took part in private cash games (mid and high stakes) in Los Angeles, which was also a profitable activity.
In 2016, Cynn set himself a goal to win the WSOP Main Event, but «failed» as he stopped a stone's throw from the final table, taking the 11th place and $650 000. It's worth noting that his first cash at the World Series of Poker is dated 2012 (439th place and $1 830).
Winning WSOP Main Event 2018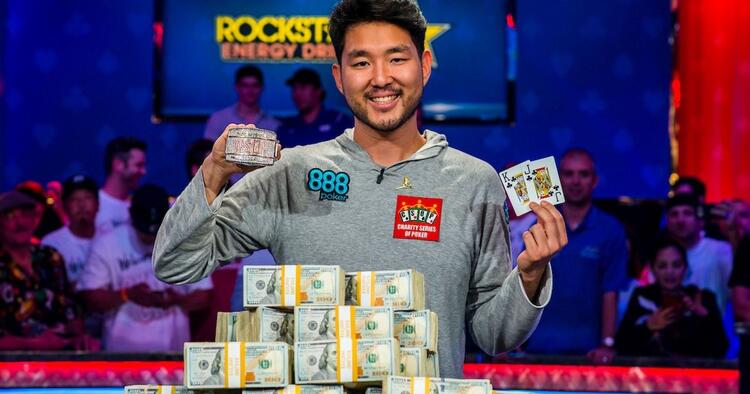 ​
The American eventually won the coveted title of WSOP champion in 2018, after he defeated his compatriot Tony Miles in a grueling heads-up. Back then, Cynn managed to overcome a field of 7 874 players, for which he received a life-altering payout – $8 800 000, and this also cemented his place in poker history.
«Feels very different. To make 11th is insane on its own, and to win, that's literally something that you dream of but you just never expect to happen».
Throughout his poker career, John Cynn has earned over $10 000 000 in live tournaments, and the player is not going to stop there.
«I do like to think that I don't need the money to be happy, but at the same time it's practically going to make things a lot easier».

​
Interesting facts about John Cynn:
As a child, John learned to play the violin.
His first poker coach was Lance Keating.
Cynn's heads-up battle against Tony Miles at the ME WSOP 2018 lasted for 10 hours, and they played 199 hands. John's winning pocket cards were K♣ J♣.
John and Miles both had support teams. Cynn's fans had T-shirts with the "Welcome to Cynn City" sign on, and Tony's fans were dressed in black.
The guy had 12 WSOP cashes on his record before winning the Main Event in 2018.
Having won the WSOP ME in 2018, Cynn received $8.8 million as prize money for the 1st place, but took home only $4.9 million, as the guy had to pay taxes for this win.
John Cynn is a big fan of cryptocurrency, and he even wore a Blockfolio sponsorship patch during the WSOP 2018.
Cynn appeared in a few episodes of the Poker After Dark show.
The player received an award at the 2019 Global Poker Award in the category «Tournament Performance» (WSOP Main Event 2018).
John Cynn on social networks: