Liv Boeree's biography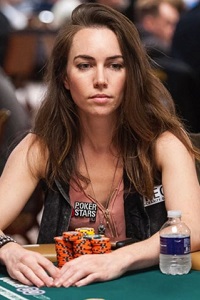 over $3 850 000
Offline prizes
over $1 000 000
Online prizes
The best result:
$1 698 300 or €1 250 000 (1st place in the EPT San Remo Main Event for $5 300 in 2010)
Main achievements:
top-10 in Women's All Time Money List for 2019, WSOP bracelet, champion of EPT Main Event
Can be found by nickname:
Liv Boeree is a successful poker player and one of the most recognizable women in poker. She has earned more than 3 700 000$ in live events and a couple hundred thousand playing online. The girl joined poker word at the age of 21.

At first, Liv played poker online as an amateur. Boeree decided to completely focus on poker, after participating in the reality show "Showdown" from Ultimatepoker on British TV in 2005. It made her popular in the poker community and gave a great game experience and communication with professionals.
The girl started to play more expensive games online and tried her hand in offline tournaments. The success hasn't come immediately to her.
Boeree won her first trophy at the Ladbrokes Poker European Ladies Championship, in which she beat 51 rivals and turned 2 000$ into 42 000$ in 2008. Thanks to this victory Olivia attracted attention of poker community.
Poker made Boeree a millionaire, after she won the EPT San Remo Main Event in 2010. Along with the Cup, Liv got 1 250 000$ of prize money. This changed the girl's life dramatically and brought her popularity all over the world. She even signed a contract with PokerStars.
Now almost everyone in poker knows Liv Boeree's name; she is a vivid representative of women in the game. The girl plays in live events a lot, takes part in various poker and near-poker events, periodically writes articles and she is also actively engaged in charity.
For 9 years, Liv was the face of PokerStars until she left the team in November 2019.


​Interesting facts about Liv Boeree:
An anagram of Liv Boeree's name is phrase "I Love Beer".
Before Live became a poker player, she had been a model, a journalist and a presenter. However, poker hasn't become an obstacle for such activities. The girl has participated in photo shoots for many popular magazines (including men's magazine Maxim), led several poker columns and taken part in a pair of shows (as a participant and as a presenter).
Liv is fond of music; she likes heavy metal and plays the electronic guitar. In an interview Boeree fessed up that if it were not poker, she would most likely play the guitar in some metal band.
She has graduated with honours from Manchester University, where she studied astrophysics.
Liv was repeatedly called the most beautiful girl in poker and the most successful poker player, but despite this, she is pretty tough at the table. In the poker circles Boeree was even given a moniker - "The Iron Maiden". Although, the girl is very kind and sympathetic in her life.
Liv repeatedly participated in different charity events and a few years ago she created a charitable organization Raising for Effective Giving (REG) together with her friends-poker players (Igor Kurganov and Philipp Gruissem).
Since 2014, Liv Boeree's boyfriend is Igor Kurganov - a poker player with Russian roots. Both partners wee members of the PokerStars Team Pro. The couple lives in London.
The girl adores the Burning Man festival and almost every year attends this event in the desert with her friends (including poker players). Boeree even brought her mother to the festival in 2015.
In 2017, Liv Boeree along with her boyfriend Igor won the bracelets at the WSOP team tournament for 10 000$. For her, as well as for Kurganov, it was the first WSOP bracelet in a career. Later, the couple sold one of the bracelets and gave money to charity.
One of Boeree's most cherished desires is to see the Earth from space.
In 2017, Boeree started her own scientific show called "Amazing Science Adventures with Liv Boeree".
Due to the difficulties with translating Liv's surname, it is translated differently on various resources, but users usually know that Liv Boeree, Liv Boeri and even Liv Boere are the same person.
Liv Boeree on the social networks: