Michael Mizrachi's biography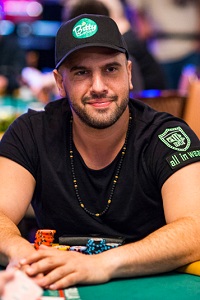 Michael Mizrachi
(42 years)
over $17 200 000
Offline prizes
exact amount is unknown
Online prizes
The best result:
$2 333 000 (5th place in the WSOP Main Event 2010)
Main achievements:
top-50 best poker players, 5 WSOP bracelets, WSOP Circuit ring, WSOP Main Event 2010 finalist, 4 WPT trophies, Player of the Year 2006 according to CardPlayer magazine
Can be found by nickname:
Michael Mizrachi was born in 1981 in Miami. The guy's family implanted him the love of poker. His mother often played this game at low limits. Therefore, the poker player himself and his brothers simultaneously launched their poker careers when he was only 13 years old. At the time his older brother Robert started participating in live tournaments, Michael and Daniel focused on online poker.
First, Michael took part in mini-tournaments, where he was able to win about $10. However, over time, the poker player's winnings grew to 100-200 dollars. When he came of age 18, the American began to attend live poker tournaments. A year later, Mizrachi became the champion of one of the Five Diamond World Poker Classic 2004 events, having won $273 000.
In 2005, Michael went to Las Vegas to conquer the World Series of Poker and got in the money 7 times, however, he did not manage to win the WSOP bracelet. Mizrachi won his first bracelet in 2010 in the $50 000 The Players Championship Event. There are 5 bracelets on Michael's record, 3 of which he received for taking down the $50 000 Players Championship tournaments at the WSOP 2010, 2012 and 2018. Mizrachi won the fifth gold bracelet in June 2019.
2006 turned out to be extremely successful for Michael. During that year, the American won 7 tournaments and became the Player of the Year according to CardPlayer magazine.
Great success in poker reflected badly on Mizrachi. The guy even faced tough times both in family life and financially. Michael had problems with taxes due to unprofitable financial transactions. However, the poker player managed to overcome the situation, and soon his things started looking up. The guy married to his longtime girlfriend Aidiliy and began to work on solving his financial problems.
Michael has won over $17 000 000 throughout his poker career. Mizrachi received the biggest prize money for the 5th place in the WSOP Main Event 2010 ($2,3 million). There are 6 seven-digit winnings on his record.
Early in his career, Michael was winning tournaments thanks to an analytical mindset. Over the years in poker, the American has developed professional skills and got the necessary game experience. This poker player has shown how to achieve significant results in poker through tenacity and talent. For the calm and persistent playing style, Michael was nicknamed as «The Grinder». Mizrachi's story is a great example for young poker players.


For 2019, Michael Mizrachi is the 888 poker Ambassador.
Interesting facts about Michael Mizrachi:
As a child, Michael wanted to be a doctor but chose poker instead of going to college.
There are 4 brothers in Mizrachi's family: Robert (the eldest one) is a professional poker player, the twin brothers Eric and Michael (both play poker as well), and the youngest brother Daniel, who works as a DJ and is known by the alias DJ Mizrachi.
Mizrachi met his wife Aidiliy in the casino, where he worked as a dealer, but the couple divorced in 2016.
Michael has three children: Paul William (was named after his grandfather), Julie Malka (which means «queen« in Hebrew), and Joseph Mizrachi.
In the 2000s, the guy purchased a mobile home with his poker winnings. He used it to keep his family close when he was on the road, but eventually, Michael sold the motor home.
In early 2010, a federal tax withholding of $340 000 was filed against Mizrachi for tax evasion related to his income in 2005-2007.
The well-known poker player Patrik Antonius convinced Mizrachi to take part in the WSOP 2010. In this championship, Michael won his first gold bracelet and took 5th place in the Main Event WSOP 2010, having won over $4 000 000 during the series.
On the WSOP Main Event 2010 final day, Michael played with his brothers Daniel and Robert, who also play poker professionally.
Michael Mizrachi on social networks: