Mikhail Semin's biography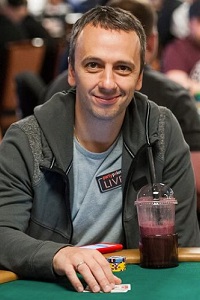 over $1 000 000
Offline prizes
exact amount is unknown
Online prizes
The best result:
$160 725 (7th place in Millionaire Maker for $1 500 at the WSOP 2016)
Main achievements:
best Russian-speaking WSOP player in 2016, 2017 and 2018, one of the most famous Russian-speaking poker commentators
Can be found by nickname:
In the poker community Mikhail "Mikleler" Semin is known as a commentator, presenter, journalist and player.

Mikhail started to play poker already being a successful journalist. In his resume there are such positions as: editor-in-chief of the sports portal "Championship.ru", job at the radio station Mayak, TV channels "Eurosport", "Sport", "Capital", "Russia-2", etc. At first poker was just a hobby for Semin. In the Russian-speaking poker community "Mikleler" became popular after running a blog "From editor-in-chief to a poker pro", a title of which turned out to be prophesied for the player.
Over time, the hobby turned into something much deeper and Mikhail started to combine a job of presenter and commentator with a career of "semi-professional" poker player. About 5 years Semin worked as a commentator of PokerStars together with Ilya Gorodetskiy. They are called "the voice of Russian poker" in the Russian-speaking community.

In 2016, Mikhail Semin became a member of PokerDom Team; it was announced on the 6th of February during a team stream of the poker room. Because of that, the poker player had to leave the team of commentators of PokerStars in Russia.
In November 2017, Mikhail announced about leaving the PokerDom Team, and a couple of days later it was reported that he became a new media-ambassador of Partypoker LIVE. In September 2019, he joined the ambassadors team of another room PokerOK (from December 2019 – GGPokerOK).
Semin demonstrates good results in both online and live tournaments. He has repeatedly got into prizes of the famous poker series and showed excellent performances. At the WSOP 2016 he became the best player of the series from Russia, and in 2017 and 2018 the guy defended this title.
Interesting facts about Mikhail Semin:
Mikhail Semin has graduated from Moscow State University in the department of journalism.
In 2013, Mikhail Semin, along with several well-known Russian-speaking regulars, took part in "Russian House in Vegas" project at the WSOP 2013 from 888poker. It was Mikhail's idea to create such a project. He made a presentation and sent it to all poker rooms. As a result, 888poker became interested in that idea and gave money for its realization.
The screen name "Mikleler" consists of two parts: "Mikle" has appeared as a result of the wrong translating of Mikhail's name into English language, and "ler" represents first letters of his wife's name - Lera.
On the 6th of February, 2016, Mikhail Semin became a father of a daughter. The couple named a girl Victoria (Toya).

Mikhail Semin is relatively recently in poker and he calls himself a "semi-professional," but you can find a page of "Mikhail Semin" in Wikipedia, where he is listed as a professional poker player.
In one of NTV's stories in 2018, Semin was announced as: "Mikhail - the best Russian player in the world and a commentator in poker. He's like Messi in football, Ovechkin in hockey or LeBron in basketball."
Some English-speaking resources wrongly call Semin as "Mikhail Semenov".
Mikhail Semin on the social networks: