Mikhail Shalamov's biography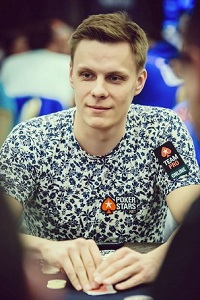 Mikhail Shalamov
(35 years)
over $217 000
Offline prizes
exact amount is unknown
Online prizes
The best result:
$48 847 (210th place in the WSOP ME 2010 $10 000)
Main achievements:
the highest status at PokerStars (Supernova Elite) for 7 years in a row, successful cash-player online, popular Russian poker streamer
Can be found by nickname:
Mikhail "innerpsy" Shalamov is one of the most famous Russian-speaking poker players in the world. He became famous by joining the prestigious PokerStars Team Online in January 2011, but even prior to that, lots of people knew "inner".
Shalamov has been playing poker since 2008. According to the Russian player, he started to play with $50 given by one of the training sites and hasn't made a single deposit since then. Now, anyone interested can witness the player manipulating thousands of dollars a day (by watching his streams).
The "innerpsy" specializes in online cash games – his play limit is NL500 +. But, this does not prevent him from playing tournaments from time to time and attending popular poker series (mainly EPT (PokerStars Championship and PokerStars Festival) and WSOP). As for live events, Mikhail's most outstanding result is 210th place in the Main Event WSOP 2010.
In addition to poker, Mikhail Shalamov has a number of other hobbies. He travels a lot and spends time with his family.

​
Interesting facts about Mikhail Shalamov:
In 2008, Mikhail graduated from Ural State University. Before he started to play poker professionally and joined PokerStars Team Online, Shalamov worked in the retail industry.
In 2009, the poker player set a world record for a number of hands played per day (40 088 hands online in 19 hours). Later, "ChicagoJoey" broke Mikhail's record (50 000 hands in 24 hours), but Mikhail Shalamov's name remained in poker history.
Mikhail Shalamov is married to Antonina Shalamova. The couple has two sons: Felix (born in 2010) and Miron (born in 2016). In 2015, PokerStars made a short film about the Shalamov family.
The poker player was running a video blog «Poker4Life» on YouTube, in which he talked about his travels and adventures, but new videos have not appeared since May 2016. Instead of this, Shalamov began to actively stream his game on Twitch and post on YouTube videos (highlights) with the most interesting and significant moments of his streams. The guy's YouTube-channel is called "innerpsy87". Mikhail Shalamov's Twitch: "innerpsycho".
Some of the most popular videos shot by Mikhail were «Poker rap battles» which can be found on his YouTube channel (as well as other videos of Shalamov).
Mikhail Shalamov used to get the highest status at PokerStars – Supernova Elite for 7 years in a row until it was canceled in 2016.
Upon request "Shalamov", Wikipedia shows information on the Russian writer Varlam Shalamov. There is no page about the poker player Mikhail Shalamov on Wikipedia.
In 2018, Shalamov acted as the main Russian-speaking commentator at the EPT in Barcelona for the first time.
Mikhail Shalamov on social networks: