Olivier Busquet's biography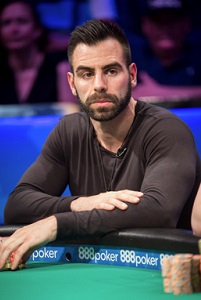 Olivier Busquet
(42 years)
over $9 000 000
Offline prizes
over $840 000
Online prizes
The best result:
$1 188 996 or €896 434 (1st place in Super High Roller tournament for €50 000 at the EPT Barcelona in 2014)
Main achievements:
3 WPT trophies, 2 EPT trophies, winner of the 2 season of the "King of the Hill" show
Can be found by nickname:
Olivier Busquet is a successful poker player both in online and in live tournaments. The guy is considered to be one of the best heads-up Sit&Go players in the world and he is famous for his aggressive game. At the beginning of his career, "livb112" lost the bankroll for several times, but eventually Olivier successfully realized himself in the heads-up Sit&Go games.

In September 2009, Busquet won the Championship Event Borgata WPT Poker Open, having vanquished the largest tournament in a history of the WPT at that time. This victory brought him 925 514$. In 2010, Olivier got the second massive prize money in his career – 794 771$ (or 597 000$) for the 2nd place at the EPT6 Grand Final High Roller, having lost to Tobias Reinkemeier.
2013 was a fruitful year for Olivier. Thus, on the 26 of June he won 384 122$ for the 9th place in 111 111$ One Drop High Roller tournament at the WSOP, and a little later he took 2nd place at the EPT High Roller in Prague and got richer for 353 345$ (or 257 850€).
Despite the fact that poker is the main source of income for Olivier, he has still got a lot of other interests. Together with a professional club "New York Giant", Busquet founded a charity tournament for "The Children's Storefront Organization". He said he would be disappointed if after five years poker remained his main business, and he also noted that, in addition to money, there are much more valuable things in life.

​​Interesting facts about Olivier Busquet:
Busquet was born in New York in the family of French immigrants.
At the age of 6 he started to play chess pretty serious. He also went in for running and basketball. At age of 14 Olivier ran 7 km and as a second-year student, he became the league champion at 800 and 1 600 meters. He was the second basketball player in the history of school who earned 1 000 points and won a prize.
Excellent educational performances in mathematics along with good results at school have enabled Busquet to enter Cornell University. Olivier thought he would graduate from the mathematics department, but he has got a master's degree in philosophy.
Busquet worked at the Wall Street SAC Capital company for several years.
Olivier noted that his interest in poker had arisen when he was 20 years old, right after losing money in his first home game.
Busquet played on PartyPoker and soon the guy switched to Full Tilt Poker, where he invested 100$ and started playing 6-max cash games 1$ -2$.
While learning poker, "livb112" tried to throw challenges to stronger players. He studied the high limit game on the Twoplustwo forum.
Once Olivier has played a 40-hour online cash session.
Despite the fact that "livb112" had good mathematical and strategic knowledge in poker, he struggled with such problems as emotional discipline, bankroll management and game selection, which led to a multiple loss of the bankroll in the early stages of his career.
In 2017, Olivier Busquet won the second season of the "King of the Hill" show, having beaten a famous streamer Parker "TonkaaaaP" Talbot at the final.
Olivier Busquet on social networks: