Patrik Antonius's biography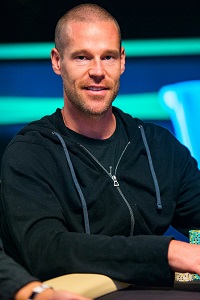 Patrik Antonius
(42 years)
over $12 000 000
Offline prizes
exact amount is unknown
Online prizes
The best result:
$3 153 551 or $24 73 000HK (2nd place in $2 000 000HK NLH at the Super High Roller Bowl China 2018 in Macau)
Main achievements:
1st in Finland All Time Money List for 2019, top-100 poker players, champion of EPT Main Event, one of the most popular high stakes players in online
Can be found by nickname:
Patrik Antonius is a famous Finnish professional player. He familiarized with poker at the age of 12 when studying at school and then he started playing with friends and getting a good profit. Later Antonius began to visit casino in Helsinki and gradually sharpened his skills. His poker journeys began in 2002 after familiarizing with online game and winning the satellite, which gave him the opportunity to get to the WSOP Main Event. Since then, Patrick's success has been just continued.

Thus, for the first time "Finddagrind" hit into prizes in the live event in 2003. That day he took the 4th place in the PLO tournament for 220$ at St Maarten Open and earned 3 480$. The poker player did not also lag behind in online games. His success was so significant that in 2003 Patrik was recognized to be one of the top online poker players in Europe, and, moreover, he took the 1st place in the All Time Money list. Antonius became known as the real online poker shark.
2005 has also turned out to be successful for the player. Patrik earned more than a million dollars for the 2nd place at Main Event of the Five Diamond World Poker Classic for 15 000$. In the same year he won the EPT Main Event for 4 190$ (his winning was 343 365$) and earned 145 070$ by finishing third at the EPT Barcelona Main Event.
In 2008, the poker player signed a sponsorship contract with Full Tilt Poker and became a member of the prestigious team pro, which at that time included Phil Ivey, Chris Ferguson, Gus Hansen and others.
Now Patrick is a frequent guest of high roller tournaments. The player is well-known all over the world. There are million winnings in both online and in live events on his record.
Interesting facts about Patrik Antonius:
Antonius was brought up in an ordinary family. His father was a bakery truck man and his mother worked in the kindergarten.
As a child, Patrick was fond of tennis. He showed good results and coaches even predicted him a brilliant career of a tennis player. However, a back injury was the reason to refuse further trainings and tennis in general.
The poker player participated in such TV shows as "High Stakes Poker" and "Poker After Dark". He took part in playing of 561 800$ pot with Tom Dwan, that became the largest one in the history of the show at that time.
In 2009, Patrick got a "Best Player of Live Events" title at the Scandinavian Poker Awards ceremony.
The poker player was the first one to respond to Tom Dwan's "Durrrr Challenge", but after a little less than 40 000 hands, Patrick lost 2 000 000$ and bought himself off the challenge.
Patrik Antonius is married and has 2 daughters.
Patrick learns Russian and watches Russian films and TV shows. In 2018, Antonius tried to speak Russian at the partypoker Millions Russia series in Sochi and he did it quite well.
In accordance with highstakesdb, Antonius has the following success at high limits in online:
"Patrik Antonius" on Full Tilt: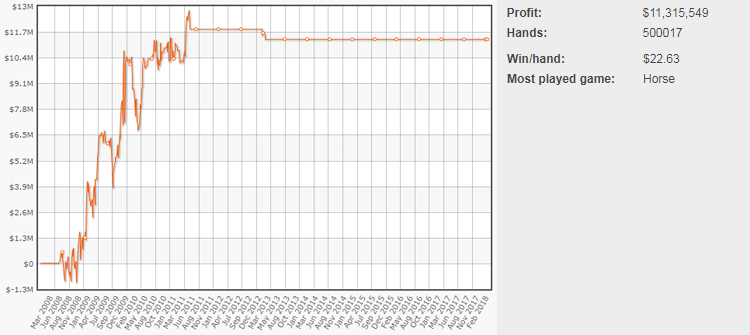 ​"FinddaGrind" on Full Tilt: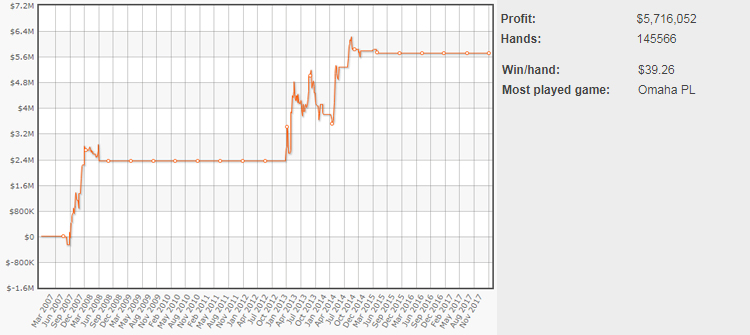 ​"Fake Love888" on PokerStars: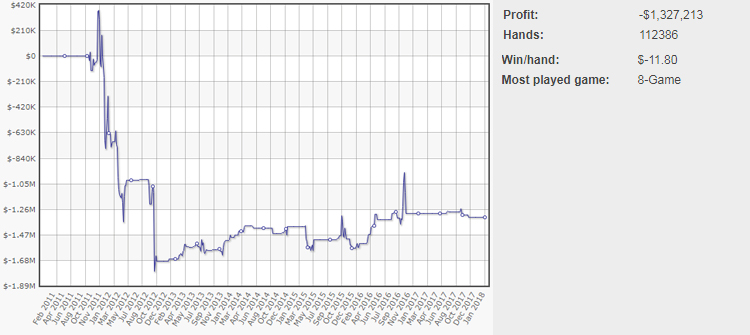 ​
Patrik Antonius on the social networks: