Paul Phua's biography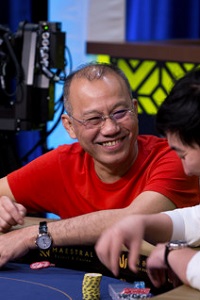 Paul Phua
over $15 900 000
Offline prizes
exact amount is unknown
Online prizes
The best result:
$3 113 500 or £2 258 000 (the 2nd place in Triton London Main Event 2019 for £100 000)
Main achievements:
top-50 of the best poker players, 1st in Malaysia All Time Money (for 2019), one of the most famous businessmen-high rollers, one of the creators of Triton Poker SHR Series
Can be found by nickname:
Paul Phua is known in the poker community not only as an outstanding player, but primarily as a person who is closely related to the gambling business. He is one of the few people who escaped the responsibility for organizing underground sports betting.

Paul was born in 1964 in Malaysia, in Miri town, which is located in the north-eastern part of Sarawak. In childhood, he was fond of sports, played basketball, football, softball and table tennis. When Paul reached the age of 15, he was sent to one of Singaporean schools.
During the study at this school, he often had to earn extra money by working in construction. This job gave him a clear understanding that he wasn't fit for a hard physical labor. In parallel, he also started to be engaged in the illegal gambling.
He began his career as a mediator between the bookmaker and the players. Phua quickly started to earn money on the illegal bookmaker activity and soon he decided to organize his own bookmaker's office.
In the late '90s, Phua met his future business partner, Richard Yong. Richard and Paul turned out to be a good match, the Malaysian police suspected Yong of organizing illegal horse racing, but for unknown reasons the investigation was stopped. In the early 2000s, Phua and Yong were engaged in junket business. The essence of this business is that the casino pays a percentage of its revenue for bringing rich people to their establishments.
Paul and Richard supplied the casino in Macau with rich people from Asia, and the casino in turn paid them 1% of the total revenue.
In 2010, Phua got carried away with poker. Prior to this, Paul was fond of baccarat like many gambling Asians. Phua played at Asian Poker Tour 2010 which was held in Macau at "City of Dreams" casino.
The rumors that rich Asian gamblers play in Macau rapidly spread among the poker layers and soon Paul started to play at the same table with John Juanda, Phil Ivey and other famous players.
In 2012, he became the champion of Aspers 100K High Roller and won his first prize money. His winning was £1 000 000 or $1 620 000. This is not surprising, because the play at the same tables with top players did its job.
Yong and Phua quickly started to feel accepted by the famous poker players, not only in the role of players, but also backers. They often bought the shares in the live tournaments and financed the buy-ins which some top poker players couldn't afford. One Drop at WSOP 2012 with one-million-dollar buy-in was one of such tournaments in which Yong took the 8th place and earned $1 237 000.
In summer 2014, Paul Phua was detained by police in Macau on suspicion of organizing illegal bets. Shortly afterwards, Phua was released, but he was forbidden to come to the country.
That summer, Paul was arrested by the FBI for organizing illegal betting in Las Vegas. FBI carried out a special sting operation in order to get the facts which would directly indicate Phua's involvement in illegal gambling. They found a notebook in which there was an income accounting from the bets. The amount of proceeds for illegal bets was $357 000 000. FBI was also interested in Paul's connection with Asian mafia triads.
With the help of money resources and good connections, Phua was released in 2015 after 9 months of the court trials.
After that, he focused on poker. Paul plays a lot in the expensive tournaments.
In 2019, Paul Phua took the second place in Triton London Main Event and won the largest prize money in his career ($3.1 million). He has 5 seven-digit winnings.
In the world of gambling, both legal and illegal, Paul Phua is one of the key influential persons.

​
Interesting facts about Paul Phua:
He organized illegal betting directly in Ceasars Palace VIP room in Las Vegas.
There are rumors that Phua is closely related to "14K" Hong Kong mafia triad.
The economy of Macau declined sharply since 2014 after Phua and Yong stopped junket tours to their casinos.
Phua was suspected of trying to influence the results of English Premier League in December 1997, but he escaped punishment.
He won such huge sums at the private tables that even Swiss bank demanded from Paul to show a video with hands in order to understand where he earned that kind of money.
In 2014, Phil Ivey, Daniel Cates, Tom Dwan and Andrew Robl helped Phua to get out of prison on bail and collected $ 2 500 000 for him.
According to unofficial data, Paul Phua has 70% of IBCBet shares. It makes him the most powerful bookmaker in the world.
Paul Phua and Richard Yong founded Triton Poker Super High Roller Series in 2015. This series is very popular among the high rollers and businessmen from around the world.
In 2019, Phua was the victim of the most incredible bad beat in poker history. Paul lost $200 000 in a hand in which his opponent made a straight flush twice, as the players agreed to watch turn and river twice. At the same time, Phua had a full house from the flop. Jean-Robert Bellande recorded the incident on the telephone.

Paul Phua on social media: