Phil Ivey's biography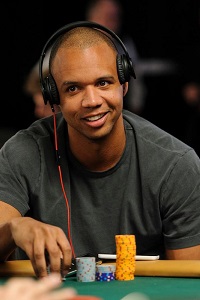 over $26 260 000
Offline prizes
exact amount is unknown
Online prizes
The best result:
$3 582 753 or $AU4 000 000 (1st place in $250 000 Challenge at the Aussie Millions Poker Championship 2014)
Main achievements:
10 WSOP bracelets, 7th place at WSOP ME 2009, top-20 best world players, 3 trophies of Aussie Millions Poker Championship
Can be found by nickname:
Phil Ivey is a famous professional poker player who has proven his skills over the years. The guy began his career being a teenager, using fictitious documents, and he continues to show excellent results up to this very day. However, now Phil is not a poor casino regular in Atlantic City, but a famous high roller and a frequent guest of the most expensive games.

If we talk about Phil Ivey net worth, then on the Web you can find numbers from $100 to $125 million. So the common question "Is Phil Ivey broke?" we can confidently answer in the negative.

Ivey has achieved significant success both in online and live tournaments. His winnings in tournaments have repeatedly overpassed a mark of 1 000 000$ each (at least 6 times), and he often plays online cash games at the highest limits.
For a long time, Phil played with FullTilt Poker patches, but then he created his own poker room and training site Ivey League and started to represent it. In May 2017, Ivey League was closed.
Ivey has achieved significant results at the World Series of Poker. The player won his first bracelet in 2000, and in 2002 - he added 3 more victories to this result. Overall, the guy has got 10 WSOP bracelets in tournaments of 6 different poker types. He also took 7th place in the most prestigious event of the poker world - WSOP ME in 2009. In total, he hit the prize zone of the world series over fifty times. Besides that, Phil had played at the 8th WPT final tables, which is a record indicator.
In the poker community Ivey has become famous not only as a strong professional, but also as a big fan of betting. From time to time the poker player places high stakes for games or bets with someone for a tidy sum.

Today Phil Ivey's name can often be found in the highstakes reports or among the winners of major events. The guy continues to demonstrate his skills, and therefore, he is rightly called the best poker player in the world.
According to Wikipedia, Phil Ivey is "an unspoken best poker player in the world."
Interesting facts about Phil Ivey:
Phil Ivey began his poker career at the age of 18, playing in Atlantic City. As it is not allowed to gamble under the age of 21 in America, Phil used fake documents in the name of Jerome Graham. Since then, he has got his moniker "No Home Jerome".
According to Ivey, he's going to win at least 30 WSOP bracelets.
As for "Phil Ivey wife", the poker player used to be married to Luciaetta Ivey for 9 years (2002-2009), but the couple divorced.
A popular casino "Aria" has called one of the rooms in honor of the poker player - "The Ivey Room" (in 2019 it was renamed to "Table 1").
After winning one of the tournaments, Ivey left 90 000$ as tips to the dealer.
Phil has his own "support team" - Pat and Mel Humphries. They have known the poker player almost from the very beginning of his career, and now the couple often attends tournaments with his participation, supporting the guy in every possible way. Unfortunately, in March 2019 Pat died.
"Phil Ivey lawsuits" is an interesting topic. Phil Ivey was twice charged with fraud – by casinos "Crockfords" and "Borgata". In the first case, court allowed the casino not to pay the winnings to the player; the second case continues even now – the casino requires a player to pay out 10 000 000$. Ivey has already lodged appeals concerning these decisions, and he intends to win both cases, since the guy does not consider himself a swindler.
A 250 000$ Challenge tournament at Aussie Millions is called the Phil Ivey's tournament, as the poker player won it more times than other players (3 times).
Phil Ivey was several times nominated as an applicant to enter the Poker Hall of Fame. Finally, he was elected there together with David "Devilfish" Ulliott in 2017.
Since November 2017, Ivey has been an ambassador and a strategic advisor of Virtue Poker (a decentralized P2P Poker platform that is created with the use of Ethereum).
In 2018, Phil Ivey hit his first prize zone at the WSOP in the las 4 years, but the player still hasn't taken the prize money of just over 2 000$ away (for the 533rd place at Colossus for 565$).
In 2018, Ivey visited Russia for the first time. He arrived at the Partypoker series Millions Russia in Sochi, but he did not get into prizes of a single tournament there.
Phil Ivey on the social networks: