Sergey Rybachenko's biography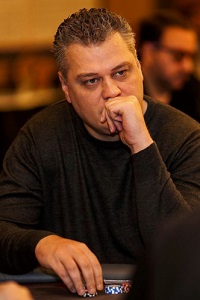 Sergey Rybachenko
(49 years)
Russia/Latvia
Male
1/15/1974
over $1 429 000
Offline prizes
exact amount is unknown
Online prizes
The best result:
$206 395 (the 45th place at WSOP ME 2010 for $10 000)
Main achievements:
GipsyTeam creator, one of the organizers and leaders of live tournament series GipsyTeam Live Poker Festival, famous Russian backer
Can be found by nickname:
Sergey "Gipsy" Rybachenko is a recognizable person in the poker community. He is well known both by the Russian players and foreign professionals. This is because he not only plays poker, but also is engaged in backing, betting, organizing of Gipsyteam Live series, and his name (more precisely, nickname) is given to the site which he created about 10 years ago.

While many players came to poker from e-sports, chess and etc., "Gipsy" came to this game by chance when it appeared in one of the bookmaker online networks. So, it turns out that Sergey Rybachenko plays poker thanks to sports betting. Prior to that, he earned money by means of betting for 10 years.
Poker became a landmark occupation for Rybachenko. He managed to build a successful career of player and backer. According to Sergey's statement, he constantly won during the first month of his play. It encouraged him to continue his path in poker. For a long time, he preferred online poker, but over the time he was allured by the game in Moscow casinos. He became a frequent guest of "Crown" and "Golden Ring" establishments, where he managed to win significant sums. Soon Rybachenko became the director of "Golden Ring", which is considered an expensive and elite poker club in Russia.
Thanks to his sociability, Sergey quickly gained his colleagues' affection in the poker community. It helped him in the creation of Gipsy Team. Rybachenko struck up a lot of mutually-beneficial acquaintances during his poker career.
To date, Sergey is engaged in betting, backing and periodically plays poker. Despite financial difficulties, he manages to maintain a high standard of living. In 2017, Rybachenko wrote in his diary that he was in search of an optimal way for earning the money. In 2018, the poker player added that he would probably stop playing poker in the case of a stable income.

​
Interesting facts about Sergey Rybachenko:
The poker player was involved in track-and-field athletics in his youth (more than 6 years).
According to Sergey's words, at the beginning of his career, he won more than $500 000 for six months at Red Star Poker poker room, which was unpopular at that time.
One of the most popular Russian poker resources "Gipsyteam" is named after the nickname of Sergey. Rybachenko started to work on the creation of resource in 2007. He collected Gipsy team, which includes Ilya Gorodetskiy, Ivan Demidov, Lika Gerasimova and Stanislav Alekhin (he has already left the team).
He is one of the organizers and leaders of live tournament series GipsyTeam Live Poker Festival.
In one of the interview, poker player admitted that he lost $3 000 000 in Omaha 7-card stud in 4 days before going to Vegas at WSOP 2008. However, it was a misfortune before the huge growth, because Sergey invested money in the play of Ivan Demidov and hit the big jackpot in the series.
Rybachenko became the backer for Demidov at WSOP ME 2008, where he took the second place and won over $5 800 000. Rybachenko got a huge profit. The exact amount wasn't pronounced publicly, but in one of the interviews in 2015, Ivan noticed that due to nuances with the backer he didn't get prize money. It provides the ground for assumption that Rybachenko took all the money. It is unknown how the things were managed in that situation, but the fact that Demidov and Rybachenko are friends of their families until today means that there is no conflict between them.
Rybachenko can be called the player who brought Chinese poker to Russia.
Sergey stated several times about his bankruptcy. The reason of this statement is that he can't manage his bankroll and it's becoming a big problem for him.
At the end of 2016, Sergey got married with Alexandra Usoltseva who also plays poker.
Sergey Rybachenko is one of the PokerOK ambassadors (from December 2019 – GGPokerOK).