Steffen Sontheimer's biography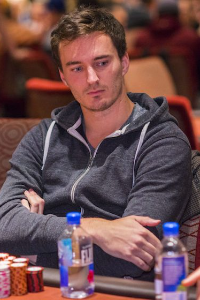 Steffen Sontheimer
(33 years)
over $13 700 000
Offline prizes
exact amount is unknown
Online prizes
The best result:
$3 685 000 (1st place in PCA Super High Roller tournament for $250 000)
Main achievements:
the owner of purple jacket, the champion of PCA Super High Roller tournament, top 10 of the most profitable poker players in Germany
Can be found by nickname:
Steffen Sontheimer is a German professional poker player. He was born on 13 September 1990 in the German city of Gernsbach. Steffen started his poker career in online, and then proceeded to live poker. The poker player won over $13.7 million in the live tournaments during his entire career.
Steffen has not yet won a WSOP bracelet, however he is the owner of Poker Masters purple jacket got in 2017. He is also a close friend of such a famous poker player as Fedor Holz.
Start of career
Sontheimer studied industrial engineering at the Karlsruhe Institute of Technology. He combined his study with his great passion: poker games. Steffen was very fond of poker that he even wrote a dissertation on the behavioral economics of poker.
Sontheimer remembers perfectly the moment when he became a professional poker player. He said that he played only cash games and after becoming a poker pro, he went to Canada with his friends in order to play SCOOP. He was in the company of Rainer Kempe, Fedor Holz and others. Steffen combined the play at the cash tables with tournaments games on Sundays.
Results in the live tournaments
Steffen began to play in the live tournaments in 2015. In just 5 years, he managed to win over $13 700 000 in total. His first successful play brought him the 3rd place in the tournament for $25 000 at Aria.
In 2017, Sontheimer achieved significant result at Poker Masters series. Thanks to this, he was awarded a purple jacket as the best player of the series. At Poker Masters, Sontheimer won the tournaments for $50 000 and $100 000, and he also reached the ITM zone of two tournaments for $50 000.
Steffen regularly participates in high roller tournaments. For example, in 2017, the German player became a runner-up of tournament with $100 000 buy-in. The second place brought him $1 223 000, and a year later he finished fifth at WSOP Europe and earned €806 000.
Steffen without WSOP bracelet
Despite such good results in the live tournaments, Steffen still doesn't have WSOP bracelet. So far, his best result is the 11th place in $100 000 tournament.
2018 was unsuccessful for the German player. After WSOP 2017, he published statistics thanks to which we found out that he lost $2 000 000 in Las Vegas during the series. The following year, Steffen went back there again and managed to win several tens of thousands of dollars.
Steffen and online poker
The exact amount of Steffen's money won in online poker is unknown. However, you can find him at PokerStars under the nickname "Go0se.core!" The official statistics of Sontheimer's play is hidden, but it is known that he won $44 432 for 3 600 hands played in the long run.
You can watch the play of German professional online on Twitch:
​
Steffen also plays MTT tournaments and shows good results. It is worth noting his victory in the tournament for $5 200 in 2017 at PokerStars. It brought him $99 900 of prize money.
Quarrel with Phil Helmuth
In October 2017, Steffen Sontheimer appeared on the popular podcast of Joey Ingram. They discussed a lot things, including the play of Phil Helmuth, who is the owner of biggest number of bracelets won (15). Despite this, Phil's play is often criticized by the other poker players.
What's interesting is that Helmuth calls his own play a white magic. The poker player makes decisions not according to GTO, but based on his reading skills on an intuitive level, which allows him to show a successful play.
Sontheimer said that he had no idea what Helmuth's "white magic" was exactly. He knows that Phil talks a lot, and if his "white magic" means a lot of chitchat when facing a bet, and then fold the best cards – then it works perfectly. This is something Helmuth does wery well.
Phil Helmuth reacted negatively to such words. As a result, an animosity appeared between two poker players.

​
Interesting facts about Steffen Sontheimer
In 2018, Sontheimer and his German poker players decided to create a team of online poker and e-sports. They called their project "NoLimitGG".
Linus "LLinusLLove" Loeliger lives in the neighborhood of Steffen Sontheimer.
At school, he was fond of sports: football and table tennis.
Steffen finished one year of his study as an external student and went to a gymnasium.
He defended his dissertation on "Behavioral economics of poker".
All the names of Sontheimer are associated with the word "Goose", and his friends call him like this.
Steffen Sontheimer on social networks
Steffen Sontheimer on Twitter.
Steffen Sontheimer on Instagram.