Viktor Blom's biography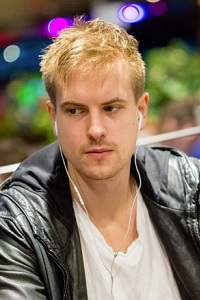 over $2 900 000
Offline prizes
exact amount is unknown
Online prizes
The best result:
$1 254 400 (1st place in Super High Roller Event at the PCA 2012 for $100 000)
Main achievements:
champion of partypoker MILLIONS Main Event in 2018 Rozvadov, PCA trophy, one of the most popular high stakes players in online
Can be found by nickname:
Viktor "Isildur1" Blom is considered a poker legend. For the first time his name, or rather - nickname, appeared at the poker arena in the fall of 2009 at Full Tilt Poker room. For about a year everyone wondered who was hiding under the mask of Isildur1, playing (and winning) at high stakes (500$ / 1 000$) with the most famous online high rollers, including Phil "RaiseOnce" Ivey, Tom "Durrrr" Dwan, Patrik Antonius and others.

At the end of 2010, Isildur joined PokerStars team and became the first PokerStars Team Pro without a name - it was replaced by the already known nickname "Isildur1".
In the poker community there have been rumors that young Swedish - Victor Blom could be hiding under the nickname of "Isildur", but the player's identity was officially exposed on the 8th of January, 2011 at the PokerStars Caribbean Adventure.
From the mysterious online poker genius, he has turned into a professional high roller with a great reputation and no less great fame. In 2011, the poker world wrote about Viktor Blom more than about any other player. Now he is still one of the most recognizable and revered online poker players and a favorite of the media, even despite Viktor tries to keep his life a secret and almost does not give interviews. Isildur's name often appears in highstakes' reports. Many guy's colleagues call him one of the best poker players of our time.
Viktor Blom's success is not so obvious in offline poker. In live tournaments Blom began to appear in 2010. The contract he has signed with PokerStars provided for a more active poker player's game offline. For 8 years of playing Victor has hit the ITM of live tournaments 15 times, twice became a runner-up of the EPT events, and the biggest win came to him with the 1st place in Super High Roller tournament at the PCA 2012 (+1 254 400$).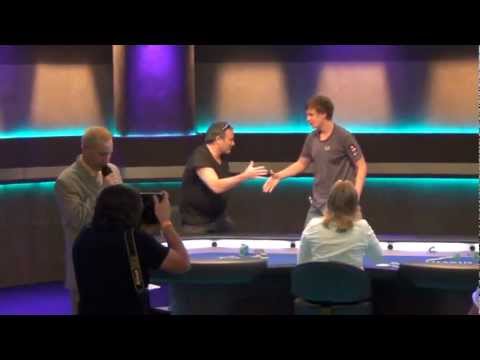 Viktor Blom has repeatedly participated in different challenges versus famous poker players (mostly in a heads-up format). Thus, he won 500 000$ in a million-dollar standoff against Isaac Haxton and beat Tom Dwan in the sensational Dwan vs Blom Challenge at Full Tilt in 2012. The "durrrr" and "Isildur1" confrontation is still discussed actively by players, and it has almost become a standard of poker battles.
Today Viktor Blom is a successful poker player, whose life isn't known in detail. He rarely appears offline and actively rolls high-stake cash games at PokerStars. The surprising thing is that "Isildur1" can sometimes be met at the tables of cheaper limits or in inexpensive (by the standards of a player) tournaments.

Interesting facts about Viktor Blom:
Viktor Blom has a brother and two sisters. He is the youngest child in the family.
Isildur's first deposit in online poker was equal to 100$.
Blom came up with his nickname "Isildur1" after watching "The Lord of the Rings." There was a character (the second ruler of the Dunedain kingdom in Middle-earth) named Isildur.
At the age of 19 Blom joined a top-10 list of the most successful online poker players with the biggest winnings.
Blom became famous at the age of 19, when he started to play high-stake games, but according to the Swede, he familiarized himself with the game at the age of 14. The player realized that poker is his calling when he was 18. The guy made a deposit of 2 000$ and was playing cash for 15 hours a day within three weeks by starting at the rates of 0,50$ / 1$. Victor has managed to build up a 2 000 000$ bankroll. It became the legendary poker player's start.
After his first ups Viktor Blom bought an apartment in Sweden, the cost of which is estimated at around 1 000 000$.
Isildur has taken part in games with the most major pots in online poker. The biggest pot Isildur1 has participated in (1 357 000$) was won by Patrik Antonius, and the biggest pot in his career Blom won in heads-up with Phil Ivey at PLO 500$ / 1 000$ (1 128 000$).
Viktor Blom used to be a member of the PokerStars Team Pro (in 2010-2012). Then he had played with the patches of Full Tilt until October 2014. Until recently, he has been a member of the Unibet team.
He has won SCOOP tournaments for three times, including the Main Event in 2013, which brought him over a million dollars.
In 2018 it became known that Isildur is dating Julia Vianna. The "Isildur1" had ups and downs in poker. His graph at highstakesdb (includes expensive cash games only) is as follows:
"Isildur1" at Full Tilt: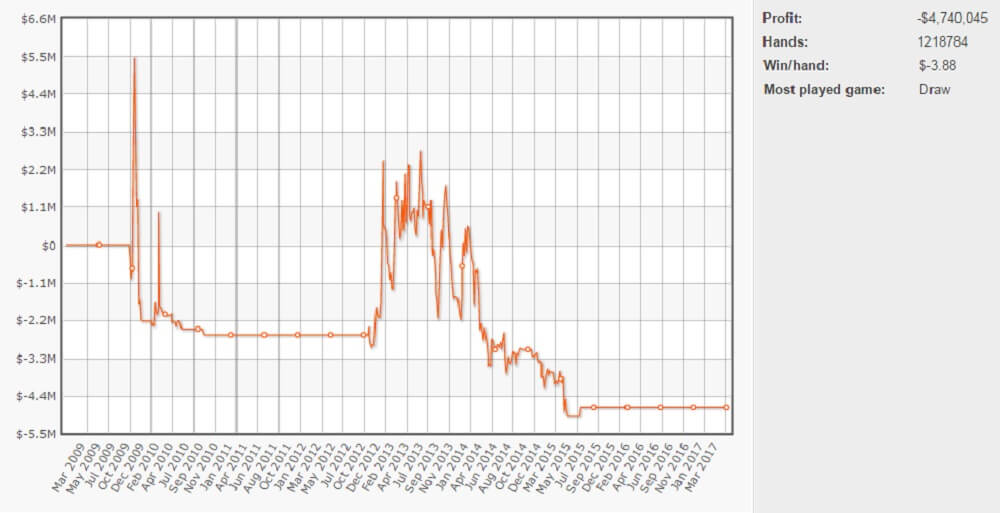 "Isildur1" at PokerStars: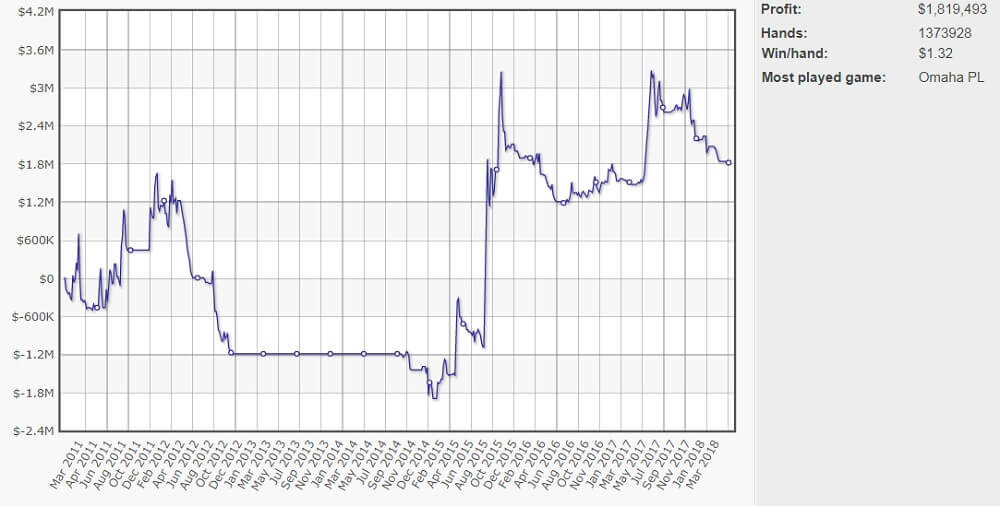 Viktor Blom on social networks: