Boosted Daily Legends: $400 000 in tickets at PartyPoker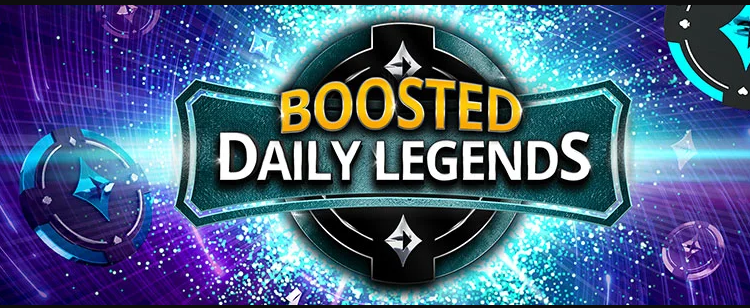 ​
Tournaments at PartyPoker never end, and there will be even more tourneys carried out this fall. September 24, 2020, through July 11, 2021, you can take part in the Boosted Daily Legends promotion, according to which the poker room will raffle $400 000 in tournament tickets.
Play selected Daily Legends tournaments with a buy-in starting at $5.50 during the mentioned period, and you will have the opportunity to get a daily reward in the form of a tournament ticket.
The Daily Legend group include the following events: The Terminator, The Magnificent 7, The Magnificent 77, The Gladiator, The Flash, The Blade, The Target, The Triple Barrel, The HeadHunter, or any of these tournaments with the prefix "super" (for example, Super Gladiator).
Important: you will be daily informed whether you have won a prize through a pop-up message right after finishing your participation in the first Daily Legends tournament.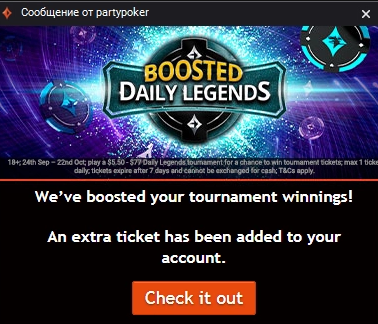 ​
Players have the opportunity to receive the following prizes (awarded randomly):
| Prize | Probability |
| --- | --- |
| $55 Gladiator ticket | 1% |
| $2.20 Predator Sat ticket | 5% |
| $5.50 Headhunter ticket | 5% |
| $11 Terminator ticket | 6% |
| $22 Predator ticket | 13% |
| $1 000 Daily Freeroll ticket | 25% |
| $5 000 Weekly Freeroll ticket | 25% |
| No reward | 20% |
PartyPoker always hosts authentic and quality tournaments. You have more chances to enter the ITM zone of the Daily Legends events as they provide the next benefits:
No HUDs are allowed. Everyone plays on an equal footing.
Re-entries are restricted. Each player has the same number of attempts to re-enter the tournament. Those who have large bankrolls are unable to increase their chances of winning by making numerous re-entries or constantly rebuying.
Late registration period is limited.
Boosted Daily Legends main details:
The promotion starts on September 24 and ends on June 13, 2021.
Players must use the tickets within 7 days, otherwise, they will be void.
You can't exchange these tickets for cash.
Partypoker users may receive only one prize per day, regardless of the number of eligible tournaments played during the day.