Bryn Kenney accepted Douglas Polk's heads-up challenge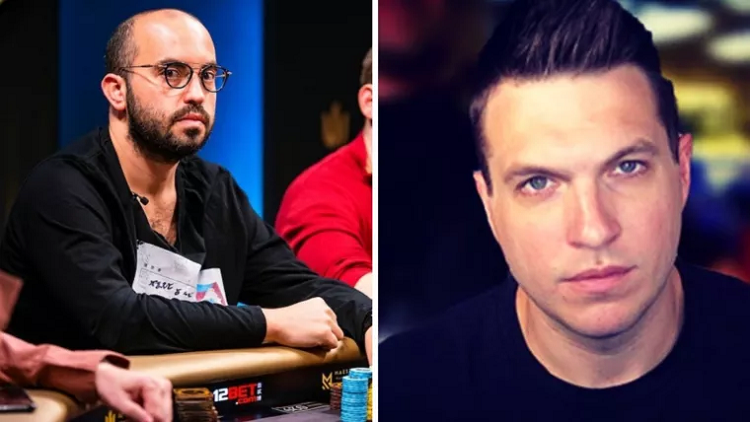 ​The poker community remembers this and last year not only for the pandemic, but also for the various heads-up challenge between famous poker players.
Popular American player Douglas Polk became one of the main initiators of heads-up challenges. Over the course of this year, he has repeatedly proven his skills in heads-up battles against other eminent players.
Poker legend Daniel Negreanu became one of the main victims of the American "GTO machine". Negreanu lost over $1 200 000 to Polk in their competition.
Not so long ago, Douglas Polk challenged the most successful poker pro, namely Bryn Kenney. As usual, it all started with a conflict on Twitter, when Kenney wrote his opinion about the most of the poker training courses. Bryn compared them to rubbish and promoted his own training course.
Read also: Kenney offered Hellmuth to play a $1 000 000 heads-up battle
Polk considered this statement as a "thorn in his side" and decided not to ignore Kenney's publication. Douglas said that Kenney's training courses were bad and declared himself "the best player." Kenney responded by calling Polk a "clown" and "sheep in heads-up Hold'em."
Polk didn't appreciate such a response and changed his photo on avatar, by posting a picture with sheep. In addition, he challenged Kenny to a heads-up duel.
Bryn refused to play against Douglas due to his imposed terms ($500/ $1 000 limits with 25 000 hands). Instead, Kenney invited Polk to play a one-day heads-up tournament with a prize pool of $1 000 000 and proposed his own terms.

Polk immediately noticed Kenny's "charity trick" and responded in his own style: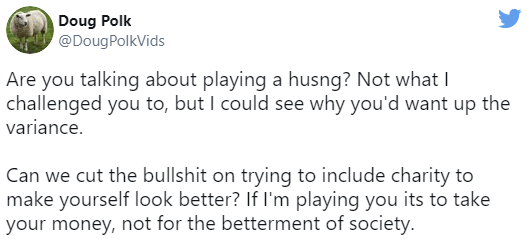 Douglas has also added that he is not wealthy enough to afford a match for one million dollars. Kenny, in turn, said that he didn't have time for protracted heads-up battles.
It seems that Bryn has agreed to a duel against Douglas, but he hasn't convinced his opponent to play on his terms. It is quite possible that the poker players will agree on the terms of their challenge in the near future and the poker community will witness another clash of the titans.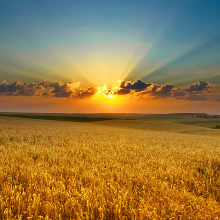 Cardmates journalist, news editor and translator since 2016. Specialization: poker news and review of events.