Cardmates update: the most honest reviews of poker rooms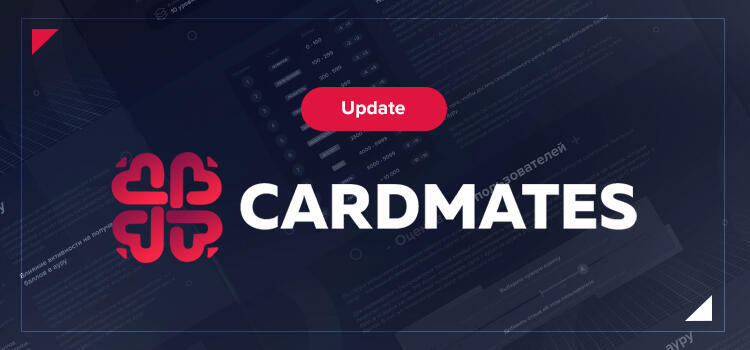 ​
User's comments of poker rooms on Cardmates are an integral part of the poker room review, which displays the reaction and opinion of real people.

We strive to ensure that in the reviews our readers find useful information and answers to those questions that interest them. So that, after reading them, you can understand whether this or that poker room suits you or not, decide for yourself whether it is worth registering and playing here. Therefore, it is extremely important that reviews for online poker rooms are real and relevant.
For this very purpose, as well as for your convenience, we have updated the section with reviews.
What's new?
First, the window itself has been updated in order to leave a review. Now it looks like this: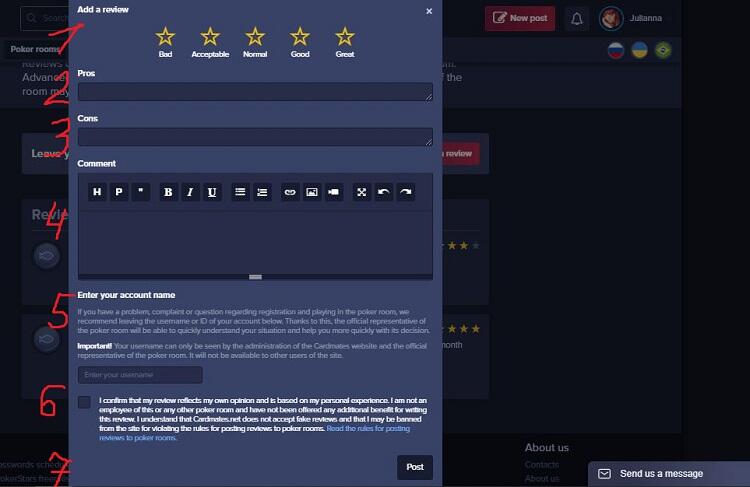 ​
The updated feedback window consists of the following items:

The rating that you give to the poker room on a scale from 1 to 5, where 5 stars is "excellent room, I can recommend", and 1 star is "I do not recommend, the room is very bad".
Pros – benefits of a poker room ( what advantages this poker room has).
Cons – disadvantages of a poker room.
Comment – your honest review of the poker room based on your personal experience.
The column in which you can enter your nickname/ID in the poker room (anonymously, only the site administration and official representatives of the poker room will see it). It is intended so that the representatives of the poker room on the site can help solve the issue/problem that has arisen in their room. The column is optional (not necessary to fill).
Confirmation of honesty of the review and knowledge of our guidelines for publishing reviews. By checking the box, you confirm that your review reflects your own opinion and is based on personal experience, that you have no additional benefit in writing this review, and that you are familiar with our guidelines for writing reviews.
"Post" button, after clicking which your comment will be published on the site.
Secondly, we have added a separate page "Rules for publishing reviews of poker rooms" in order to avoid spam, dishonest and uninformative comments. Be sure to carefully read the following recommendations before leaving your opinion about the poker room on our website.

Read "Rules for publishing reviews of poker-rooms" on Cardmates
We sincerely hope that our updates will help make the poker room reviews section more informative and useful for our readers.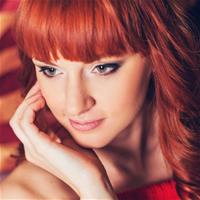 I have been working in the Cardmates team since 2015. Started playing poker and other card games in high school, played a lot with friends and relatives. While studying at the university, I explored online games on various websites.