Collection of the best poker-related memes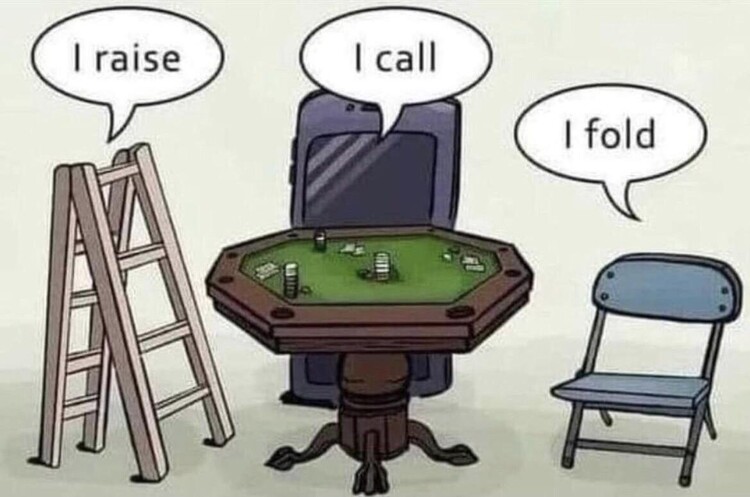 ​Poker is an emotionally exhausting activity. It requires a lot of concentration, so players often feel devastated about failures, especially when the stakes are insanely high.
On the bright side, they are extremely happy when, hitting a pair on the river, manage to take the pot or when everyone folds to their 3-bet bluffs, for example. And there are so many similar situations, both good and bad ones, that a layer of humorous folklore has been formed in the poker community.
We are talking about memes… poker memes. Human beings have been always able to spot life's little absurdities, and poker is no exception. The memes cheer poker players up and make even bad days seem a bit happier.
These humorous pictures cover poker game from a variety of perspectives through irony and sarcasm. Take a look at our poker meme collection, and you'll surely have a laugh or two.
Poker player's normal night
Many poker players have stated that they remember some losses even better than winning tournaments: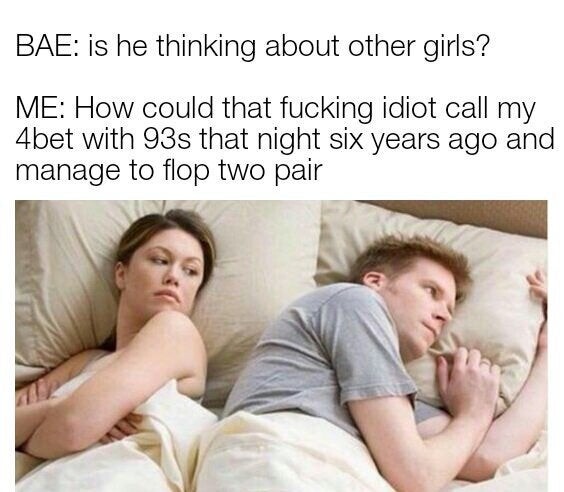 One-time poker player of 100-level
When you limp with 82o, and the flop comes 8h8c2d, you are like:
​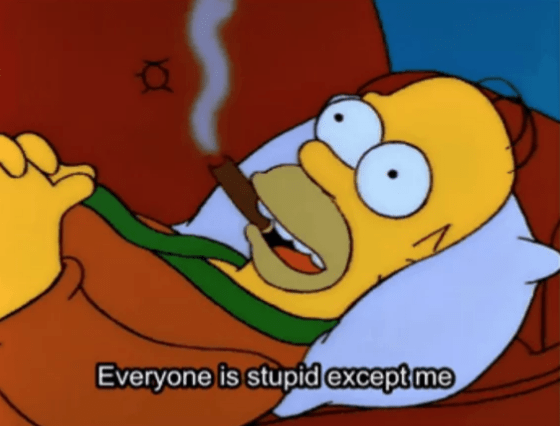 The time of glory
Something that will be relatable to those who often play on the bubble… with a short stack… but still with faith in heart: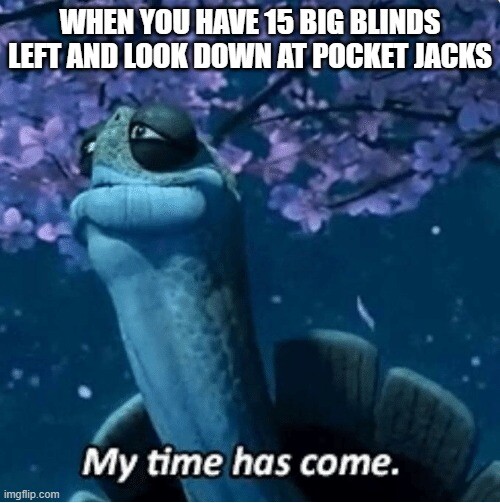 A fish that rides high
Fish (extremely weak players) are famous for playing a lot of hands and calling whenever it's possible. Sometimes, however, they can run over opponents, and then it seems that fish are just constantly lucky – more often than others:
​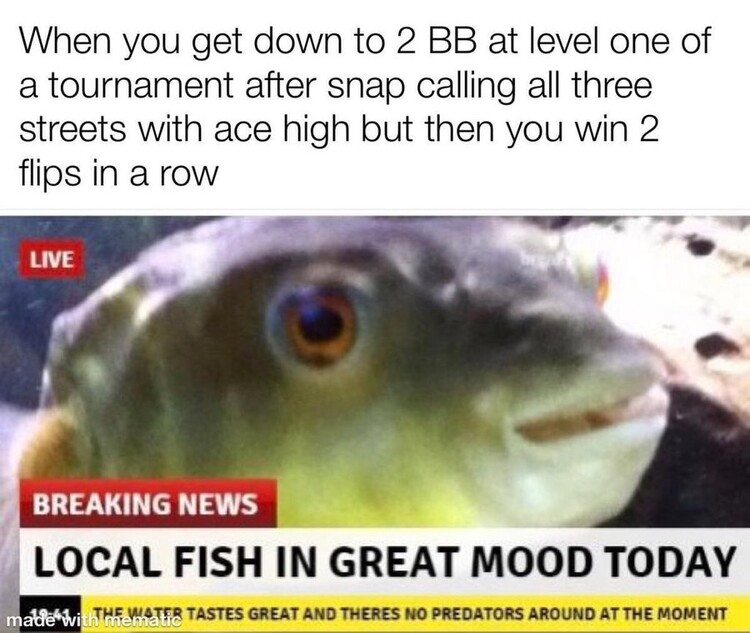 This is Omaha, baby…
If you have ever played pot-limit Omaha, then the following must be a very familiar situation: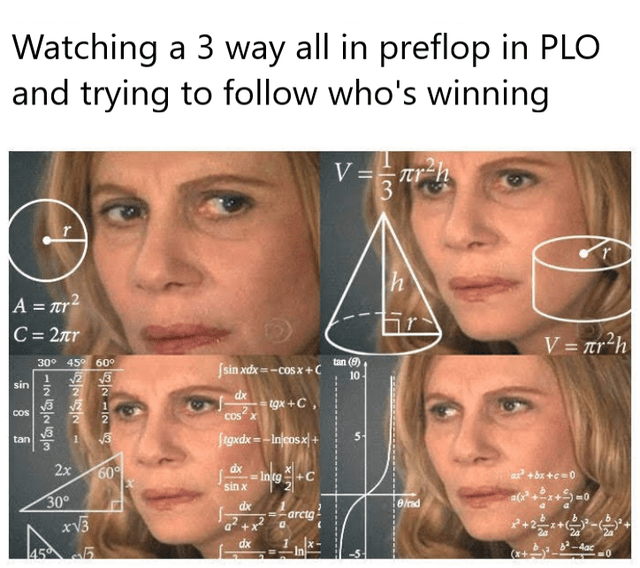 Way too confusing, at least for us. Have you ever experienced the same thing?
The power is in position
Of all poker principles, understanding your position at the table is the most important because most of your decisions depend on how your opponents act:
​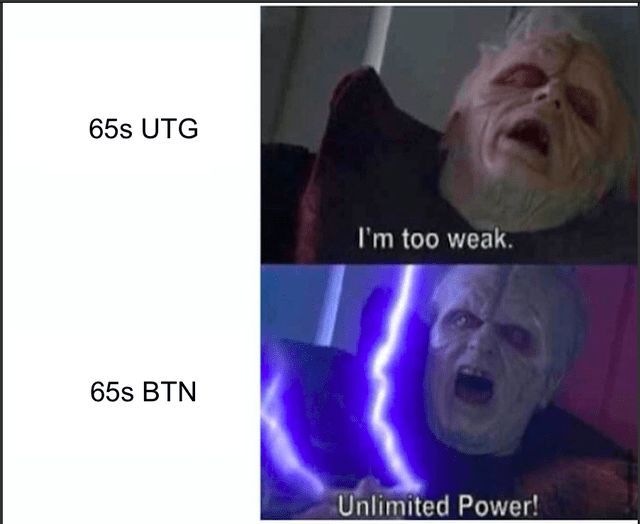 And one more meme for experts of positions, if you know what we mean)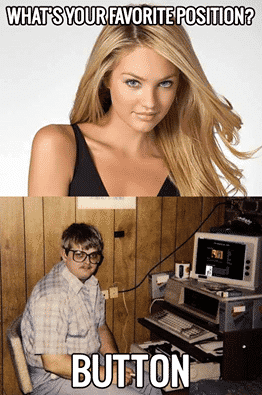 By the way, what is your favourite position in poker? We bet it is button either.
Money vs. Experience
When a player with money meets a player with experience, the one with experience ends up with money and the one with money leaves with experience:
​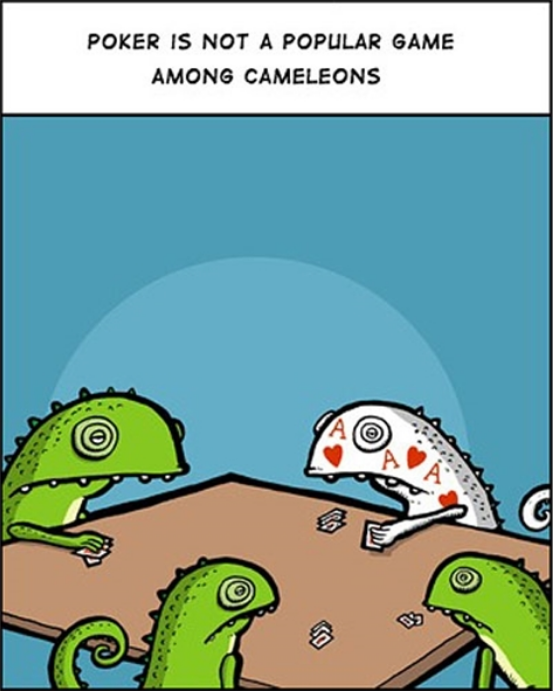 That's just so true.
To bluff or not to bluff
It is impossible to beat all but the weakest players unless you bluff from time to time. But, when big money is at stake, one may shit their pants:
​
Read also: Best poker bluffs
The next is one of our favourites. Only married poker players are able to understand: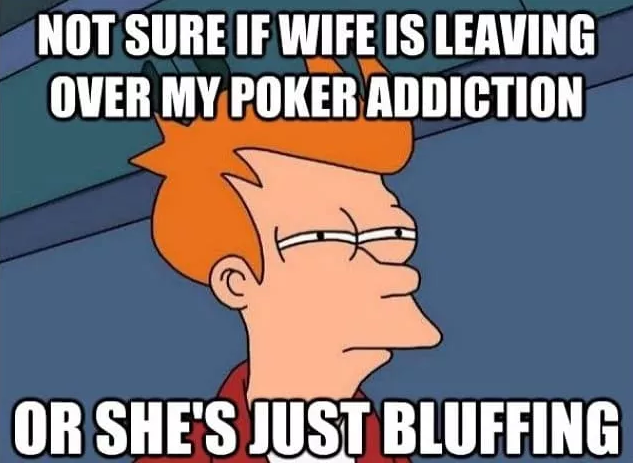 ​
It's not me, it's RNG!
A lot of poker-related memes are dedicated to RNG – random number generator. As the name implies, it is responsible for providing certain sequences of cards.
Any loser, having lost their pot\stack, first tries to find someone or something to blame. And oddly enough, this is almost always good old RNG, as everything was rigged: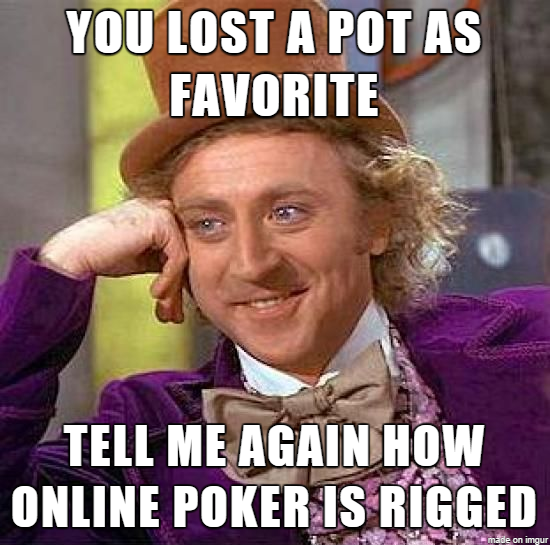 Of course, it is RNG. You are learning to play poker the whole 2 weeks now – even Niklas "lena900" Astedt is not as strong as you are. LOL!)
Poker with Kristen Stewart
Poker face is an essential element in any professional's arsenal when playing live poker, as it protects us from being read by opponents.
Kristen Stewart is definitely best at showing poker face:
​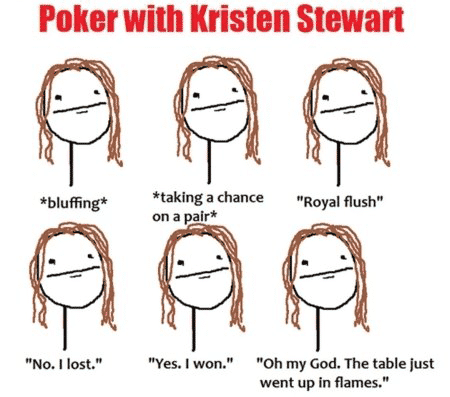 Players usually take it (poker face) off once the game is finished, but seems that Kristen plays poker 24\7…
An armchair expert
The popularity of poker is constantly growing. Along with it, interest in films about poker is growing as well. Today, on the Internet, you can find many movies where poker is the main plot, or, at least, is often featured.
Poker experts are not always involved in making films, so there can be mistakes in terms of the game every now and then. But, there will always be people to notice the mistakes:
​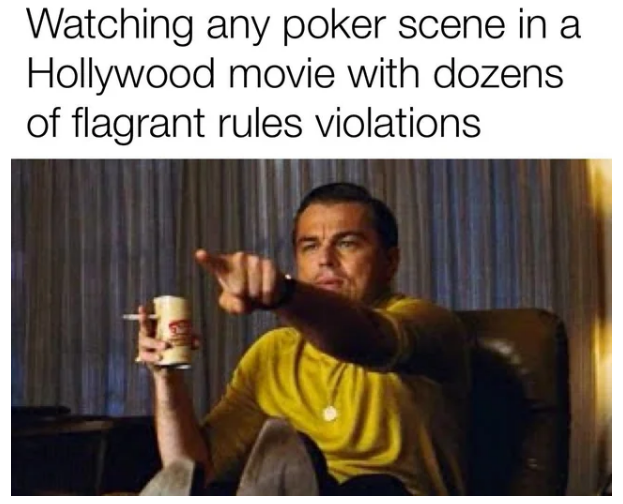 Do you know any film to include mistakes when poker game is applied?
Memes & Poker Professionals
Poker players are purposeful and organized people who value their time and respects serious things, but even they love to laugh. Many of them have a great sense of humour, and some of their words have long turned into memes.
Daniel Negreanu
Canada's poker pro with American citizenship, Daniel Negreanu, has taken part in many poker events and TV shows during his career, because he has always been famous for his sociability.
The guy is very popular with the audience and has a lot of fans around the world, but irritates his "workmates" at times for being way too chatty.
Daniel used to represent PokerStars for a long time and actively supported their every change, even when it seemed crazy for others.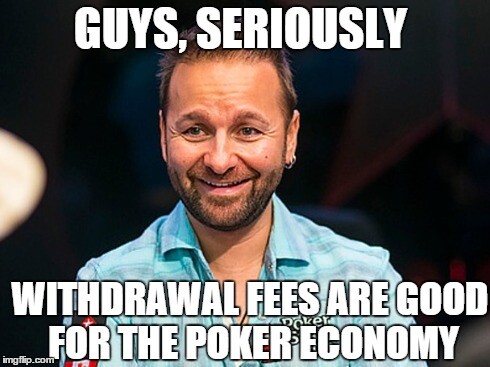 And if people resented what Stars had come up with, KidPoker was saying something like:
​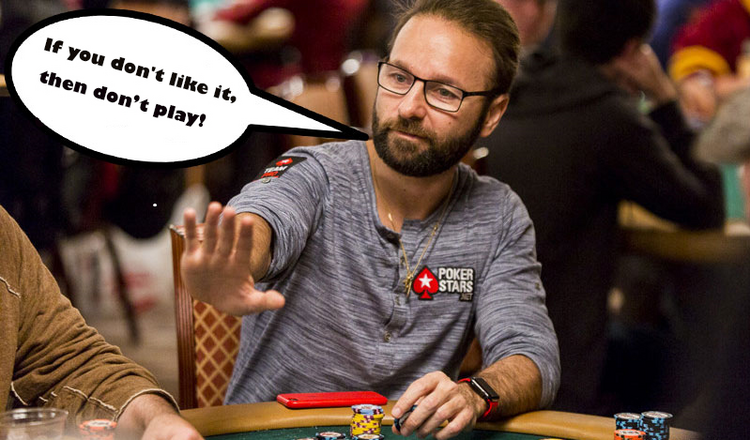 It's also worth mentioning that Negreanu has a superpower – he can easily read his opponents at the poker table and often guesses on their hands right.
Phil Hellmuth
Phil Hellmuth is a level-80 troll and the "Caesar" of modern poker, as periodically appears at tournaments in the costumes of the Roman general. Those who play with him are usually frightened by his mockery.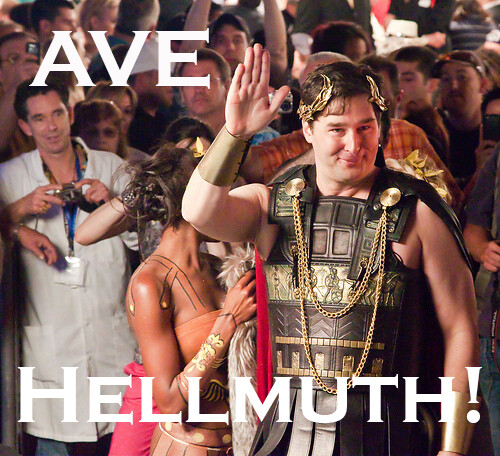 ​
He considers everyone around to be idiots and the worst poker players in the world. Well, no prizes for guessing who Hellmuth considers the best poker player.
The player also possesses "The White Magic" and gets terribly mad when he loses at the poker table. If you don't believe Phil is a "magician", here is some proof:
​
Hellmuth has a record number of WSOP bracelets – 15. It is not so easy to crush him, because the guy can "dodge bullets":
​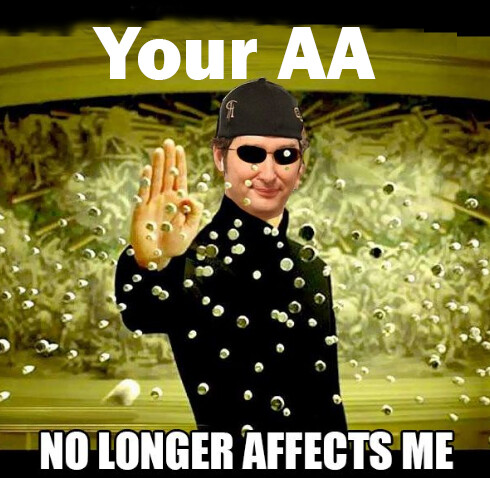 We should add a small explanation here. Bullets is a slang name of a pocket hand with two aces.
Doyle Brunson
There is probably no greater name in the poker world than Doyle Brunson, a person who has played and won poker for 50 years. It is a living legend, whose portrait hangs in the Poker Hall of Fame.
But, no one can escape memes, neither could Brunson. His famous phrase "May the flop be with you" migrated to funny pictures. Here is one of them: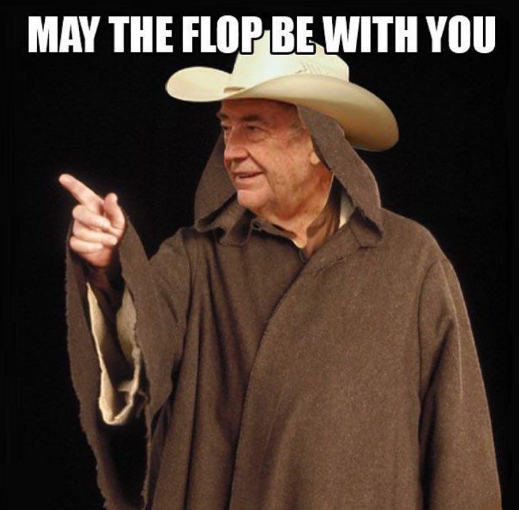 Final thoughts
Playing poker may be quite stressful at times. All those coolers and bad beats are really disappointing, but memes can help you relax and lighten things up a bit.
Here at Cardmates, we've carefully browsed for the best memes related to poker to make your day less boring and depressing. We hope you've enjoyed our list of funny poker memes.
Feel free to tell us which one you liked the most. Or, maybe, you know some cool poker meme we've forgotten to include in the list?​
You gave this material a grade 5 from 5: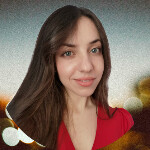 I've been working in the Cardmates team since 2018. Started playing poker the same way most people usually do – socially, with friends and fellow students. I adored those exciting poker nights but never thought my life would be connected with this game, even tangentially.