Compulsive Gambler #6/ UNLUCKY
Welcome to my blog;)
Yesterday we had an extremely unlucky day, we lost 2 bets, I am glad that everything is fine with bets on the NBA so far, I think I will soon make more bets on basketball.
Results of yesterday's bets:

Winstrike lost the map 11-4 in the extra rounds, although they had a lot of opportunities to win.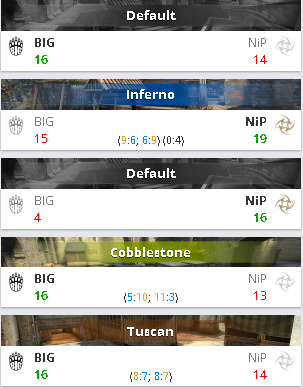 NiP won 2-1 on maps, but lost 3-2, with all the lost maps very close to victory, again we are out of luck.

Only basketball makes us happy, the Nets won with the required point difference for us,we take the victory.
By the way, considering the fact that we made an average bet on the NBA and a small bet on the rest of the matches, we lost almost nothing.
Statistics
Bets: 6
Wins: 3
Lose: 3
Average odds: 1.85
Bankroll change: -2%
I decided that I would keep a bankroll statistic so that people who first came to my blog could understand how things are.
Due to yesterday's bad luck, we are in a small minus, but today we will try to fix it.
Predictions for 14.01
Today, we will place all bets on underdogs, so observe bankroll management if you decide to follow my predictions.

Let's start with a match between two strong CIS teams, Forze vs HellRaisers. Both teams are in good shape, but the bookmakers clearly underestimate the HR team, they have recently started playing almost all the maps, and they can win today.
I recommend to make a small bet on a very sweet odds.

Prediction: HellRaisers win
Koef: 2.6
Bet size: small

In the second match, everything is even more strange, Dignitas is definitely not stronger here, the Czechs have been training a lot in recent days, and can easily win this match.
Again, put a little bet on them, be smart.
Prediction: Sinners win
Koef: 2.08
Bet size: small
NBA
It so happened that in basketball we always have more information for analytics, so the forecasts themselves look better.

Few would have guessed before the start of the regular season that the Golden State will be located in the intermediate table of the Western Conference above Denver. The Warriors finished last last season and started with two crushing defeats. However, then Curry got down to business, and Green returned to the site.
Denver in the past playoffs reached the finals of the West, but now gains victories with big problems and goes with a negative point difference.
I think it makes sense to put a small bet on GSW to win, Denver looks bad in the last few days.
Prediction: Golden State Warriors win
Koef: 2.87
Bet size: small
That's all for today, bet wisely.
Good luck;)
Overall rating of this post: