Equilab poker calculator review
Have you ever heard anything about equity calculations or equity calculators? No? Then let's look it up in our poker glossary.
If you understand what that means, let's get acquainted with the Equilab equity calculator.
Equilab equity calculator: the description
Equilab is a free program with a comprehensible interface. With this poker equity calculator, you can discover the probability of winning (i.e. your equity) in Holdem and Omaha with the established parameters: your hand, board, supposed opponent's range.
You might be interested to know what winning percentage you had with the pocket aces in certain situations, or when you had a straight-draw.
By using the program regularly, you will be able to improve your game skills. You will feel more confident when making decisions about whether you should bet or better fold your cards.
Attention! Equilab is intended to help poker players analyze the hands played after the game session. You can also train and learn the equity of the different hands/ ranges. It is prohibited to use this software during the game. For using Equilab while playing, you can be blocked in the poker room.
How to use Equilab
The functionality of the program is displayed in a single window. There, you should specify parameters for calculating equity.
You can choose the table type according to the number of seats – 10-max and 6-max.
In order to select 6-max, you should check the "short-handed" (6-max) box in the "View" tab: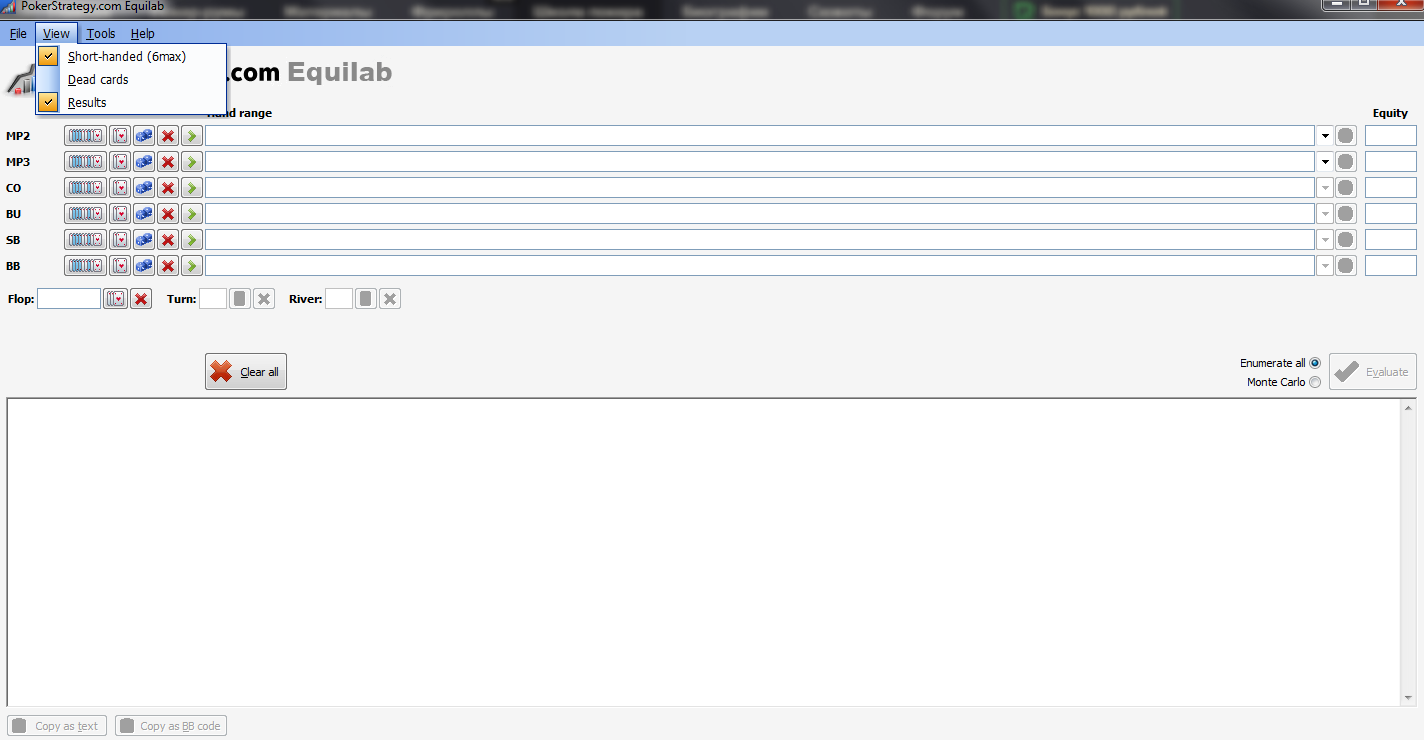 You should specify pocket cards for two or more players. You can select both particular cards and a range of hands: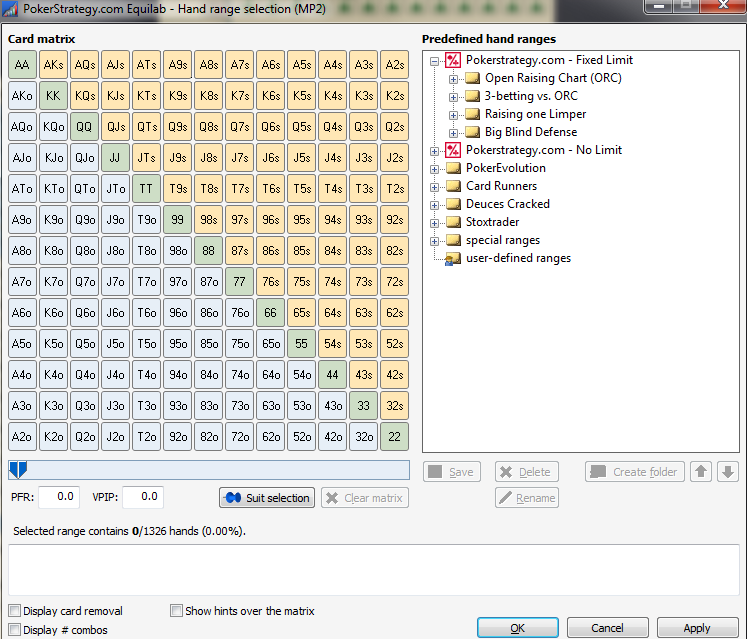 By clicking the blocks (the button is near two cards), you will select a random range for a player, thus the equity will be calculated for two random cards:

It is not necessary to indicate the board (flop, turn, river), but the equity will be calculated more correctly if it is specified. You may not specify the board's cards at all, or you can indicate the cards up to a certain street (flop or flop + turn), or you can indicate the entire board (up to the river).
You can select the player's action by clicking the green arrow:

After filling in all the necessary fields, press the "Calculate" button to get the result.
There are several ways to calculate equity:
Enumerate all – it is a mathematical-numerical method.
Monte Carlo – this method generates an infinite number of hands to assess the probability.
Poker players use the first method by default.
However, when pressing the "Enumerate all" button, the following inscription sometimes appears: "It is interrupted! Enumerate all equity is inaccurate. Please, use Monte Carlo".
In this case, you should use the second method, namely "Monte Carlo":

Hand strength distribution and limiting hand range
You can see how a certain hand hits the board, i.e. what chances you have for making one or another combination. To do this, click on the diagram icon: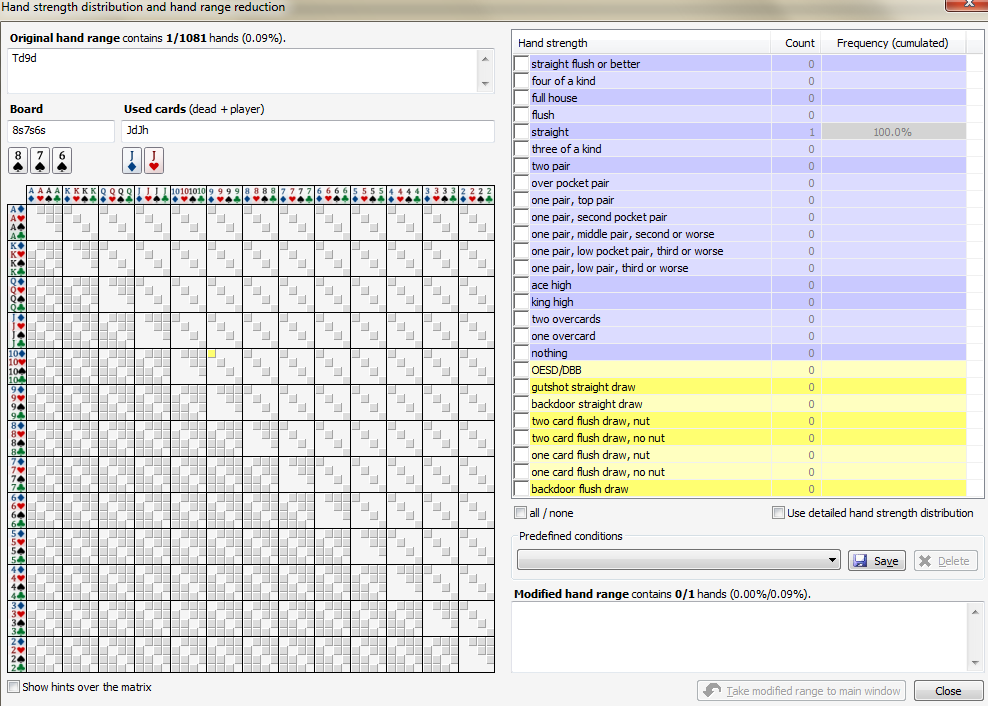 You can also select a specific suit of the player's cards. If two suited cards were dealt on the flop, then you can analyze your opponent's cards if his/her pocket cards are of the same suit. To do this, follow the photo instructions below: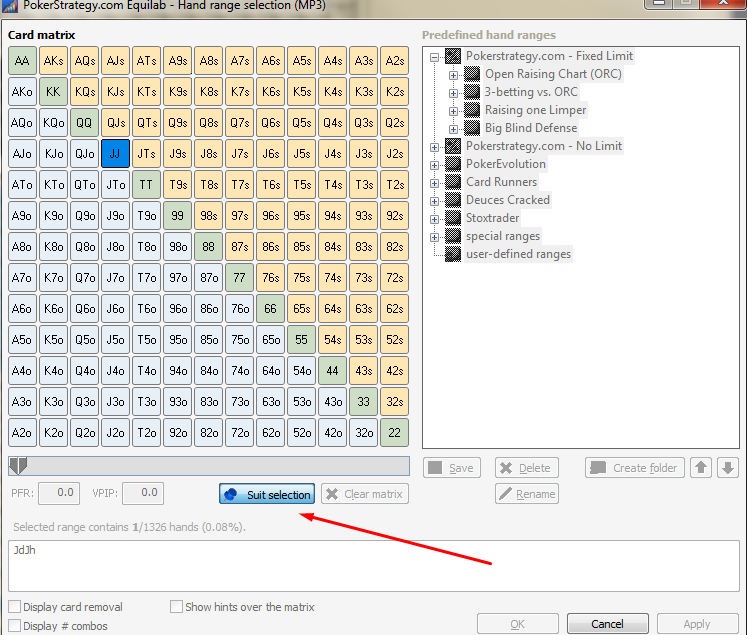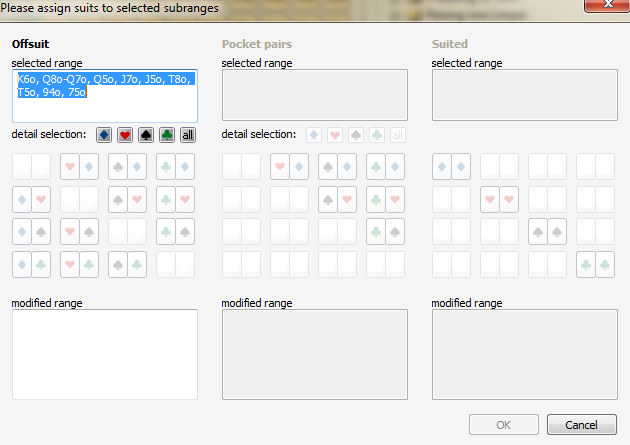 Equity trainer
You have an opportunity to practice your equity knowledge. To do those, you should choose "Settings"/"Equity trainer" in the Equilab lobby. You will be offered to guess equity for random cards or select your opponent's cards (Villain) and your cards (Hero).
If you choose the "predefined" option, then you will have to select the situation simulated by the program: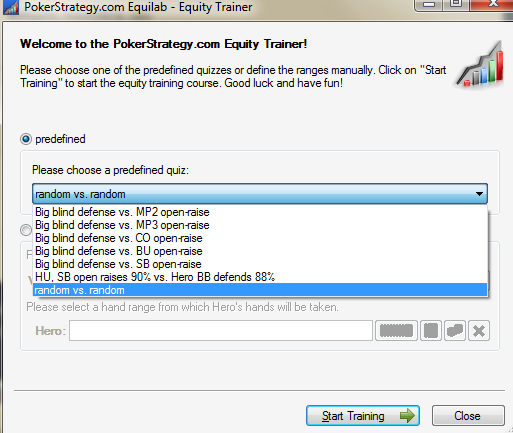 So, if you've chosen one of the "predefined" options, then you will be randomly offered the flop and Hero cards, and you should approximately calculate the equity of the cards: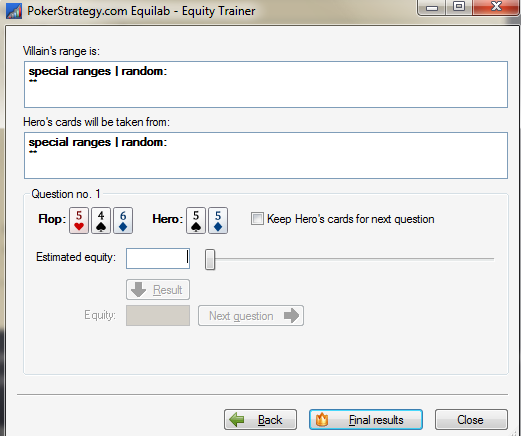 It is quite an interesting tool. Use it to test your knowledge of hand equity values ​​for a given flop.
Scenario analyzer
There is another indispensable tool that you will use to find out how the turn or river card can change your equity on the flop. In other words, you will see which card becomes dangerous for you and will force you to make the right decision – fold, or vice versa – bet /call if the card improves your low equity.

In order to open "decision analyzer", you should select the "Settings" tab in the Equilab lobby.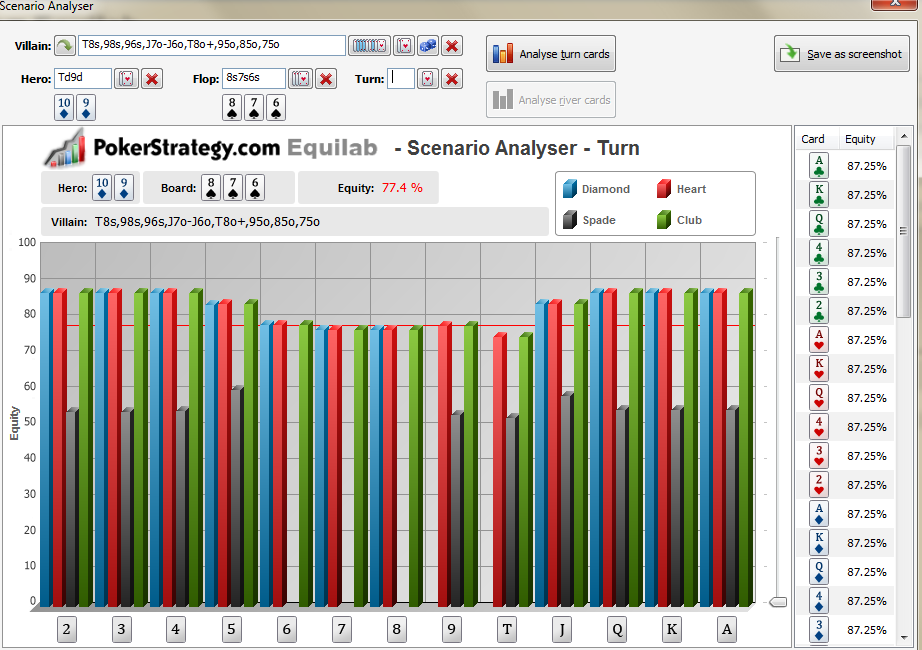 In the photo above, you will also see a slider circled in red. This is an equity regulator. With it, you can set the minimum value of your equity which you consider necessary.
Professional opinion
Equilab will benefit both beginners and professional players – it is a must-have tool on the road to success. If you want to achieve great results in online poker, then you will need to work hard on improving your poker skills not only at the tables but also away from them.
Famous cash game player and poker coach Nathan "BlackRain79" Williams believes that no software can turn you into a crusher over one night, but there are poker tools that can help fix your leaks (mistakes), improve your poker game skills and learn how to do equity analysis. In his opinion, Equilab is one of the best poker equity tools.
Professional opinionNathan WilliamsSuccessful poker player and coach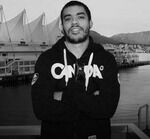 «The poker tool that I have used extensively over the years is Equilab. This is a great little equity analysis tool that allows you to plug in specific hands and community cards and get the exact odds. The reason why Equilab has been so popular over the years (and continues to be even when there are much more advanced free and paid equity analysis tools out there) is it's simplicity»​
Poker rooms that allow/prohibit using Equilab
This poker hand equity calculator is a very useful tool for all players, especially for newbies. It belongs to the category of those poker programs with which players should work starting from the lowest limits.
This program gives you the chance to develop an intuition of how much equity hands (or ranges) have in specific situations. Calculating your equity against your opponents' hands on each street will help you become a stronger and more successful poker player.
Equilab includes both Hold'em and Omaha versions, which is a great benefit. It's designed for improving poker skills "off the tables", meaning that you can analyze the hands played after finishing your game session.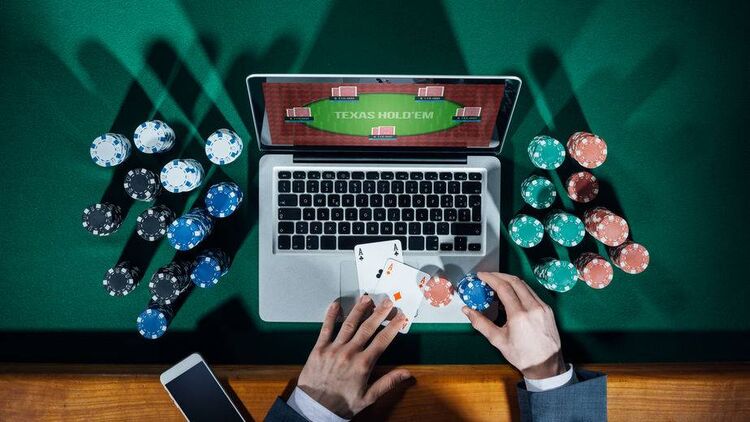 ​
Each poker room sets its own rules. It is prohibited to use Equilab when the poker tables are active in the vast majority of poker rooms. You can find a list of prohibited programs on the website of the poker room you are interested in. Let's discuss the top poker rooms that allow/prohibit using Equilab:
888poker
This room allows using Equilab as well as other popular poker programs.
PokerStars
PokerStars provides information regarding permitted and prohibited poker programs on the official website. This room detects Equilab only when its game client is running. When you are out of the game, you can use a lot of third-party software (including Equilab) without trouble.
Full Tilt Poker
In early 2016, Full Tilt became a skin of PokerStars, meaning that players aren't able to use this equity calculator while playing in the room. It's permitted to use Equilab when the game client is not active.
PartyPoker
PartyPoker allows using just a small number of tools when the game client is open. They are listed on the official website of the room. Equilab is prohibited from being used whilst the PartyPoker client is running, as it provides you with an unfair advantage over other players. If a user violates this rule, Partypoker reserves the right to permanently ban his/her account and even confiscate funds.
Therefore, make sure you have closed your Party client before running Equilab since you still can improve your game with this program outside of the game.
GG Network
People who play in the poker rooms that belong to the GG Network (GGPoker, Natural8, BetKings Poker, GGPokerok) are not able to use any kind of third-party software. According to the fair gaming policy of GG Network, the administration can block your account and confiscate all your funds for violating the rules.
However, players can use these programs for another poker room whilst GGPoker's client is active; this will not result in an account suspension.
Attention! Equilab is NOT Mac compatible, meaning that you can't use it on your Mac devices. However, it's worth noting that Poker Tracker 4 (which is Mac compatible) has a tool for calculating equity. It's built into PT4 software and does all the same things as Equilab.
Before using Equilab with an open poker client, it is recommended to check with the support services of the selected room whether this is a violation of the rules of the site.
We invite you to download the app and install it right now to appreciate the full power of the tool that is quite indispensable for a poker newbie.
Become a professional player and improve your game with Equilab – great omaha and texas holdem equity calculator!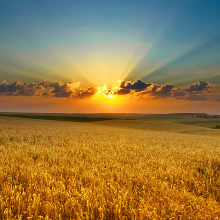 Cardmates journalist, news editor and translator since 2016. Specialization: poker news and review of events.