Erik Seidel steals blinds from Max Kruse at WSOP Online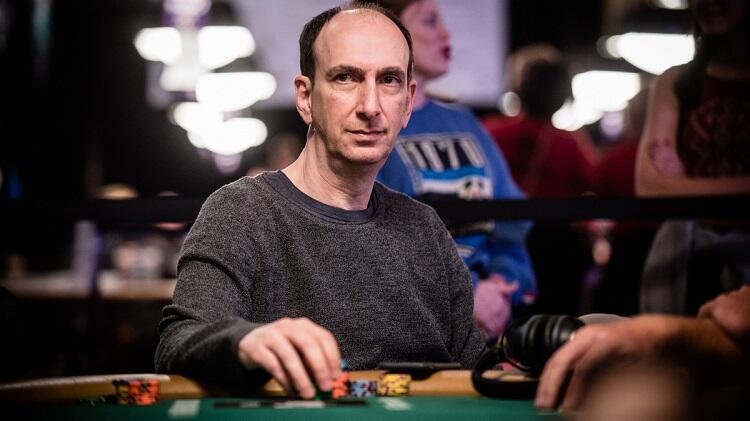 ​
Erik Seidel is a true poker legend. Throughout his entire career, the player he has earned over $34 000 000 in live tournaments, as well as bagged 8 WSOP gold bracelets. Only five people in the world have gained the biggest number of WSOP awards, including Phil Hellmuth and Daniel Negreanu.
Seidel can be called a poker veteran, as he has started playing 32 years ago. Erik often takes part in poker battles on an equal footing with other players, and the WSOP Online 2020 has been no exception.
Seidel is among the most respected players in the entire poker community who rarely gets caught up in scandals. But, last week, the poker player became a party to a contentious situation.
Stealing blinds at the WSOP
The holder of eight WSOP bracelets played in the WSOP 2020 Heads-Up Championship worth $10 000. In the second round of the game, Erik's opponent was a German professional footballer Max Kruse, who can be hardly called a strong poker player.
It's unknown what the footballer was so busy with, but Max was sitting out during the game for a long time. Erik Seidel decided to take advantage of that: he began stealing his opponent's blinds.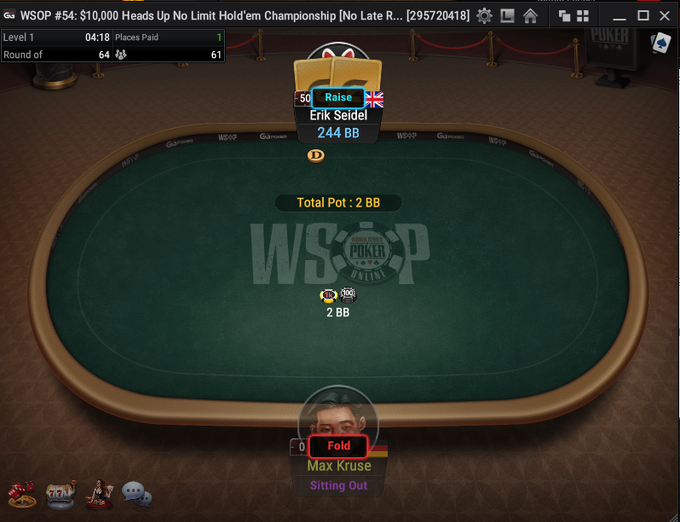 ​
Did Seidel do the right thing? It is difficult to answer this question since it is very controversial. On the one hand, Erik is an experienced poker player who had a big advantage over Kruse's poker skills. Seidel could wait for his opponent, folding cards as a gesture of solidarity.
On the other hand, it was the $10 000 WSOP tournament with a gold bracelet and hundreds of thousands of dollars at stake. But, in all honesty, what would you do in his place? Most likely, many would want to benefit from the situation and do exactly what Seidel did desiring to move on to the next round of the prestigious poker tournament.
Read also: An incredible hand with a $140K pot happened at GGPoker
Patrick Leonard's poll on Twitter
Many representatives of the poker community condemn Erik's act. As a matter of interest, two years ago, a PartyPoker brand ambassador Patrick Leonard conducted a poll on this very subject, and 83% of users thought differently.

​
Following the results of the poll, 83.1% of people would actively start stealing the blinds. In the comments, Patrick's subscribers considered such a situation not as stealing the blinds, but as maximizing hourly win rate. They also noted that it was a part of the online poker game.
What has changed since then that Erik Seidel is condemned for his actions? It may well be that most of those players who criticize Seidel would take the blinds from their opponent if a similar situation occurred.
Erik Seidel's response
Erik Seidel's reaction to the criticism that fell upon him after the tournament was not long in coming. The poker player tweeted that he considered that incident to be a mistake.
Erik didn't know that he was playing against a footballer and didn't want to get an advantage. The player thought that if Kruse didn't come back, he would get his buy-in back. As it turned out, a similar situation has happened twice in Seidel's life (in offline poker): at WSOP and WSOPE.
How do you feel about this situation? What was the right thing to do: take the blinds while Max Kruse was sitting out or wait for him to return and fold cards?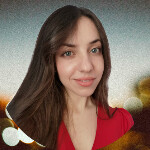 I've been working in the Cardmates team since 2018. Started playing poker the same way most people usually do – socially, with friends and fellow students. I adored those exciting poker nights but never thought my life would be connected with this game, even tangentially.