GGPoker Rake and Rakeback Deal Explained

​
GGPoker on the GG Network enjoys wide popularity among both amateurs and professionals due to its favourable conditions for playing poker.
The room normally charges some fee for organizing online games (on GGPoker rake is between 5% and 10%), and, by participating in tournaments and cash hands, users receive rakeback as part of promos and a loyalty program, according to which you can return up to 60% of the commission retained.
Find out more in our article about what percentage of rake and tournament fees are taken and how cashback is paid out in the discussed poker room. Scroll down to know the details.
GG Poker Rake Structure Brief Review
If this is the first time that you hear the word "rake", let us explain its meaning to you. It is a reasonable percentage that visitors to any poker site pay for the services provided. Since GGPoker does not charge an additional commission on players' winnings, it is rake that is the key source of the room's profit.
The GG Network supports the principle of "loser contribution", according to which the entire rake from the pot (to pay out cashback) is credited only to the losing players. If you win the hand, the rake paid will not count towards your rakeback. The poker room also uses an original and ambiguous rake system known as PVI (Player Value Index). This method limits cashback for winning regs. The PVI index can range from 0 to 2: those players who make deposits and often lose have PVIs closer to 2 while beating players' PVI can reach 0.3.
Figuratively speaking: the more you win, the less rakeback you get; the more you lose, the more rakeback you earn 🤷
Fee Amounts for Cash Games, SnGs and MTTs
We can generally say that rake on GGPoker is 5% for Hold'em, PLO (both regular and five-card variations), Short Deck and Rush & Cash games. It is taken preflop from all pots of 2.5 BB or bigger, which is non-standard on the market. The fee amount grows in proportion to table limits. Rake Cap depends on how many people are involved in the hand – 2-3 or 4+.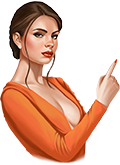 Important information!
In Rush&Cash games, an extra 0.5BB is taken per hand as a Cash Drop fee. On top of that, if the pot is 30BB or more, then 1BB is deducted from the pot to form the jackpot fund.
Neither rake nor cash drop fee is taken if the Rush&Cash table is not full. Rake Cap here is 3BB whatever the stakes.
As for All-in or Fold cash games, everything depends on the table limit you play – a fixed commission goes to the rake each hand. Besides, additional fees are taken to form AoF Jackpot and All In Fortune prize.
Discipline
Stakes
Rake
Jackpot Fee
All-In Fortune Fee

Holdem

$0.05/$0.10
0.06 BB
0.007 BB
$0.007
$0.10/$0.25

0.04 BB

0.04 BB
$0.01
$0.25/$0.50
0.06 BB
$0.02
$0.50/$1

0.05 BB

$0.05
$1/$2
$0.10
$2/$4
$0.20
$5/$10
$0.50
$10/$20
$1
$50/$100
–

Omaha

$0.10/$0.20
0.03 BB
0.035 BB
$0.007
$0.20/$0.40
0.025 BB
0.025 BB
$0.01
$0.50/$1

0.03 BB

$0.03
$1/$2
$0.06
$2/$4
$0.12
$5/$10
$0.30
$100/$200
0.025 BB
0.025 BB
–
Fees in Sit&Go games
Spin & Gold – 7% is withheld from each buy-in.
Flip&Go – 5% at most buy-ins (for example, in a $3 game the rake would be $0.15).
Battle Royale – 5%, but for $0.25 buy-in games, the rake is 4%​.
AoF Sit&Go – 7% for Hold'em and Omaha; $0.50 buy-in games have a 10% rake.
GG Poker rake percentage in tournaments
As concerns MTT, the situation is different: the room's commission is included in the cost of entry tickets, instead of being charged from each individual hand (as at cash tables). The fee amount typically represents a set percentage of the event buy-in (about 10%) and is indicated for each event in the lobby.
For instance, a seat in the $3K GTD Sunday Big costs $30, of which $27.6 is buy-in and $2.4 is the tournament fee.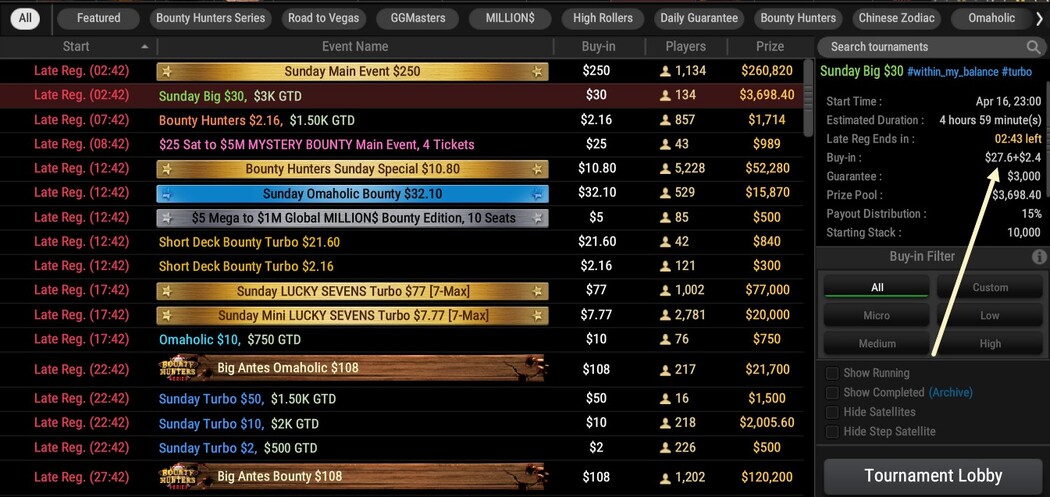 ​
GG Poker Rakeback: Ways to Get Rewards
Rakeback is a return of part of the rake paid, and this is how the poker operator encourages its clients. The such return itself is closely related to promotions taking place on the site and GGPoker's current loyalty program. The platform does not have a single payout percentage – it depends upon how the player receives it.
Rakeback in welcome bonus
Here newcomers receive their rakeback as part of the welcome offer. Once registered, you can claim a 100% bonus on the first few deposits (within 60 days of activation) of no more than $600 total. Money is credited according to a certain scheme: $1 is returned for every $5 rake you generate.
Cashback in daily rake races
There are other promos, where one can earn extra cashback, for instance, daily rake races with solid prize pools (from $2K to $40K). They are regularly held on GGPoker, and it is beneficial for players of any limits to join. Winners are determined every day, so you won't have to wait long for the result.
Rakeback under the loyalty program
If we are talking about the Fish Buffet reward system, then the user's VIP status, which is assigned for their gaming activity, is important here. Players are offered an interesting incentive scheme in the form of cash rewards. Their amount is determined randomly by spinning a prize wheel. Read more about it below.
Fish Buffet Ranks and Their Peculiarities
GG Poker loyalty program under the title "Fish Buffet" represents 8 levels, and some of them are divided into sublevels (ranks). For playing all types of real money poker (cash games, MTT tourneys, different SnG variations) and casino games, Fish Buffet Points are awarded as follows: 100 FP per $1 rake/fees. When accumulating a certain number of FP, the user receives monetary prizes by spinning a special wheel – from $0.75 to $1 200. All unused spins will be opened automatically 30 days after receiving them, and the winnings will be credited to your account.
The higher the level, the larger the rewards and the greater the cashback %. You can earn from 15% (Plankton) to 60% (GGPlatinum) PVI-rake back.

As just mentioned, to move to a new level, you need to score a specific number of points (check the screen below). Here is an example: to upgrade from Silver Crab to Gold Crab, you need to collect 12 000 FP in 15 days. If during this time you fail to amass the points required, your rank will decrease by one (that is, it will become Bronze Crab), and you will receive a bonus of 10% of the collected FP.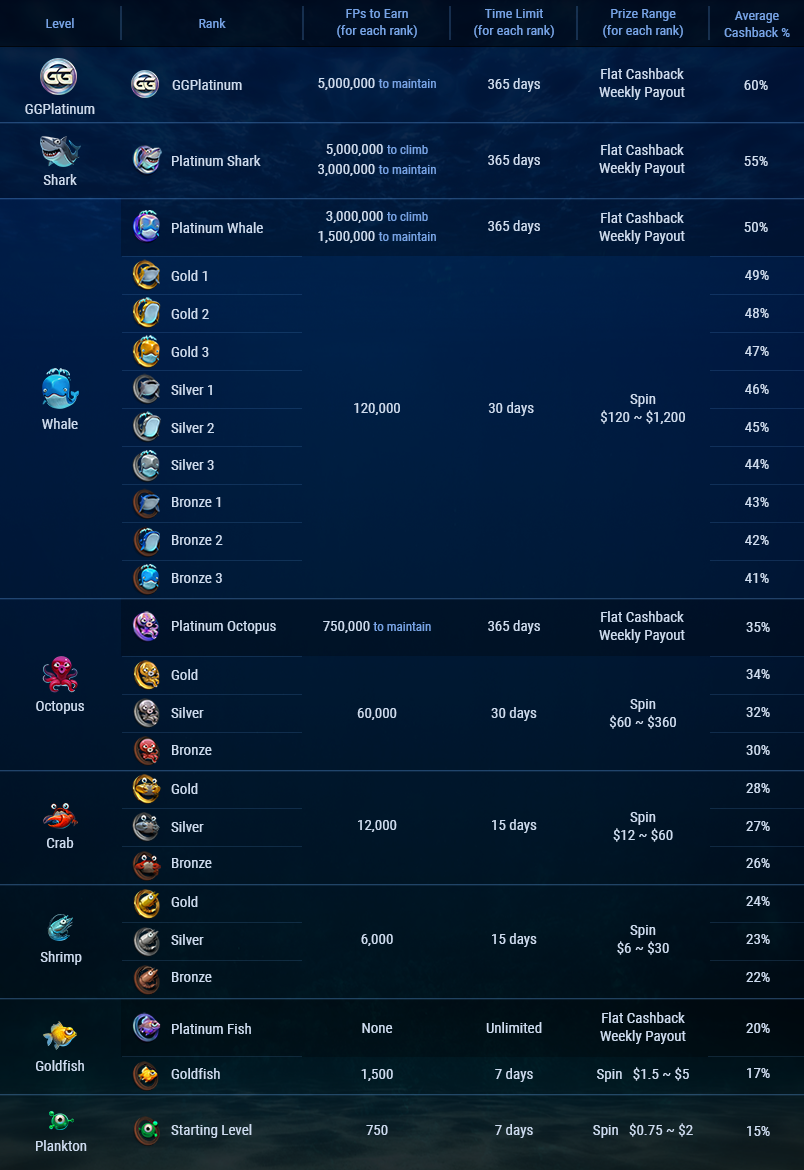 ​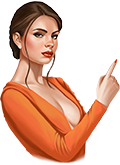 Keep this in mind!
If you don't want to spin the wheel and hope for a big prize, you can switch to the alternative system of "Platinum" ranks (formerly known as "Black" ones).
The Platinum statuses explained
Get rewarded every week at a fixed rate – no more spinning wheel and time limitation. Cashback accruals are credited every Monday (you gain prizes for the previous 7 days). Platinum ranks are valid for a year and require a certain number of Fish Buffet Points to be renewed.
Status
Duration
Necessary Fish Points to Renew
Player Rewards
Average Cashback
GGPlatinum

1 year

5 000 000
$1 for every 167 FP
60%
Platinum Shark
3 000 000
$1 for every 182 FP
55%
Platinum Whale
1 500 000
$1 for every 200 FP
50%
Platinum Octopus
750 000
$1 for every 285 FP
35%
Platinum Fish
forever
–
$1 for every 500 FP
20%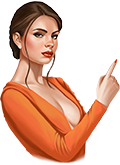 Have this in mind!
If you do not accumulate the required amount of FP within a year, then your current platinum rank will go down to the previous one. For instance, "Platinum Shark" will drop to "Platinum Whale" and so on.
The user can also get back to the main version of the loyalty system with random prizes at any time.

GGPoker
1. Players must be aged 18 and above to participate in this promotion.
2. Welcome Bonus and Honeymoon promotion for new players only over a limited period .
3. Welcome Bonus only available to new players that make an initial deposit. The minimum deposit necessary to obtain a matched bonus is $10, or if a player chooses the $100 in rewards the minimum deposit necessary is $20.
4. $50 Free Play offer made up of $52.50 in free All-In Or Fold SNG tickets from Welcome Bonus and $2.50 in free tickets from Daily Freebie.
5. Free tickets automatically credited to eligible players' accounts over a six day period.
6. A 100% matched deposit bonus worth a maximum of $600 can be claimed by players selecting 'Match Bonus' when making their first deposit(s) over a limited period.
7. Bonus cash is released at a rate of $1 for every $5 paid in net rake/tournament fees.

GGPoker standard rules apply. Play responsibly. www.begambleaware.org.

A

Available for players from your country
Final Thoughts
GG Poker earns on the rake you pay, which ranges from 5% to 10% depending on the game. However, the room is ready to share its income with its clients: it was for this purpose that the Fish Buffet reward system to provide cashback has been developed. Players can choose between two options: the standard version with random rewards or elite ranks with fixed cashback. If you are a recreational user, then the main format will be okay for you. Platinum tiers, in turn, are a better option for regs, as you can more accurately calculate your income from playing poker at the expense of a fixed rate.
FAQ
💸What is the rake at GGPoker?
The poker room has a 5% rake as well as CAP from 1 to 3 BB, depending on the limit. In the Spin & Gold and AoF Sit&Go formats, rake is 7%. In some games, including multi-table tournaments, the maximum rake can be up to 10%.
The operator will monitor your financial activity, play and results, and based on these aspects you will get a PVI index from 0 to 2. For hobby-type players, this figure is closer to 2, while more experienced players' index is normally less than 1. This method is considered controversial, as regs and winning players eventually get less rakeback, and recreational users earn more of it.
🎁What is the rakeback deal on GGPoker?
On the site, there is a multi-level loyalty program "Fish Buffet" which operates on an ongoing basis. The operator gives regs from 15% to 60% cashback for the accumulated Fish Points – you can get them by playing in any poker discipline & casino games. The reward system has 8 main levels. Most of them have ranks, rakeback increases as you progress through the levels. Upon reaching a new status, you can spin the wheel and win cash prizes.
Cashback can also be earned through various promotions such as the GGPoker deposit bonus (welcome offer for newcomers) or the daily rake races.
💁How does GGPoker rakeback work?
The Fish Buffet rakeback system is based on 8 VIP statuses with ranks. For every dollar of rake, you can earn an average of 100 Fish Points. When moving to a higher level, you can spin the wheel and win a cash prize. Platinum-level regulars are given weekly fixed rewards: from 20% to 60% cashback. The prize wheel does not work in this case.
🔎How can I check my status in the loyalty program?
In the GGPoker client, click on the Fish Buffet tab that is in the lower right of the screen. By clicking on the button, you will immediately see your status.
You gave this material a grade 5 from 5: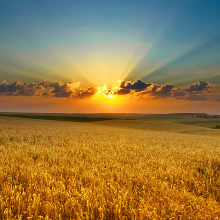 Cardmates journalist, news editor and translator since 2016. Specialization: poker news and review of events.