Flopzilla review: instruction and tips on main functions

​Flopzilla is a unique poker calculator that gives you an opportunity to evaluate the strength of your hand. It's also one of the most popular poker programs.
It is pretty easy to use Flopzilla – you indicate your cards, board cards, and the program displays a probability of collecting different combinations. However, it is prohibited to use Flopzilla while playing, that is when a poker client is open.
You can download Flopzilla and test its restricted functionality (ability to specify the cards only for a flop; it is no longer possible to do it for turn and river) for 7 days for free. A manufacturer offers such a trial for familiarizing with the program.

The subscription costs $25. It allows installing Flopzilla on 2 computers (this means that you can use the program on two devices with one subscription simultaneously).
In order to transfer Flopzilla to another device, you just need to write to the support service at [email protected]. You can learn how to activate Flopzilla in our dedicated article.
Flopzilla main features
Flopzilla allows online players to develop their understanding of how certain ranges will hit certain boards. It is pretty simple to use the application since all the tools are in the same window. Let's consider the basic features of the program.
Hand matrix
Hand matrix is a chart of all possible pocket cards, which consists of 13x13 squares. All hands in it are divided into two categories: the upper triangle – suited, the bottom one – offsuit.
A diagonal of pocket pairs goes through the center (from the right bottom to the upper left corner).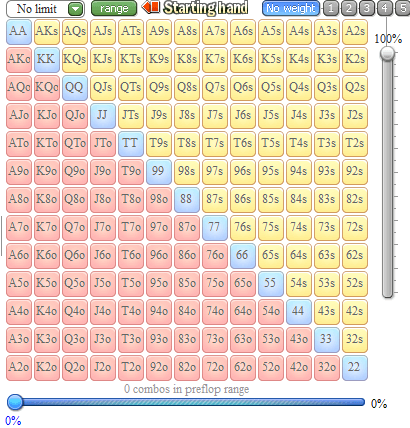 You can select a hand on this list and see what equity it has both preflop and flop.
Slightly right is the slider in which you expose the frequency with which a certain hand enters the range.
Community cards (Board)
The next block also consists of 52 cards that are arranged in 4 columns by suits:

​Once you have chosen a hand or a range, the first three selected cards in the block of boards will form the flop. The fourth card is the turn, the fifth one is the river.
Important! Turn and river cards are not available in a trial version of the program.
The scheme of working with the program is the following: choose 2 pocket cards, select community cards, see how much equity you have.
Statistics section (Statistics)
This is the most important section of the whole program. It will display how often your hand will win in percentage terms.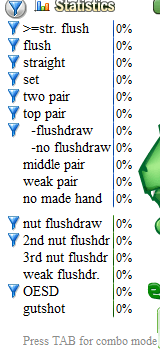 ​For instance, you think that the player with a set range will not always make a continuation bet (cbet) with a completed flush. Click near the inscription of flush with the right mouse button and specify the desired frequency with the slider. Alternatively, if the opponent never posts the cbet, then simply click on a blue filter and it will be removed.
Important! The total equity of the hand/range on a selected board changes after each action in the statistics section. Keep an eye on this and use it in calculations.
Dead Card Section (Dead cards)
In this section, you specify your hand or those cards that for sure will not come on the postflop. For instance, if an opponent has mucked AJo faceup, then you indicate these cards here. This is necessary for a more precise calculation of postflop strategies.

​Hotness Section
Hotness section is a training simulator for working on the game (it is a very useful feature).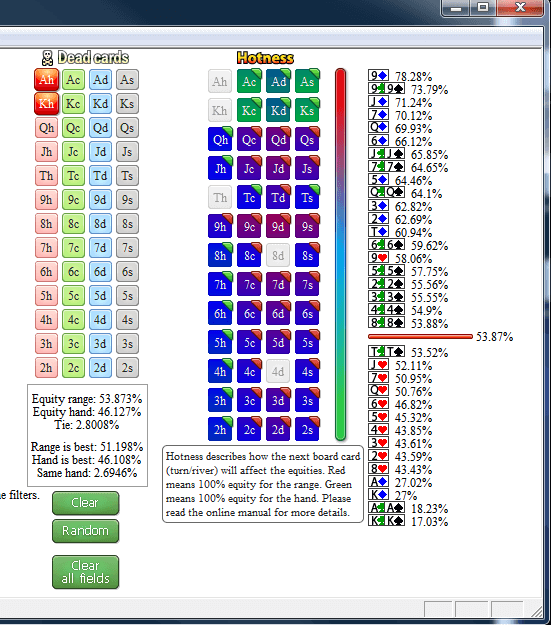 A hidden Hotness section will appear if you expand your program to the maximum. It shows how the equity of the range changes according to the given community cards depending on the cards that can appear. You will not always be able to understand intuitively which card improves your hand and which one improves your opponent's hand. Hotness section is exactly what you need to train these skills.
​
​How to save Flopzilla ranges?
In order to save ranges, you need to open the Save/load tab and choose "Export predefined ranges".
A window will display the text that you need to copy and paste into the "Import predefined ranges" window on the other computer.
To save hands with postflop, use the "Export save file as forum/email test block" item in the Save/load tab.
For a better understanding of how to use Flopzilla we suggest that you watch the following video:
​
What is Flopzilla PRO?

FlopzillaPro is a new and improved version of the popular calculator that is available absolutely free of charge to all users who have a Flopzilla license. The first beta version of Flopzilla Pro was released in July 2019. At first glance, the programs seem the same, but in fact, FlopzillaPro has many new features and capabilities.
Intuitive interface. Developers of the software have taken care of maintaining the same interface as in traditional Flopzilla. Thus, all books, videos, and other educational materials will remain relevant. This will make switching to FlopzillaPro much easier for Flopzilla users.
Extremely fast calculations. FlopzillaPro makes equity calculations much faster than traditional Flopzilla. They are made instantly for heads-up pots and if you are in a multi-pot mode, then all calculations will be ready in 1 second. Currently, FlopzillaPro is the only poker calculator capable of providing equity calculations in such a short time.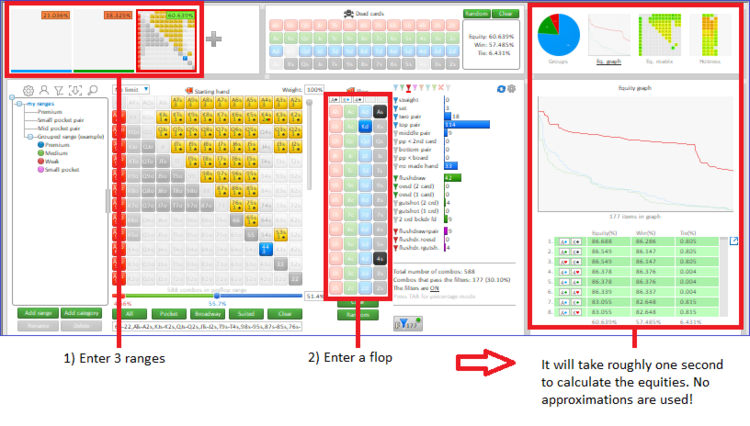 ​
Group mode. Groups have become available in FlopzillaPro. When switching to group mode, you will notice that different hand types have different colours of filters. It's a very useful feature as it allows visualizing the ratio of made hands versus drawing hands.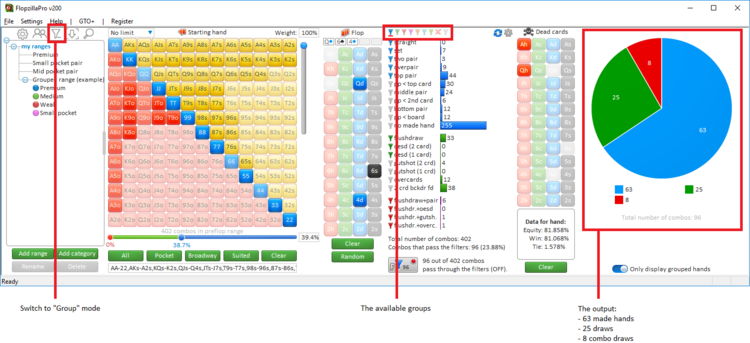 ​
New multiway mode. One of the most significant advantages of Flopzilla Pro is the ability to make calculations for multi-pots. The traditional version of the poker calculator doesn't allow working with multiple ranges at the same time. Players can only analyze the game against one opponent. Therefore, if you like to do multiway calculations, then enable a multiway mode and make calculations between 10 (or more) different hand ranges. There are a few data-out modes available to players: charts, equity tables, graphs, and others.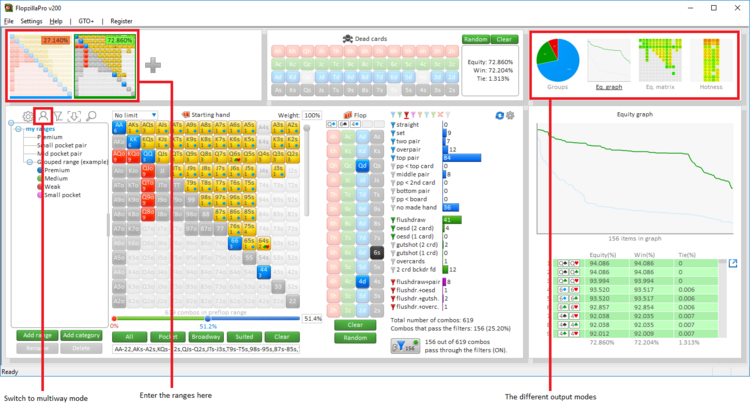 ​
Important! Due to the fact that there are more than two participants in the hand, you should consistently narrow the ranges for each player. If you apply filters incorrectly, then the hand analysis will lead to erroneous results and reduce the value of all work on the game.
Export and import using GTO+. The program can interact with a GTO solver referred to as GTO+. You can instantly "move" ranges from one program to another by pressing a key combination Ctrl + F in GTO+ and then active ranges will be exported to FlopzillaPro. It is also possible to import from GTO + and export to FlopzillaPro through the "Play against the solution" mode.
Detailed breakdowns of preflop statistics. FlopzillaPro provides breakdowns of preflop statistics in greater detail. If you want to know how often your range hits a paired offsuit board, then you will definitely like this new feature. In addition, detailed breakdowns of flop statistics have been added. With it, you will know how many types of each flop exist.
Professional opinion on Flopzilla
Each player can hone their poker skills not only through constant practice but also by using modern software to improve game performance and calculations.
Most players limit themselves to collecting stats in real-time and using HUDs in different poker rooms. Such features of popular programs are certainly very useful, however, they do not give you a clear idea of ​​how a particular poker hand will hit the flop. Flopzilla can answer this question and many other questions.
But, a lot of people underutilize Flopzilla and don't get the full value from it. This is mainly because poker players, especially beginners, don't know for sure whether or not they need such a tool and how it can help them become winning players. That's why you should listen to the views of poker experts who have already gained great experience in the game.
For example, famous poker player and coach James "SplitSuit" Sweeney considers Flopzilla «an extremely robust piece of software that makes answering questions easy», and FlopzillaPro is the poker software that he «cannot live without».
Professional opinionJames SweeneyPoker player and coach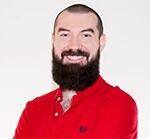 «Flopzilla is the perfect tool for finding answers to 90% of your poker questions. It is an excellent piece of software and worth every penny as far as I'm concerned. This software allows you to explore hands and ranges in precise ways»​
SplitSuit believes that if you want to have an idea of how your opponent's range is going to hit or miss the flop, then you definitely need this program. The guy also states that the basic way that players would use Flopzilla is to visualize their opponent's range, to visualize the flop and see how often their bets need to work and how often their bluffs need to work to break even.
Flopzilla advantages and disadvantages
Easy and reliable equity calculator and starting hand range analyzer.
It is perfect for both newbies and experienced players.
Has a colorful and user-friendly interface
Has a wide selection of settings.
Improves players' hand reading ability.
Doesn't require poker room compatibility.
The program helps players develop an understanding of the hand ranges as well as teaches them to better define their opponents' strength on the flop.
There is a trial version provided for 7 days.
The license key is provided on 2 devices.
Despite being entitled to register the program on two devices, you have to be the owner of both devices. It is prohibited to share the Flopzilla licenses with other players.
It is prohibited to use Flopzilla when a poker client is active.

Purchasing the Flopzilla app is a great investment of money. You won't need any software as often as this one. And don't forget about the opportunity to use the program for free during a 7-day trial period. Good luck in mastering the program!