For better or worse
My overall strategy
i no longer play passively these days. Playing online poker aggressively, in the right spots at the right time, has now become habit for me. While a lot of players around prefer to 'wait' for the perfect hand, make every dollar count, by trying to win every hand that you are involved in! Let me give you a couple of examples. (By the way, I'm not saying playing recklessly is the way to go though, I watch the opponents very carefully, assess the situation and stick to my preflight strategy for tight and loose games.)
Opponents' tendency 1:
Weak/tight players like to check to the raiser a lot. If it's me, you can bet the flop even if you've hit nothing with your AK - AJ (usually suited) to eliminate any players. Sometimes you'll take down the pot straightaway! Players are thinking about how they can 'save' their money for a better opportunity. It is hard to combat such aggressive play - I remember a time when a player with a monster stack of around $700 in a $50 max buy in, just bet every single street every hand he played! It was almost impossible to beat this player! Poker rewards aggressive play.
"The way that these players play, now that I know what I know, I should put every penny I have into playing poker!"
Opponents' playing tendencies 2:
Call the river bets far more often. Once you're over-committed in the pot and you have a strong holding on the river it is usually incorrect to fold your hand to one more big bet. To fold a winning hand is far worse than calling when you're beat. Be 90% sure you are beaten, otherwise call. He or she might be bluffing.
In the example below, the player bets the river, then fold a smallish re raise thinking he is beaten! He might have been, but should at least make the call here. Firstly, he might still be winning, and secondly if you are so weak to fold here it sends one clear message to the rest of the table: a river bet can be used to induce you to fold. Sometimes it is good to call to show that you are still willing to call bets on the river.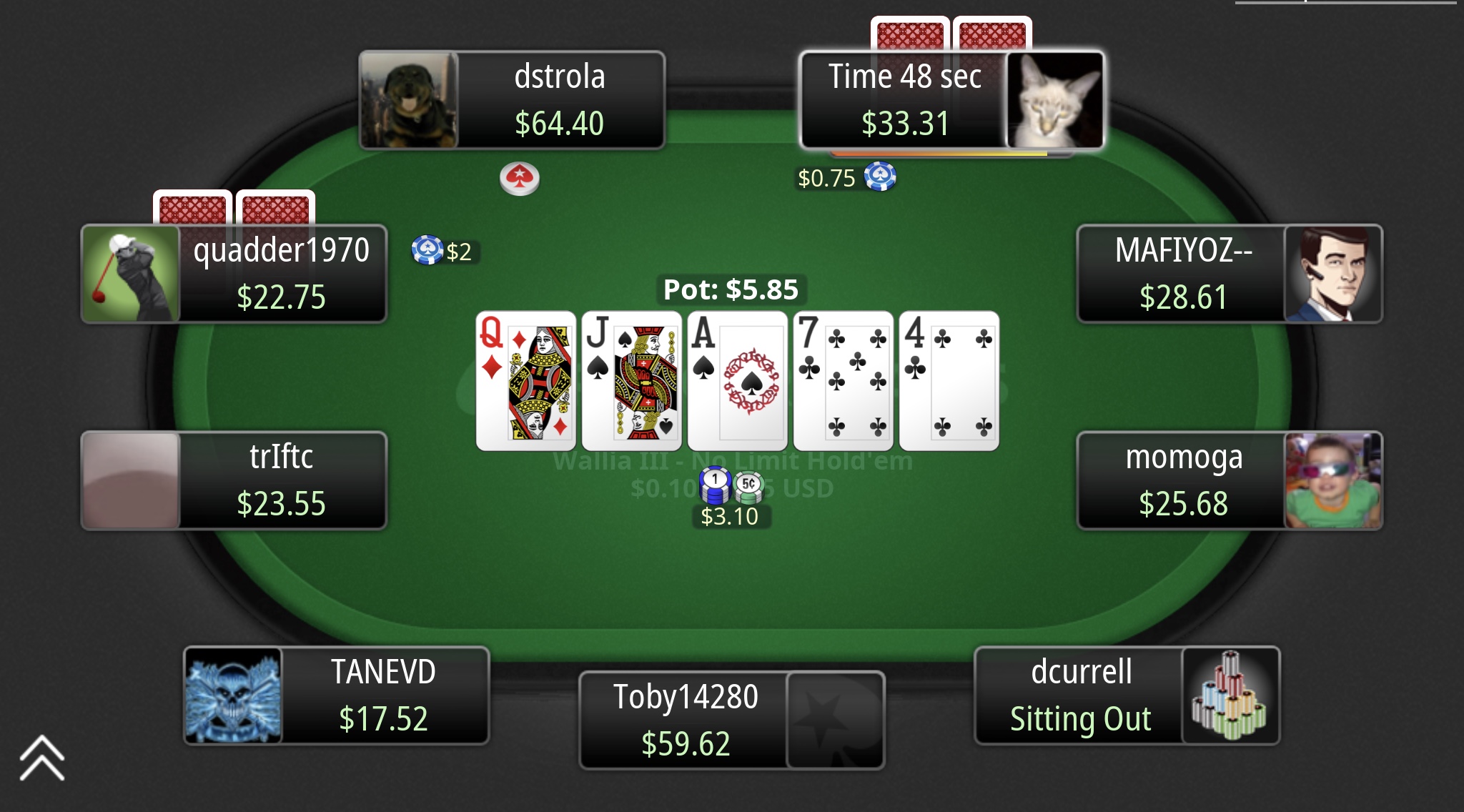 100% I would have called here. Quadder1970 had been playing very loose indeed and acting as if he was 'on tilt'.
Opponents' playing tendencies 3:
Opponents on Pokerstars like to go all in on the river if they missed their draw, to try to bluff you off the hand with a big scary bet. By getting used to calling players down more often when you have a strong hand, do the right thing; call!

Although this was a scary bet to face on the $25 buy in 0.15c/0.25c table, about $16 all in, on hindsight it made complete sense to make the call: the pot was simply too big! There had been a big re raise pre flop. Five players called making this a huge pot already, so I called with my nice 9 10 suited. We all had checked the flop, as did the other four players including me. Then I bet $6 on the turn when I hit two pair. Everyone folded except one other player from EP who quickly called (which I understand now) and then he suddenly went all in on the river! Could he have a secretive set? Could he have AK? A better two pair? It didn't matter. I had to call. And it would have been devastating to fold the losing hand...
Secret tip: USUALLY when you've been betting strong and then decide to check the river and the player still in goes randomly all in, he or she is often bluffing on Pokerstars. This is a trick I've noticed time and time again and I'm benefiting a lot from it. In fact, I've started to check on the river when I know I'm ahead only to call the all in bluff I think players like to call with a rag a lot. Like A-9 to A-4. Don't do it unless it's suited! Go for the nut flush with these hands and they play well multi handed in loose games

Yesterday's play;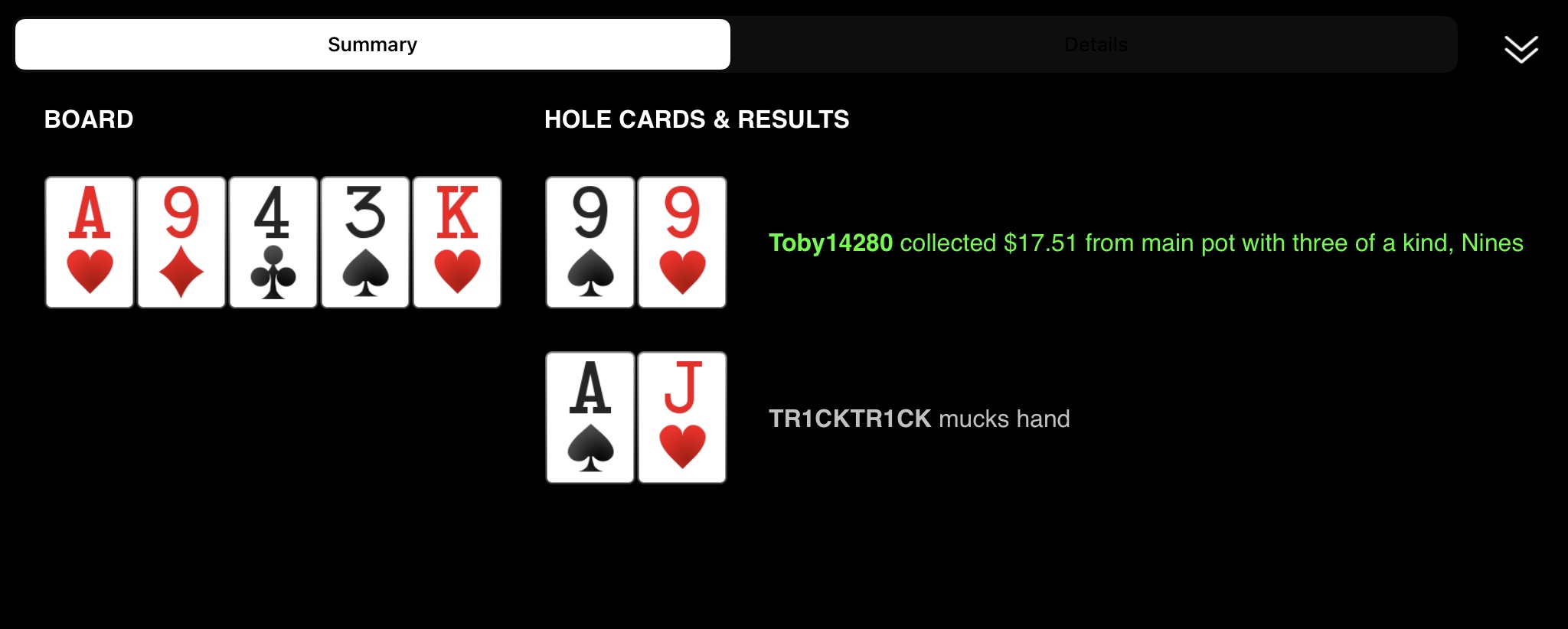 STILL MY FAVORITE THING TO HAPPEN IN POKER, HITTING A SET ON THE FLOP.

I GOT LUCKY HERE WHEN I MADE A FULL HOUSE ON THE RIVER WITH MY A.

I HIT THE NUTT FLUSH HERE. I WAS CONFIDENT HE DIDN'T HAVE A FULL HOUSE WHEN HE JUST CALLED MY TURN RE RAISE BET.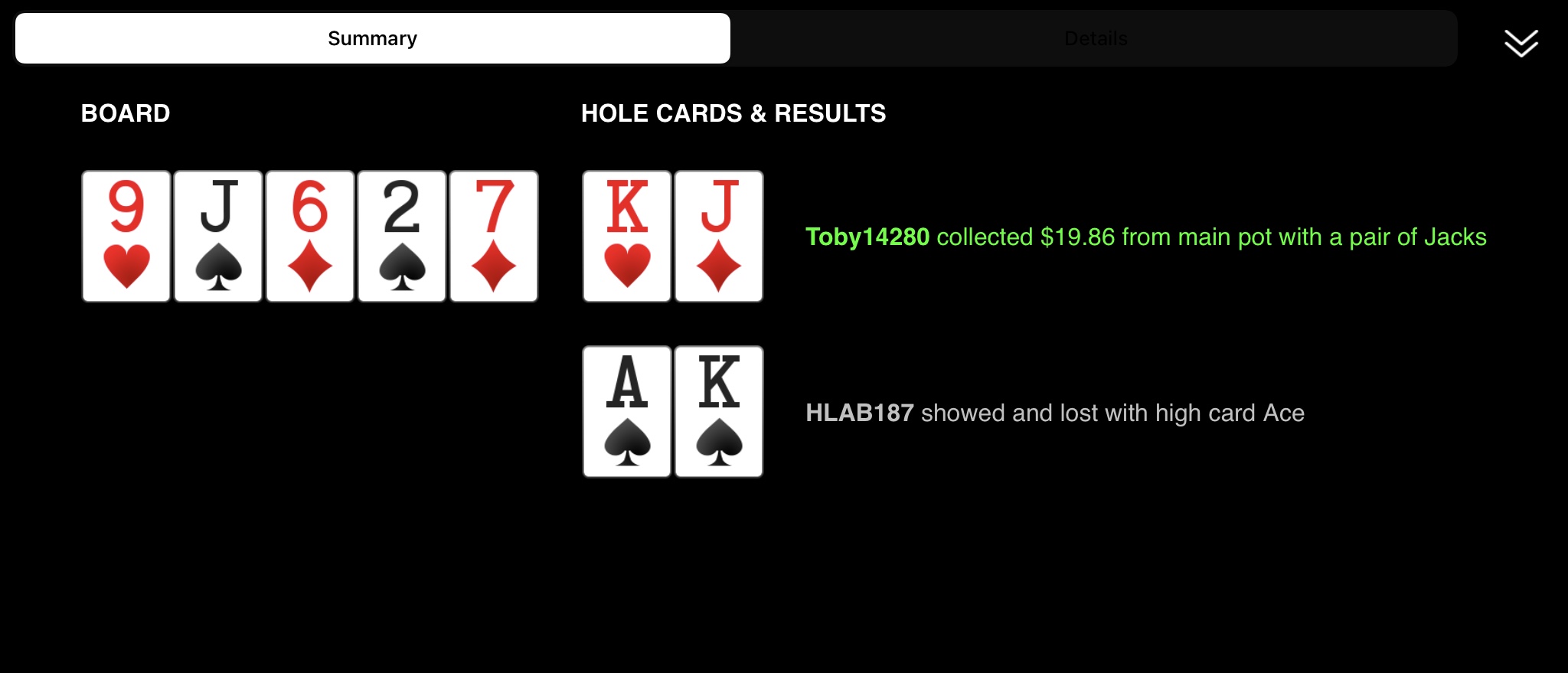 KJ HELPED ME A LOT YESTERDAY.
Finally, a fun hand to end November 2020 with.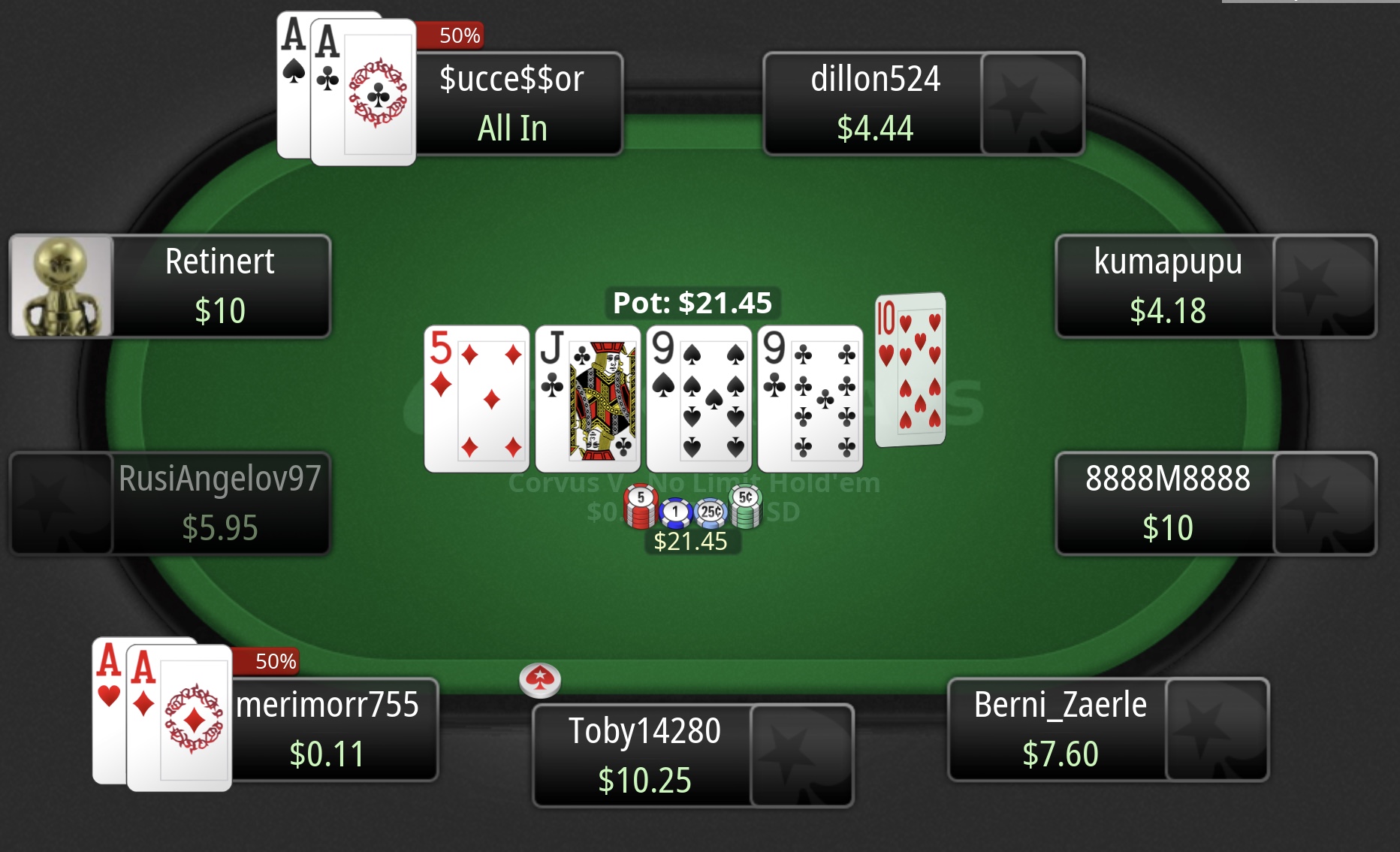 Thank you for reading all my blog posts this month everyone; it's been a blast :))
Overall rating of this post: