Freeroll Passwords
Private poker tournaments are in great demand among beginner players. Freeroll passwords allow you to enter the closed event for free and get the opportunity to win real money. But the benefits of free tournaments are not limited to an entry without money.
For a novice player, this is a chance to get some practice in online poker. For professional regulars, this is an opportunity to easily build a bankroll at the expense of inexperienced opponents.
We have collected all the best poker freerolls in one place to make it easier for you to find the tournament for today. Here you can also sort passwords for events for all sites or a specific room. There is no need to monitor social networks and tournament lobbies of all rooms yourself. We have already done this for you and we update the schedule regularly.
Why Do You Need Poker Freerolls Passwords
Modern platforms often offer a decent selection of zero buy-in events. All poker freeroll tournaments can be conditionally divided into several categories: public (open for anyone) and with some conditions for an access. The difference lies in the number of participants, the prize pool and, of course, the registration method.
If in a regular freeroll it is enough to take a seat at the table a few minutes before the start, then the situation is different with closed events.
Here, without a special password, it will not be enough just to click on the button to compete for guarantees.
Thanks to this condition, the number of poker players is significantly reduced, which increases the chances of winning and the prize money itself.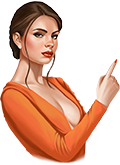 Interesting fact!
For example, in regular freerolls there can be $50 at stake. While at a private event, winners can receive hundreds and thousands of dollars!

The prospect of creating a starting bankroll from scratch attracts many recreational players, but getting into the money can be quite unrealistic in open events. If a tournament has 10,000 entries, and the prize pool is only for the top 10 players, the chances of sustaining such competition are really slim. Password-protected freerolls allow you to enter ITM with minimal loss of time and nerves due to less competition.

Sometimes the organizers even limit the number of entries or hold games in a freezeout format so that the tournament does not collect too many registrations.

Beginners who regularly register for closed tournaments know that freeroll passwords provide an opportunity to compete for decent prize money and build up their gaming skills.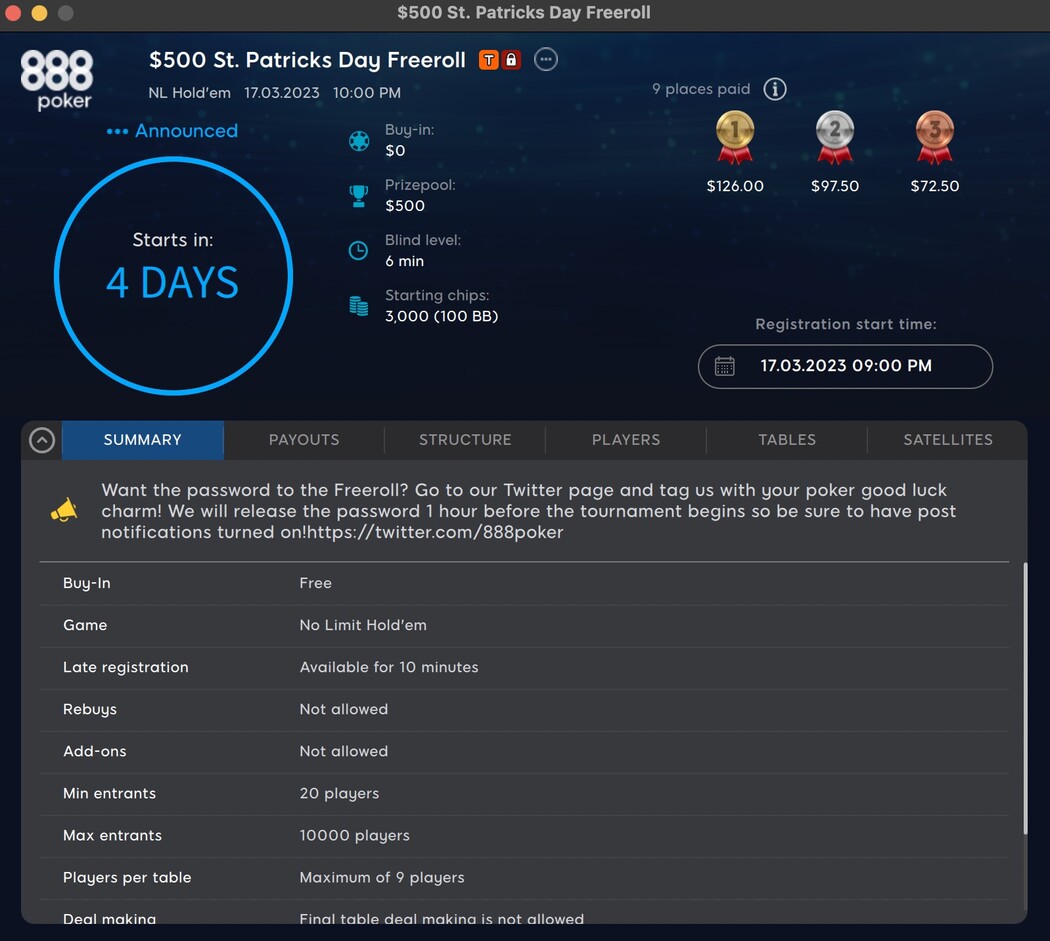 Where to Find Passwords
We figured out what is poker freeroll and the reasons for entering the closed event. A logical question arises now: where can you find the treasured password for the freeroll?
Sometimes the rooms hold a series of promotions where users receive rewards for completing certain missions. For example, play 50 hands at a certain limit or hit a high multiplier in the spins. If we are talking about free events without conditions, then there are several ways to get a poker freeroll password.
Subscribe to the social networks of the rooms. A few hours before the start, the administration of the room publishes all the needed information on the events, the main thing is to turn on notifications so as not to miss the coveted code.
Be part of the poker community. For example, CardsChat regularly hosts individual "insider-only" tournaments.
Search for passwords on forums and thematic sites. For some poker sites freeroll password can be found during live streams of the professional players (for example, on Twitch).
Be subscribed to the mailing list from the rooms.
And there is an easier option that eliminates the need to monitor the Internet and waste your time. Just find up-to-date passwords for upcoming events here on Cardmates.
How to find the passwords on Cardmates

We have done all the work for you and update the table of poker freerolls with passwords daily. Above you can see all the available events. You can also sort passwords by the poker room you are interested in: 888poker, PartyPoker, etc. To do this, simply click on the tab of the required room, and the hourly schedule of upcoming events will appear on the screen.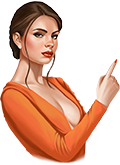 Important!
Not all freerolls passwords are available immediately after the announcement of the event. Some of them are announced just an hour before the start.

Also in the freeroll card there is information about it: start time, discipline, prize fund.
Search for Freerolls in the Room Lobby
Many novice players create accounts in several poker sites with freerolls and play only such events. This is how many future professionals began, for example, Sam Trickett from the UK.
How to quickly identify the best room to play free tournaments? Just go to its lobby and see how many events without buy-in are held daily.
Sometimes this does not even require authorization. This can be done in the browser version, downloaded desktop or mobile app.


Step 1
So, go to the tournaments tab, then set up the buy-in filter. Some rooms have a separate "freerolls" tab, then you just need to tick it and see the search results.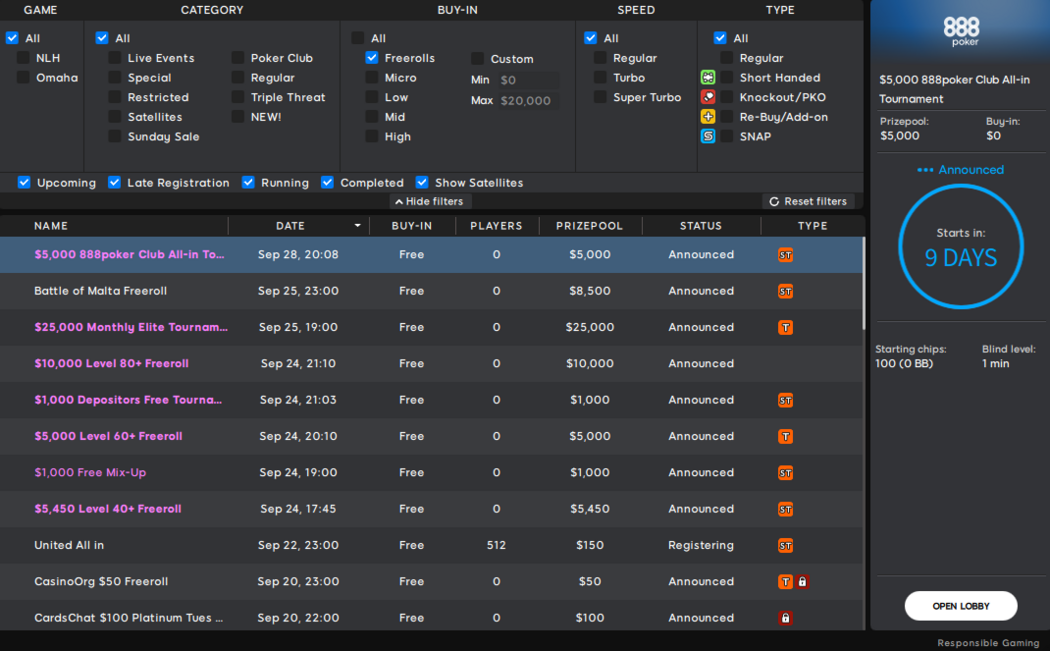 ​

Step 2
You can also sort the list of all events by buy-in. In this case, at the top of the list there will be just events with free admission.


Step 3
But the presence of freerolls in the lobby of the room is not yet a sign that it is worth playing here. It is also worth paying attention to the conditions of specific events.
To do this, click on the name of the freeroll poker tournament, its lobby will open. More detailed information is already there: the number of participants, the possibility of re-entry, the size of the prize fund and the number of prizes.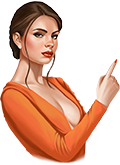 Another life hack from us
You can open completed freerolls and see how many players this or that event has collected. This will allow you to decide whether it is worth spending your time participating in a particular event.

Benefits of Playing Freerolls
There is nothing better than zero buy-in tournaments to jump-start your poker career. Here are the main reasons for a beginner to participate in freerolls on a regular basis:
Your opponents in most cases are the same amateurs who are just immersed in the world of poker, so the chances of winning a prize are much higher than in the fight against the pros. Main freeroll tournament strategy is to play in a tight and aggressive way.
Popular freerolls can present good prize money. Many satellite series include freerolls with passwords. They allow you to enter tournaments with buy-ins and compete for bigger prizes with poker players who have paid for entry. Sometimes you can even win a prize package for a live poker series in an online freeroll. And then not only the ticket to the tournament will be paid as a prize, but also the accommodation and flight.
With proper selection of a room for the game, you can participate in dozens of competitions in a day. The presence of different formats also allows you to try in practice how everything works and find the best option for yourself. Reading all poker books is not enough to become a successful poker player. Practice and more practice is the key to moving up the limit ladder and improving your skill. Participation in free events allows you to feel the game with real opponents, get used to the interface of the selected room, before you get hooked and stay playing in it for money.
The poker community is an integral part of a player's life. It is the search for a freeroll and passwords for it that unites like-minded people. On thematic sites, you can find new friends, share experiences and reviews about a particular room.
Practice is necessary in any business, and in online poker it is the most important element of success. Thanks to freerolls, you do not need to have a large bankroll to learn how to play poker.
Modern rooms attract new users in every possible way. Yes, welcome bonuses on the first deposit or no deposit gifts are a popular practice. But such cash rewards must always be cleared back, strictly adhering to the conditions established by the organizer. But the free tournament does not require complex actions. You can create an account in the room and after 5 minutes sit down at the gaming table.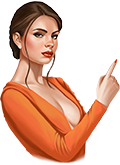 An important final clarification!
In most rooms there is a rule: in order to withdraw prize money from the freeroll, you still have to make a minimum deposit, and then go through verification.

Playing in freerolls is profitable, and playing in events with passwords is even more profitable. There are more than enough reasons to register for such closed freeroll at least once.

FAQ
💡 What are freerolls in poker?
These are tournaments with a free entry fee. That is, money for participation is not charged from the player. However, registration in such events is often password-restricted or requires a special invitation/ticket. A player can take part in such tournaments immediately after registering an account in the poker room. There is no need to make a deposit to an account to do this, as a user won't need a cash buy-in to play. It was with freerolls that many poker players began their professional career. Such events are popular both online and offline. Sometimes they may contain not only money as prizes, but also tournament tickets or merchandise from the room.

💸 How to play freeroll?
All you need to participate in such an event is to have an account in the poker room and register in time using a special password if needed. The list of current free events can be found in special tabs in the tournaments section. If you click on each individual event, the conditions for participation will be displayed. It can be an open event (then it is enough just to click on the registration button and not miss the start) or a tournament with conditions (then a password may come in handy). Generally, freerolls only offer one entry per player, but in most cases you can get back into the game by paying a rebuy. The amount is usually symbolic.

🎯 How to win freerolls in online poker rooms?
It is important to choose free events with a small number of participants, as this will increase your chances of getting into the prize zone. In private closed events, the number of participants is limited. Also, the prize pools in such freerolls are significantly higher than in public ones.You can also search for freerolls in less popular disciplines (for example, Omaha). During the game, it is better to choose a tight-aggressive approach, do not play too many starting hands, as opponents will call a lot and fold a little.