Unibet Poker Freeroll Password
Popular room Unibet Poker holds a number of free tournaments every day. You don't need to pay buy-in for participation in such events, but some freerolls can be limited by a password. The Unibet Poker freeroll password can be found on the pages of this room's social networks or during the streams of team's professionals.
If you don't have time to monitor the social networks and watch the streams, we can help as we regularly post the actual passwords for every Unibet Poker freeroll on this page especially for our users.
Where to Find Unibet Poker Freeroll Passwords
Closed games are much more seductive and profitable than ordinary ones.
There are fewer players here, so the chances of winning are much higher. Also the guarantees are quite big (in general, up to €3,000).
But where to find the treasured key to such an event?
Like all modern rooms, Unibet Poker has a developed network of social networks. The official Twitter publishes up-to-date news, including passwords for free events.
Thematic sites. On news sites about poker and other games (like Cardmates), you can often find passwords to offers that are closed to the general audience.
Streamers, bloggers and professional players in cooperation with the rooms often arrange joint tournaments, and special codes are announced shortly before the start of the events.
How to find the desired tournament in the room lobby?
The strategy of beginner poker players is not limited to the use of room's promotions. To gain skill, many players train in the free events without any risk. You can take a place in a tournament with weak opponents in a matter of minutes. But how do you find a freeroll in a Unibet poker lobby?

Step 1
Log in to your Unibet account in a convenient way: in the desktop client or from your mobile.


Step 2
Go to the Tournaments tab, click on the "Filter" button. Here you need to select the minimum buy-in range.

​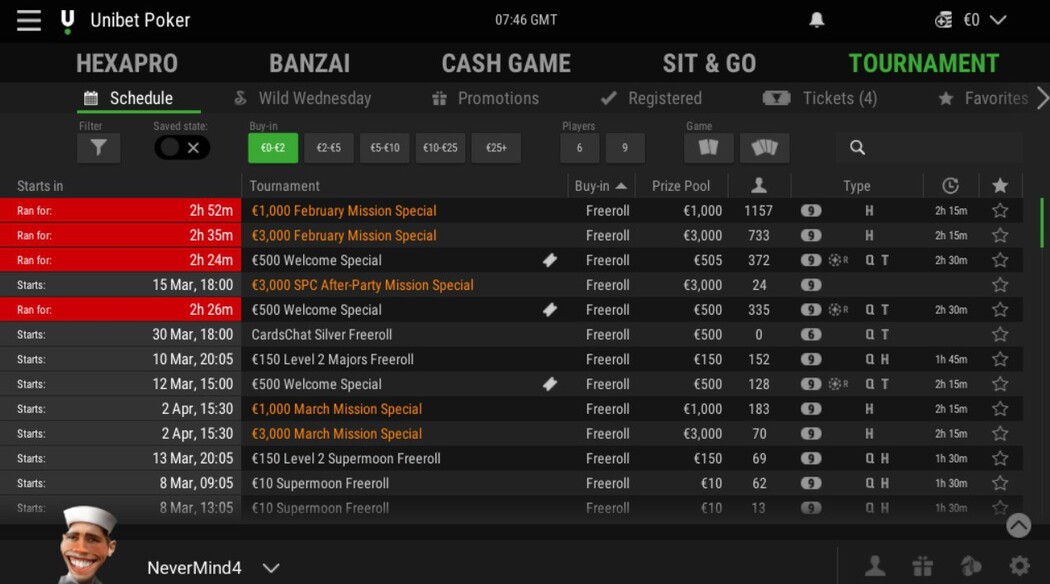 Step 3
You will see a list of the nearest available free events. Examples include Mission Specials, CardsChat freerolls, Welcome Specials and SuperMoon events. By the way, for convenience, you can hide completed events in the lobby.

Special Features of the Free Events
Such competitions that do not require a money buy-in can be held daily, on weekends, or be tied to fixed dates. Each user can join open freerolls. If we are talking about exclusive events where large amounts can be played, the conditions for participation change.
Sometimes a user needs Unibet Poker freeroll passwords, but it is not always the only key to successful entry into the number of participants. Sometimes entrance tickets are issued for completing a specific task or mission.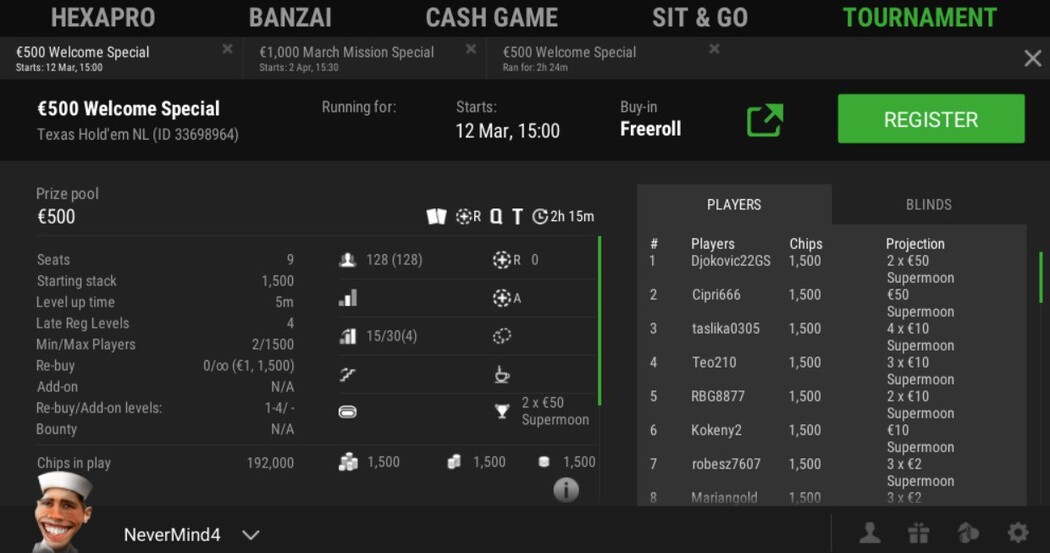 ​
If you click on each individual freeroll, you can learn everything you need to know about it.
The details section of every event contains the following information:
name, date and time of the start;
late registration if available;
discipline (Holdem/Omaha/different type);
format (freezeout, rebuy, addons);
number of players (minimum number and maximum);
guarantee and number of prizes;
starting stack and duration of each level.
On the right there is a green registration button.
FAQ
🎯 How often does a Unibet poker freeroll take place in the room?
Such events can take place daily, on weekends, or be announced on specific dates.

💸 Where are Unibet Poker freeroll passwords published?
On the official social networks of the site, on thematic resources like Cardmates and forums, in a chat during live streams of players.