From Zero to Hero 2.0 #5
Hello;)
As you can imagine, we lost 2 out of 2 bets yesterday. But these are bets, here even more often than in poker, we can get into variance and lose quite a lot of bets in a row. But you need not despair, but try to make good bets.
It was especially offensive for the match with Na'vi, where they just miraculously won the first map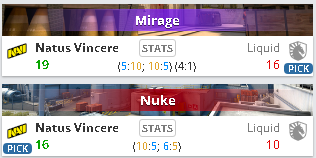 Statistics
Bets: 10
Wins: 5
Lose: 5
Average odds: 2.05
Predictions for 18.12
Today we will bet on 2 matches of the IEM tournament again.

In the first match 2 very strong teams will meet. Vitality and Astralis are in good shape now, and the last 3 matches of these teams were interesting until the last round. Therefore, we will bet that all 3 maps will be played.
Prediction: Total maps Over 2.5
Koef: 1.85
Bet size: med

And in the second match, two American teams will meet, and here they clearly underestimate the Liquid team, play well, at least against the European teams. I will place 2 bets on this match at once. One average bet for Liquid to win, and the other that they will win 2-0
Prediction: Liquid win
Koef: 2.25
Bet size: med
---------------------------------
Prediction: Liquid win 2-0
Koef: 3.9
Bet size: low
That's all for today, good luck;)
Overall rating of this post: