GGPoker: Detailed Review
Category "A"
reliable and authoritative poker rooms that have established themselves in the market long ago


Available for players from your country
Welcome bonus up to $600
18+ T&Cs Apply. Welcome Bonus promotion for new players only; minimum deposit requried. Please Play Responsibly. www.begambleaware.org
Sign up
Terms & Conditions
1. Players must be aged 18 and above to participate in this promotion.
2. Welcome Bonus and Honeymoon promotion for new players only over a limited period .
3. Welcome Bonus only available to new players that make an initial deposit. The minimum deposit necessary to obtain a matched bonus is $10, or if a player chooses the $100 in rewards the minimum deposit necessary is $20.
4. $50 Free Play offer made up of $52.50 in free All-In Or Fold SNG tickets from Welcome Bonus and $2.50 in free tickets from Daily Freebie.
5. Free tickets automatically credited to eligible players' accounts over a six day period.
6. A 100% matched deposit bonus worth a maximum of $600 can be claimed by players selecting 'Match Bonus' when making their first deposit(s) over a limited period.
7. Bonus cash is released at a rate of $1 for every $5 paid in net rake/tournament fees.

GGPoker standard rules apply. Play responsibly. www.begambleaware.org.

ℹ️ Name
GGPoker
🔗 Network

GG Network

🌐 Website
https://ggpoker.com/
🎂 Established year
2017
😎 Owner

OK Consulting N.V.

🧾 Licensing

Isle of Man, UKGC

📱 Compatible devices

Android, iOS, Mac OS, Windows

⚙️ Software usage

prohibited

👨‍👦‍👦 Players online

by day: 20 000; at night: 50 000

💳 Payment/banking

Visa, MasterCard, Skrill, Neteller, Bitcoin, MuchBetter

🚀 Cashout speed

up to 72 hours

💸 Rakeback

up to 60%

💲 Supported currencies

USD, JPY

🌎 Languages

English, Russian, Estonian, French, Portuguese, Finnish, Ger

man, Turkish, Japanese, Chinese

...more

🚧 Cashout limit

$50 000/month

💬 Live chat

available 24/7

🤝 Affiliate program

GGPartners Affiliate Program
Show more information
Pros & Cons
Large field of weak Asian players
Built-in software to track & analyze one's play
Prizes in tournaments up to $100 000 000
Exclusive game formats
Popular poker trackers are prohibited
GGPoker is a range-topping and world-renowned poker room that boasts modern software and exclusive game formats. Launched in 2017, this platform broke the Guinness World Record for having the largest tournament prize pool, got the most traffic in the online poker industry, and won numerous awards.
The playing field mainly includes weak Asian poker players. The room holds UKGC and Isle of Man licenses.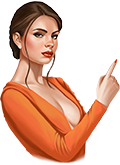 Do you know?
In 2020, GGPoker won the PokerListings Award for Operator of the Year and broke the Guinness World Record for featuring the WSOP prize pool of $27 559 500.
The GG Network room's peculiarity lies in the constant improvement of its product. The client (app) is packed with super cool "goodies" for optimization and simply having fun while playing. As regards exclusive formats, there are unique offerings available to play at any limit. We'll run you through them all in our GG Poker review.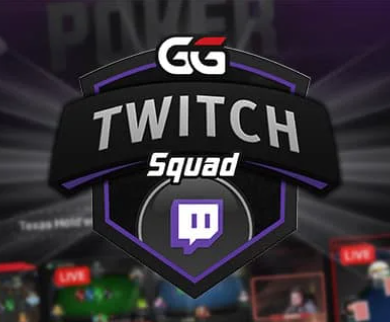 Here are the names of eminent Brand Ambassadors: Daniel Negreanu, Bertrand Grospellier, Fedor Holz, Jason Koon, Jeff Gross, and Ali Nejad. Poker pro Bryn Kenney no longer represents the room (dispersed peacefully, without any scandal).
The TwitchSquad includes Kevin KMart Martin, Patrick Egption Tardif, Andrijana Callmelija Gligoric, Hristivoje ALLinPav Pavlovic, Lukas Robin Poker Robinson, Quirin Q_Poker Heinz и Jan HansiWurst Wagner.
GGPoker Software: Client Review
The desktop client is pretty convenient for most amateur players. It includes all the necessary functions: straddle, emoticons, all-in insurance, etc. It also provides waiting lists, notes on players, and bet sizing. The table design is comfortable for multitablers and does not cause any difficulties. GGPoker prohibits using any kind of supportive software. Thus, fans of statistics will not be fully satisfied with the poker room.
After launching on PC, one can view the client's main lobby. The app supports only a dark interface style (made in a laconic black colour). All available poker formats are displayed in the horizontal menu. When you click on the desired section, available tables open. There is a Quick Seat feature that allows players to land at tables faster.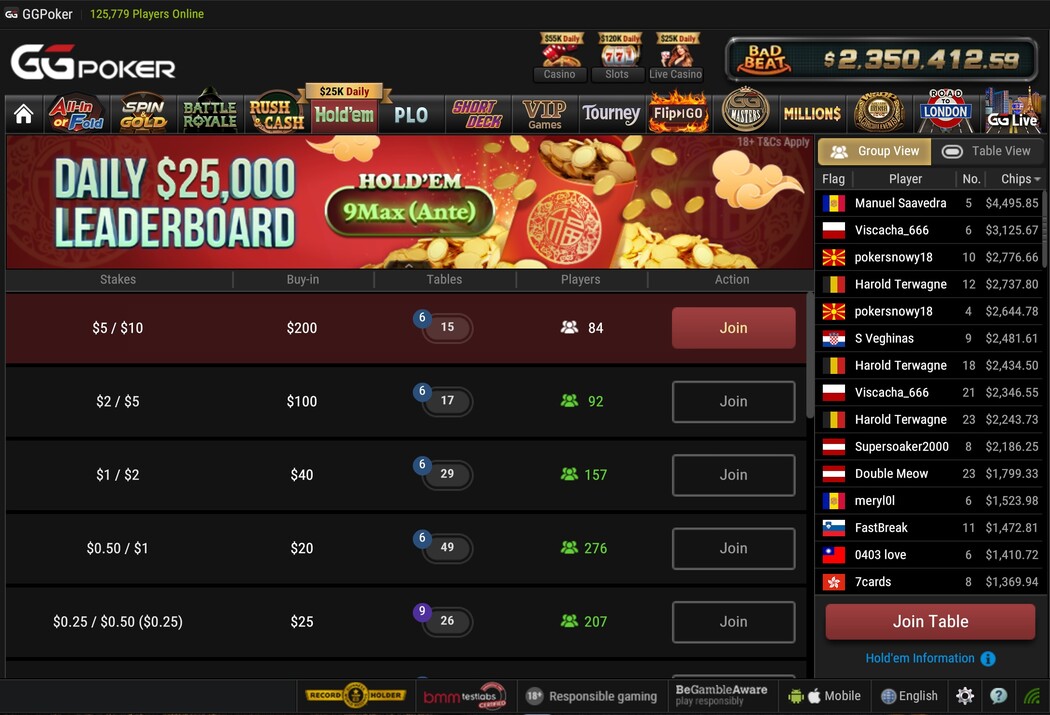 ​
Although users cannot take advantage of any third-party software, this poker room has all the necessary options for both novice and regular players. The client and its functionality are constantly updated, and new features are added for the maximum convenience of customers.
Here are some of the app's most interesting features:
| | |
| --- | --- |
| Tournament Backing (Staking) | Allows one to buy and sell shares. |
| Smart HUD | This is a feature designed to collect data on other participants (depending on the format) as well as view their hand history, total winnings (for AoF), current leaderboard rank and income (for MTT), average finishing score, and maximum prize multiplier (for Spin&Gold). Personal statistics and hand history are also available. |
| Smart Betting | Generates betting options based on user preferences and opponents' average bet sizes (available for Hold'em, Omaha, Rush&Cash). |
| Pokercraft | This tool lets you track your recent big moments and make notes on rivals, as well as displays your backing history. |
| Insurance | Chance to insure your hand, full coverage of outs, and all-in protection. |
| Deal Choice | Becomes activated when two players move all-in. The participant with odds below 50% can request Deal Choice. In this case, the pot is split into 2 or 3 amounts that are played out on different boards. |
| Bubble Protector | Allows one to protect buy-in of selected tournaments (free of charge) as long as they make early registration. |
| Snapcam | This feature allows one to record 15-second videos and send them to other players who sit at the same table. |
| Card Squeeze | Realistic card opening process for full game immersion (as if one is playing offline). |
| Splashes | Animated effects to interact with opponents. |
| 👍👎 | Evaluation of the opponent's actions with a like or dislike. |
| Expected Value Cashout | Once cards are dealt on the flop – provided that few players go all-in – the one with 60% (or more) pot equity can collect the expected value of their cards in any outcome of the hand. |
| Next Hand Roulette | Betting on the next starting hand dealt (aka predictions). Bet on the next starting hand. It's available for MTT and cash (Holdem, Short Deck, traditional and 5-card Omaha). |
| Last Longer | An additional bet on the player who will last longer in a particular tournament. |
| No Turn No Show | Option for PLO-5. Hidden cards are only shown when it is the player's turn. |
GGPoker has lots of small things that help create a very special atmosphere. For example, DNegs dance ceremony appears when one wins the pot. Also, you can throw an egg or splash water at an opponent who beat you just now 😂
All current client updates are shown in the user's personal account. To discover the innovations, you need to go to the "Message" section.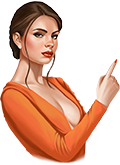 Does GGPoker have play money mode?
No, currently it's not possible to play with fake money, the client doesn't support this feature. Online poker games are only available for real money.
Cash Games and Traffic
The poker room offers different disciplines in a wide range of limits.
Type
Limits
Min buy-in
Daily leaderboard
No Limit Holdem
NL2 – NL1K
0,5$ – 200$
20 000$
Omaha and 5-card Omaha
PL2 – PL2K (PLO-5 до PL1K)
0,2 – 200$
20 000$
Short Deck
NL2 – NL1K
1 – 500$
5 000$
Rush&Cash
NL2 – NL200

1 – 80$

(PLO 0,4 – 40$)
25 000$
All-in or Fold
NL200 – NL10K
(Omaha up to PL 20K)
1 – 1 000$
25 000$
Texas Hold'em
The most popular type of poker is available at 9 limits – from NL2 to NL1000. Tables in 6 and 9-max format. $30,000 is up for grabs in the daily leaderboard.
Worldwide traffic: Hold'em
| Limits | Buy-in | Tables (day) | Tables (night) |
| --- | --- | --- | --- |
| NL1K | 200$ | 15 | 15 |
| NL500 | 100$ | 10 | 25 |
| NL200 | 40$ | 25 | 35 |
| NL100 | 20$ | 40 | 60 |
| NL50 | 10$ | 60 | 90 |
| NL25 | 5$ | 80 | 100 |
| NL10 | 2$ | 100 | 130 |
| NL5 | 1$ | 110 | 150 |
| NL2 | 0,5$ | 130 | 115 |
Omaha

The poker room's significant advantage is a large selection of Omaha tables. Also, this discipline has a consistently high level of traffic. There are 10 limits available for pot-limit games and 9 limits for 5-card Omaha.​
Worldwide traffic: Omaha
| Limits | Buy-in | Tables (day) | Tables (night) |
| --- | --- | --- | --- |
| PL2K | 200$ | 7 | 5 |
| PL1K | 100$ | 2 | 2 |
| PL500 | 50$ | 5 | 6 |
| PL200 | 20$ | 6 | 10 |
| PL100 | 10$ | 7 | 16 |
| PL50 | 5$ | 7 | 14 |
| PL25 | 2,5$ | 11 | 17 |
| PL10 | 1$ | 11 | 20 |
| PL5 | 0,5$ | 8 | 14 |
| PL2 | 0,2$ | 24 | 30 |
Traffic of 5 card Omaha:
| Limits | Buy-in | Tables (day) | Tables (night) |
| --- | --- | --- | --- |
| PL1K | 200$ | 4 | 7 |
| PL500 | 100$ | 9 | 10 |
| PL200 | 40$ | 8 | 12 |
| PL100 | 20$ | 5 | 13 |
| PL50 | 10$ | 6 | 15 |
| PL25 | 5$ | 9 | 20 |
| PL10 | 2$ | 12 | 20 |
| PL5 | 1$ | 10 | 15 |
| PL2 | 0,5$ | 30 | 35 |
Short Deck
You can play short deck poker on NL2 – NL1000. Traffic at low limits is much higher.
The difference between the rules of Hold'em 6+ and the classic Texas Holdem is in the seniority of the combinations. Here, flush is higher than full house, and the minimum straight is A-6-7-8-9.
Worldwide traffic: ShortDeck
| Limits | Buy-in | Tables (day) | Tables (night) |
| --- | --- | --- | --- |
| NL1K | 500$ | 1 | 1 |
| NL500 | 250$ | 1 | 2 |
| NL200 | 100$ | 3 | 4 |
| NL100 | 50$ | 3 | 6 |
| NL50 | 25$ | 5 | 8 |
| NL25 | 12,5$ | 5 | 15 |
| NL10 | 5$ | 7 | 12 |
| NL5 | 2,5$ | 5 | 12 |
| NL2 | 1$ | 40 | 45 |
Rush and Cash
GGPoker offers a very unique look at fast-fold Hold'em and Omaha (such games are labelled Rush&Cash here). The daily leaderboard in fast poker is $25,000.
The peculiarity of this format is the instant transfer of the player to another table after the fold. On Rush&Cash Fridays, cash drops are doubled to 1,200 BB.
Worldwide traffic: Rush&Cash



Limits

Buy-in

Tables (day)

Tables (night)

Buy-in

Tables (day)

Tables (night)

NL200

80$

15

15

40$

7

6

NL100

40$

20

25

20$

5

6

NL50

20$

35

35

10$

7

13

NL25

10$

45

60

5$

16

18

NL10

4$

65

75

2$

8

20

NL5

2$

55

60

1$

12

16

NL2

1$

95

122

0,4$

18

15
All-in or Fold
A dynamic format for those who don't like to wait. At 4-max tables, participants choose one of two actions - fold or all-in. Games are available in Hold'em and Omaha, and for an 8BB buy-in, you can compete for the jackpot by hitting a straight flush or a royal flush with two pockets.

In this format, you can get to the high stack table with a buy-in of $1,000.
Speaking of AoF traffic, let's note the biggest field at the NL10 and NL25 tables. On average, there are 30 Hold'em tables and 10 Omaha tables.
GGPoker Rake Structure
Holdem, PLO, Short Deck, and Rush&Cash share the same rake percentage, which is 5%. Rake Cap depends on the number of players participating in the hand.
In Rush&Cash, if the table is not full, there is no rake and no cash drop. The rake cap is 3BB.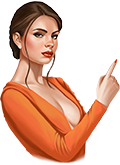 Example
Suppose we're playing No Limit Hold'em with $0.5/$1 blinds. Pot – $50; rake – $2.5. 1BB is subtracted to form Bad Beat Jackpot.
The winner receives $50 - $2.5 - $1 = $46.5
Tournament Grid
Record-size prize money is the hallmark of this poker room. Guarantees of such tournament series as WSOP, GGMasters and MILLION$ reach $100 000 000. No other online poker operator provides such massive prize pools.
GG Masters Series
This large-scale tournament series includes daily and weekly events with a broad range of buy-ins and guarantees.
The most popular Sunday tournaments are High Rollers, GGMasters, and Bounty 300. The first listed event guarantee amounts to one million dollars, while the other two feature $500 000 GTD up for grabs (each). From Monday to Saturday, lots of events with $25 buy-ins are held; prize pools start at $15 000.
One can play the $25 Bounty Turbo daily.
The $105 Bonus Bounty takes place on Saturdays. Players can fight for their share of a $100 000 guarantee.
All events run in a freezeout format.
WSOP Series
| | |
| --- | --- |
| Frequency | every 3 months |
| Number of events | about 100 tourneys (changes annually) |
| Guarantee | $100 000 000 |
| Main Event | buy-in – $525, guarantee – $5 000 000 |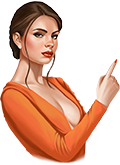 Do you know?
For GGPoker Canada has become another destination to bring online poker to. In 2022, jointly with the World Series of Poker, they launched an online poker site called WSOP.ca. It operates exclusively in Ontario.

MILLION$ Series
These tournaments are famous for head-spinning prize money. As part of the series, the three-day $2 000 000 GTD Super MILLION$ high roller is held every week. For fans of Omaha, there is the Omaholic Bounty Quarter MILLION$ with a $52.50 buy-in.
One can take part in the most popular Global MILLION$ event for $50. For the record, $1 000 000 is at stake.
The Zodiac MILLION$ event is recognized as the largest Asian tourney. It runs daily, and the final is held on Sundays. The prize pool is ¥1 000 000.
Mystery Bounty
| | |
| --- | --- |
| Buy-in | $210 |
| Starting stack | 25 000 |
| Blind interval | increase every 12 minutes |
| Guarantee | $1 000 000 |
Road to Vegas
These are exclusive WSOP satellites where poker players can qualify directly for the World Series of Poker Main Event.
| | |
| --- | --- |
| Type | step satellite |
| Buy-ins | from $1 to $1 050 |
| Starting stack | 100BB |
| Re-entry | unlimited |
| Late registration | available |
| Table format | 8-max |
| GTD | from $25 to $25 000 |
| Top prize | WSOP Main Event entry for $10 000 + flights and accommodation |
Omaholic Series

| | |
| --- | --- |
| Type | satellite |
| Frequency | several times a year |
| Buy-ins | from $0.55 to $1 050 |
| Re-entry | unlimited |
| Table format | 6-max, final table – 7-max |
| Blind interval | from 2 to 12 minutes |
| Starting stack | 20 – 125BB, 2-stack |
| Final Table Deal | available |
| GTD | from $30 to $25 000 |
| Total guarantee | $3 000 000 |
Speed Poker ​
Exclusive fast-fold poker formats for GG Poker players are thought out to the smallest detail and bring maximum pleasure and adrenaline.
The algorithm of actions is as follows: choosing buy-in and a number of tables to play → activating insurance (optional) → random multiplier draw → seating at the table.
Multipliers: х2 – х200 000.
Tables: 3-max and 6-max.
Buy-ins: from $0.25 to $200.
Action includes two stages: qualifying "Flip" and final "Go". The Flip part takes place every 10 minutes.
Buy-ins: from $0.05 to $20.
Bonus round multiplies one's stack by 4.
Final stage: 8-max, final table – full ring.
Daily leaderboard prize pool – $5 000.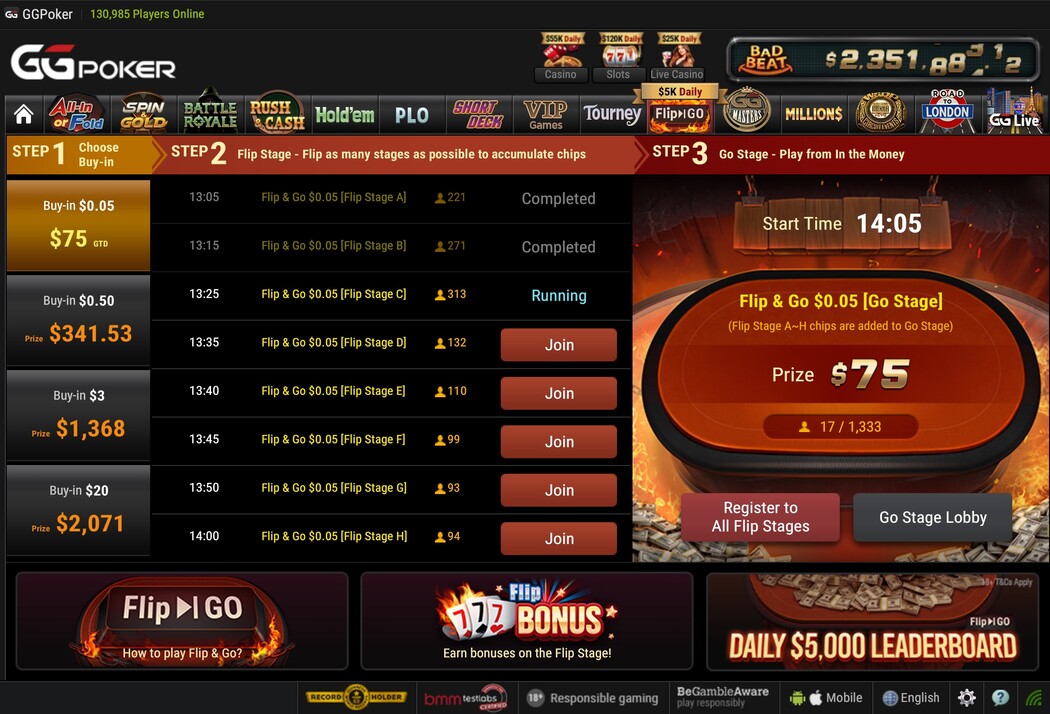 ​
Number of players: 16 (4 shootout tables).
Everyone gets 3 stacks. The winner of each table finishes in the money. Available disciplines: Hold'em and Omaha. Rake – 7%.
It's a hybrid tournament format.
Duration: 60 minutes.
Number of players: 30.
Buy-in: from $0.25 to $10.
Bonuses and Promotions
New GG Poker users receive a welcome bonus on their 1st deposit. Actually, there are two offers to choose from: a 100% matched bonus up to $600 or $100 in rewards (free tickets and C$). You have 90 days from the date of issue to wager all bonus money.
The Honeymoon is another interesting promo for newcomers. Its essence lies in completing missions, for each of which a player receives a certain reward.
GG Poker Rakeback and Loyalty Program
GGPoker users can earn up to 60% in cashback. It is credited in the form of Fish Points.
This system has 8 levels divided into ranks. The more points, the higher the rank and, accordingly, the rakeback.
The multi-level loyalty program is called "Fish Buffet" and looks as follows:

Step 1
A player will receive 100 points for every $1 paid in rake (across all poker games).

Step 2
When switching to a higher rank, one can get extra money by spinning the wheel.

Step 3
Additional weekly rewards are provided for Platinum Rank players.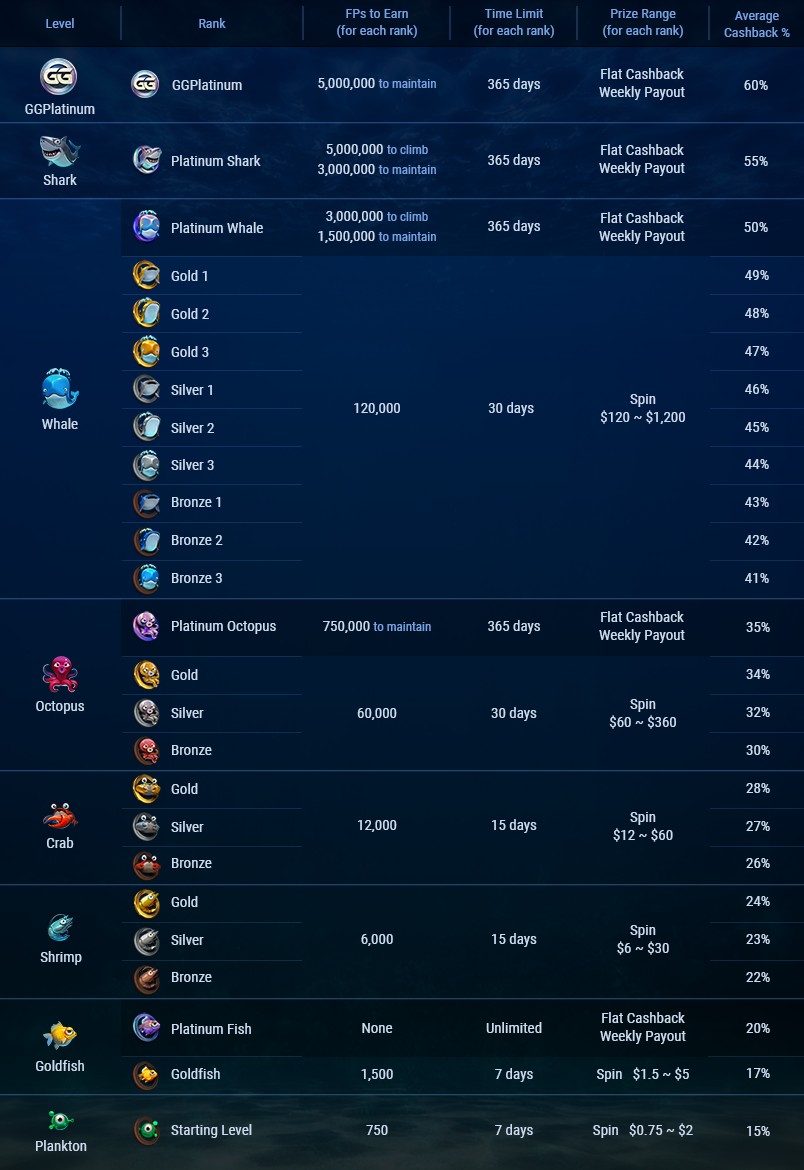 Official Website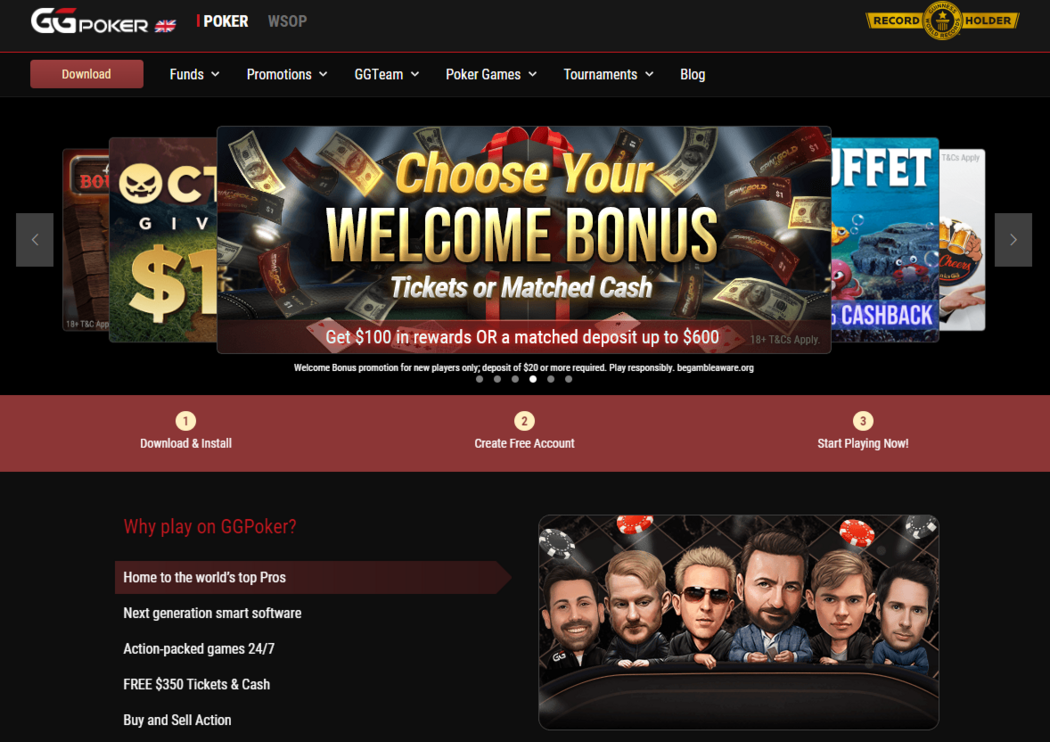 Presently there is no way to play on GGPoker through a web browser like Safari or Google Chrome, but on the official site, one can find lots of useful information on the poker room's offers, available poker formats, and current promotions. How to determine if the website is original?
The official site has clickable footer buttons (at the bottom of the page), a regularly updated newsfeed, and fully operational functionality. If you suddenly notice that some of the buttons don't work, and the site itself "freezes up", then most likely you came across a copy created by fraudsters. Downloading apps from such a resource is strictly prohibited, as you can expose your personal data to the risk of theft.
You can download the original client on your mobile device or PC only from the original site. To get on the appropriate website, feel free to use our link.
Mobile Version
GGPoker has a top-notch app to install on portable devices. To play on the go, you need to download an installation file that matches your OS (iOS or Android).
Your device must meet the following minimum requirements:
Android

iOS

8.0 Oreo (10.0 version is recommended)


iPhone X or better


2GB RAM (4GB is recommended)


iOS 14 or later


1 GB of free disk space

Technical Flaws
The software has no significant shortcomings, but users sometimes face problems when launching the desktop client. The cause may be system updates. As a rule, players are warned about possible technical maintenance activities in advance. The appropriate information appears in the room's Telegram channel or social networks.
Other reasons for the lack of access to the client:
network failure
configuration crashes create conflicts in the system
In the first case, you just need to repair your Internet connection. As for the second situation, try to run the client as administrator, disable your antivirus or firewall temporarily and check if that helps.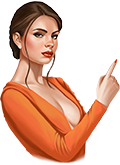 Do this if you've failed to patch GGPoker 👇
You should contact the support team and describe the problem, or write to us by email (we'll help any way we can).
Some players see a prohibition on third-party software use as a downside. Auxiliary tools and services are primarily used by regs to get additional data on their opponents. At the same time, GGPoker has features that neutralize this nuance and allow one to play fair while getting the necessary statistics.
Deposit and Cashout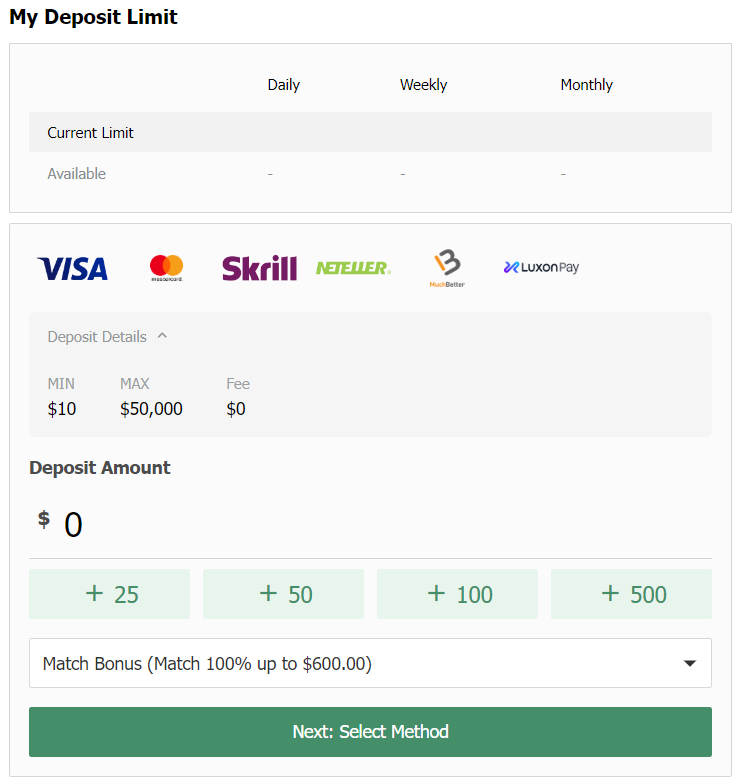 After login, the user sees a round "Cashier" button on the right-hand side of the lobby. All available payment methods are displayed here, depending on your country of residence. On GG Poker, just as in other poker rooms, you can request withdrawal in the same way that was used to top up the account. The cashier interface is simple and clear so that even novices can handle everything in seconds.
Deposit and withdrawal limits
With Visa and MasterCard bank cards, one can deposit a minimum of $10. The maximum deposit amount per transaction accounts for $700.
The minimum deposit and withdrawal amounts for Skrill, Neteller, Luxon, and MuchBetter are also $10. You can withdraw up to $5 000 – $50 000 (according to the chosen payment method). Through Coin payments, you can deposit at least $100 and withdraw $1 000 or more.
Customer Support Service
To contact the support team, click on the "?" button (in the client), after which an online chat will open. Or send an email to [email protected].
You can also start a dialogue with the support service operator on the site. To do this, click on the red "Help" button down the page.
Live chat allows users to solve urgent issues. If a complex problem that requires adding screenshots is involved, it would be more appropriate to write an e-mail.
Final Thoughts
Record-high traffic, exclusive game formats, massive prize pools, and top-quality software make GGPoker an undisputed leader in its field. Weak field of Asian players attracts both hobby-type and regular players.
A wide array of limits and disciplines allow each poker player to find an offer just right for themselves. Bonus policy and rakeback as well as a high level of customer focus are additional reasons to join the poker room.
FAQ
This poker room falls under the largest network in Asia, GG Network. GGPoker defines itself as a convenient platform for playing cash games and MTT tourneys, attracting both novices and regs. Here you will find plenty of action at all limits as the room holds the most traffic in the industry.
While prohibiting the use of third-party software, the operator offers a built-in Smart HUD and PokerCraft. What's more, lots of leaderboards to win additional prize money run daily.
Yes, GG Poker has a modern application with a pleasant design and thoughtful navigation. It also supports various features: multitabling up to 4 tables, making notes on rivals, hotkeys for quick selection of actions and bet sizes, Pokercraft tool to collect stats on opponents.
There are also filters to sort tables and tournaments according to the necessary criteria (discipline, limit, number of players, etc.). However, we recommend downloading the client only on the official website; otherwise, you can fall for the trick of fraudsters or install a virus-infected app.
Yes, online poker services are provided legally, under the Isle of Man and UKG licenses. One can find a link to check this in the site's footer. Numerous industry awards provide evidence of the platform's reliability ("Best Poker Operator 2020", Players' Choice 2020, "Poker Operator of the Year 2022" and others)
Furthermore, many poker pros collaborate with the brand, among them are Daniel Negreanu, Fedor Holz, Jeff Gross, and Jason Koon. They participate in online games and represent the room during live series.
🗿What company owns GGPoker?
The poker room was launched in 2017, and its owner is OK Consulting N.V. Users play in the GGNetwork pool, which is Asia's most fishy network.
Other popular GG brand skins are PokerOK and Natural8.

💸What is the minimum deposit for GGPoker?
Each poker platform sets a minimum and maximum limit for making deposits. Speaking of the flagship GG Network room, the smallest amount to top up your account is only $10, so even players with a tiny budget can play on the site. Cash games start at $0.01/$0.02.
As for the maximum amount, it is $700 per single transaction.
👀What is GGPoker brand internal error and how to fix it?
This is an internal error that occurred on the GGPoker server. There are no reasons to worry as this problem is usually of a temporary nature. Your client will revert back to operating within a few minutes.
However, if the problem still persists, we recommend that you contact the poker room's support team (email: [email protected]).
🎭What's the difference between GGPoker UK and GGPoker.com?
The first skin is to register British accounts, while the second one (global) accepts players from all over the world. The "dot-UK" skin is regulated by UKGC, and the "dot-com" version has the Isle of Man license. They, though, share the same player pool.
In terms of poker games and promotions, they are practically identical. The important difference is that the United Kingdom Gambling Commission has set some specific regulations, for example, a monthly loss limit. P2P transfers are also not available for British accounts.
🤷I currently reside in Ontario. What account should I use, WSOP.ca or GGPoker Ontario?
GG Poker no longer directly operates in this region, so you have to use the WSOP.ca skin when you are physically located in Ontario, Canada. The software, its functionality, games, and promotions are reasonably similar.
However, you can play on GGPoker when migrating to the country where this operator provides its services on legal grounds. There is one small (but important) note, though: these accounts must have different screen names.
For more details, please write to [email protected].
Latest Comments
All comments