GGPoker Honeymoon Missions for Newcomers

​
Love at first sight is not just a slogan for GG Poker. The operator always looks to the future and expects to have long-term relationships with each user who signs up with the site.
In order to further strengthen cooperation, new players are offered to take part in a poker challenge called GGPoker Honeymoon, where they can an additional $350 to play any discipline.
Offer terms are transparent: you receive rewards for fulfilling certain day-to-day missions. They are simple and allow you to boost your starting bankroll, as well as become better acquainted with the poker client functionality.
GGPoker Honeymoon: Terms of Participation
Not all users can test their hand at the honey challenges! Only newcomers who have not previously opened an account in the room have these exclusive rights. If you are caught creating multiple accounts, rest assured, access to the site will be closed to you forever as this is a gross violation of GG Poker policy.
Only one application for participation per account, IP address and/or device is permitted. Consider this nuance in case someone from your family also intends to join the hunt for prizes, otherwise, the security service will identify you as a bonus hunter.
Needless to say that every user under the age of majority is a "persona non grata" not only within this promo but in the poker room as a whole. Tricking the system by providing false personal information during registration is a really bad idea as you will surely fail to pass the identity check.
Detailed Conditions of The Promotion
This fantastic promo gives novices a chance to quickly build up their poker bankroll. Within the first thirty days of registration, each newcomer has access to special missions. New day = new challenge (30 tasks in total). Bit by bit, the level of difficulty increases as you progress through the challenge, and your reward value changes accordingly.
There's no reason to worry if you're just beginning your way in poker. The HoneyMoon is targeted at recreational players, so even a person with weak skills can complete it. Well, this is actually a great opportunity to take your poker game to the next level.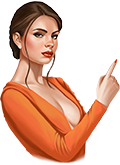 What REWARDS can I receive?
For successful completion of missions, you can earn up to $350 in free prizes! You're in for tournament tickets, T$ and real money.
How to Activate GG Poker Honeymoon Missions
One should opt in to the challenge manually in the client's lobby. Note that this offer is limited in time and will be available within 30 days of the first login, rather than account registration.
Verification is required at this stage, and only then you will be able to top up your game account. For that, use any active payment method in the GG Poker cashier.

Step 1
Download the GGPoker app and go through a quick registration.

Step 2
Click "Honeymoon" in the lower right-hand corner of the client, and then confirm your intentions by clicking the "Start Honeymoon" button.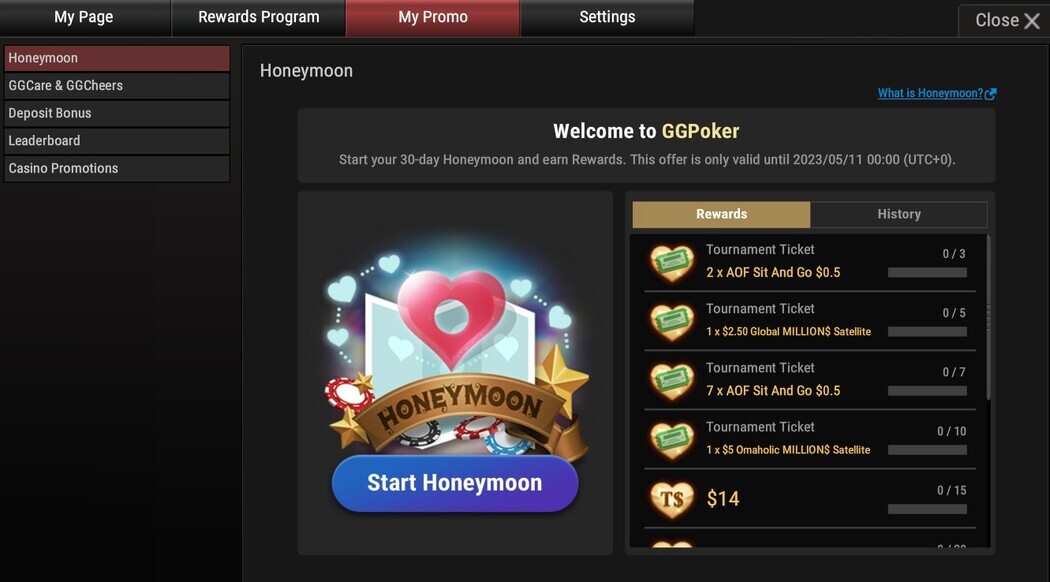 ​

Step 3
You will see the first task with a detailed description and clear deadlines for its completion.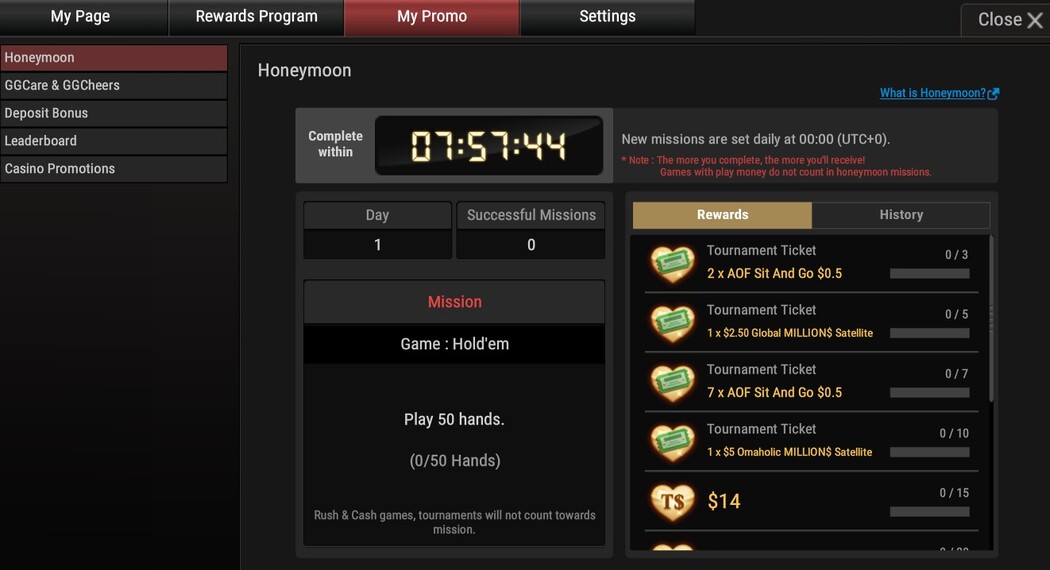 ​

GGPoker
1. Players must be aged 18 and above to participate in this promotion.
2. Welcome Bonus and Honeymoon promotion for new players only over a limited period .
3. Welcome Bonus only available to new players that make an initial deposit. The minimum deposit necessary to obtain a matched bonus is $10, or if a player chooses the $100 in rewards the minimum deposit necessary is $20.
4. $50 Free Play offer made up of $52.50 in free All-In Or Fold SNG tickets from Welcome Bonus and $2.50 in free tickets from Daily Freebie.
5. Free tickets automatically credited to eligible players' accounts over a six day period.
6. A 100% matched deposit bonus worth a maximum of $600 can be claimed by players selecting 'Match Bonus' when making their first deposit(s) over a limited period.
7. Bonus cash is released at a rate of $1 for every $5 paid in net rake/tournament fees.

GGPoker standard rules apply. Play responsibly. www.begambleaware.org.

A

Available for players from your country
List of Tasks and Potential Rewards
The missions cover different disciplines. There is no one permanent list of challenges for all users, and this creates some intrigue and adds to the excitement. Well, neither Hold'em fans nor those who prefer Omaha will be deprived. But, for a better understanding of what lies ahead, we've provided some examples of tasks below:
Play 50 NLH hands
Get A-A in Rush&Cash
Play at least 10 Spin&Gold tournaments
Move all-in blindly
Win a hand with four of a kind before the showdown in PLO (cash games)
There are bigger challenges, for instance, getting in the money in the Daily Guarantees or Bounty Hunters tourney, reaching the final table or even winning the tournament.
Reward benefits for all 30 missions
As already stated, the given promo lasts 30 days. Prizes are awarded in cycles (for several successful challenges):

​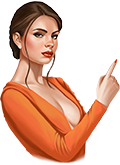 By the way!
Do not delay using tickets. Each one is valid for 7 days of receipt, otherwise, you'll miss all the fun.
Here are several other important nuances to bear in mind:
The countdown timer runs based on UTC.
If your task applies to tournament poker, it is important to complete it before the daily update (so that the tourney is finished).
For NLH and AoF NLH, at least one of your pocket cards must be used.
Satellite events do not count in mission completion.
The offer is available only once, you cannot re-participate.
Final Thoughts
Honeymoon Missions GGpoker has been offering for years, which means it is still in demand. No wonder, as newcomers get a great opportunity to earn extra money through rewards, and full immersion in the game client functionality will noticeably affect their skill.
This offer is actually quite tempting. You will try your hand at different poker disciplines, including Omaha. And if you manage to get into the money in one of the expensive tournaments, your career start in the room would be surely called thriving.
FAQ
🤷Is the GGPoker Honeymoon Challenge difficult to complete?
Most of the tasks are really easy. Of course, for fulfilling some missions you will have to devote more time, for example, to play 700 poker hands 😱 at the Rush&Cash tables. Such tasks, however, do not seem impossible.
In fact, you may encounter difficulties only with completing challenges like "winning a tournament from the Bounty Hunters series" or "hitting the jackpot in All-In Or Fold", and in case of failure, you will not be able to get all $350 stated in the promo. But even without these missions, T$ and real money you can earn from simple tasks seem a sizable increase to your bankroll.
🎁What do I get for completing GG Poker Honeymoon missions?
By participating in the discussed promo, you are eligible for a total of 350 US dollars in varied rewards. For completing tasks, the player gains cool bonus accruals: cash, tournament money, MTT and AoF SNG tickets. We've specified how the money is distributed in the article (so scroll up to know it 😉).
Note that you can also benefit from the GGPoker deposit bonus and get up to $600 on top of your deposit or 100 dollars in fantastic rewards.
👀Do I need to enter a bonus code to participate in Honeymoon?
No, but you need to register for it within 30 days after you first log into your account. If you are unable to activate it during the stated period, the promotion will disappear from your account.
🔎How to track successful challenges?
Everything is convenient as you can track your progress in the promo directly in the GGPoker client. After logging in, go to the Honeymoon tab and you will see all the necessary information: your task of the day, potential or won rewards, as well as the history of your participation in challenges.

You gave this material a grade 5 from 5: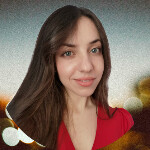 I've been working in the Cardmates team since 2018. Started playing poker the same way most people usually do – socially, with friends and fellow students. I adored those exciting poker nights but never thought my life would be connected with this game, even tangentially.