Hand2Note: Software Review

​
There are quite a few programs for collecting poker statistics, and each is good in its own way. Today, we will discuss Hand2Note (hereinafter referred to as H2N), which you can legally use in most poker rooms, including PokerStars, 888poker, iPoker, PartyPoker, and more. It boasts a variety of interesting features.
This software is an excellent option for people having computers with weak technical characteristics. The program works with a remote statistics database, eliminating the need for local storage. As a result, it delivers superior performance.
Developed by professional players, it provides ample opportunities for your game, combining convenience, high speed and flexibility of settings.
Create HUDs, pop-ups, and regular/complex stats in a short amount of time – advanced functionality allows for quick and convenient use of all settings.
Hand2Note Capabilities
The program's interface is quite pleasant and user-friendly, in contrast to that of Holdem Manager 3.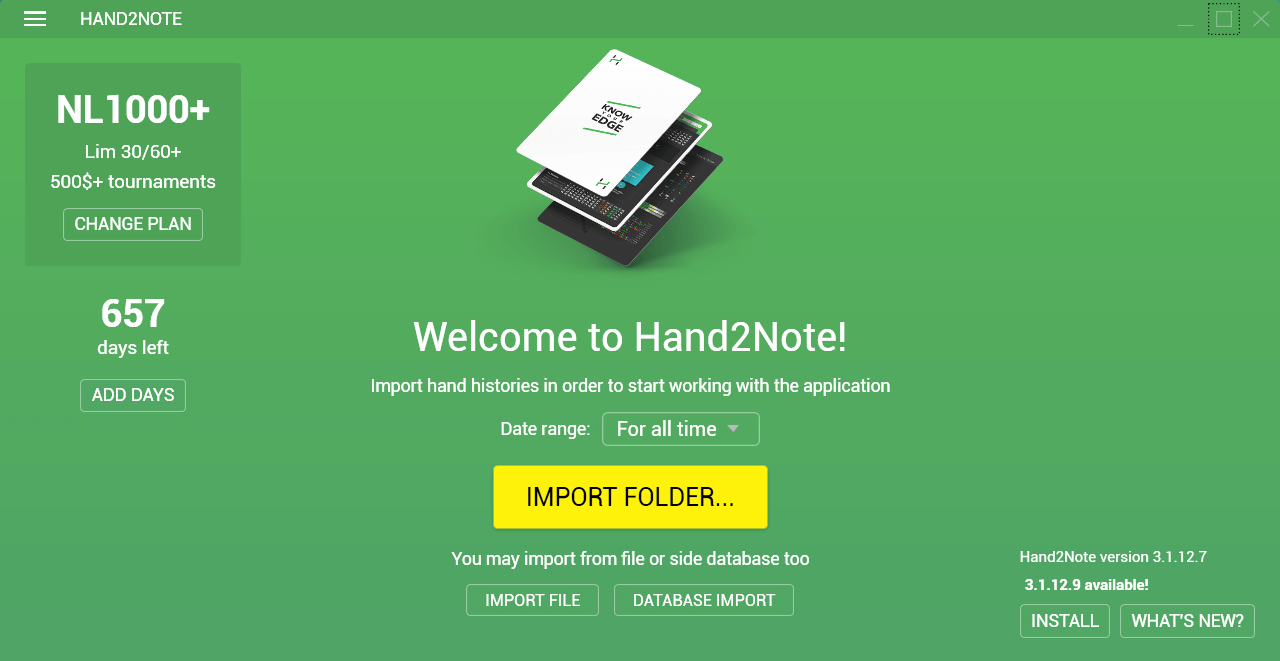 Here are the main functions that H2N is designed to implement, along with a set of unique features not found in other similar tools:
Dynamic HUD (it's allowed in 888, bwin.party and iPoker rooms) – displays statistics on players taking into account positions, bet sizings, stack size, number of players at the table, and more. You can choose which HUD to use: static (classic), positional or dynamic.
Exclusive statistics that enable distinguishing between playing against regulars and fish (reg vs reg or reg vs fish).
Minimum PC requirements: 1 GB of RAM; Windows 7 and higher.
Displaying stats directly versus you (vsHero) is a very useful feature since players don't play identically with all opponents, they adjust to everyone.
High speed of work due to innovative data processing technologies and transmission (it works much faster than similar software and is less demanding for hardware). On average, the H2N database takes 250 MB per million hands.
Viewing hands with showdown when you were absent (for example, when multi-tabling).
Displaying ranges of preflop calls and raises by participants in the hand.
Capability to quickly load up to 3000 hands per second.
Importing databases from Holdem Manager and Poker Tracker 4.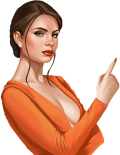 Keep this in mind!
To unleash the full potential of H2N, it is recommended to combine it with StarsHelper or SessionLord (on PokerStars), PartyCaption (in rooms of bwin.party network), 888Caption (in 888 network skins), and so on.

HUDs: Static, Positional, Dynamic
The team behind H2N comprises ambitious poker players actively involved in high-stakes games. As avid users of Heads-Up Display, they have allocated significant importance to this tool within the software. Thanks to the embedded "HUD Designer" and the use of flexible settings, you can create three types of HUDs, which will allow you to display only the necessary statistics that are required for the game at the moment.

Static
It means the classic display of stats, where one HUD is displayed for all players, regardless of your position at the table, opponents' stack sizes and actions and other factors.


Positional
This HUD displays the required statistics on the players regarding your current position at the table.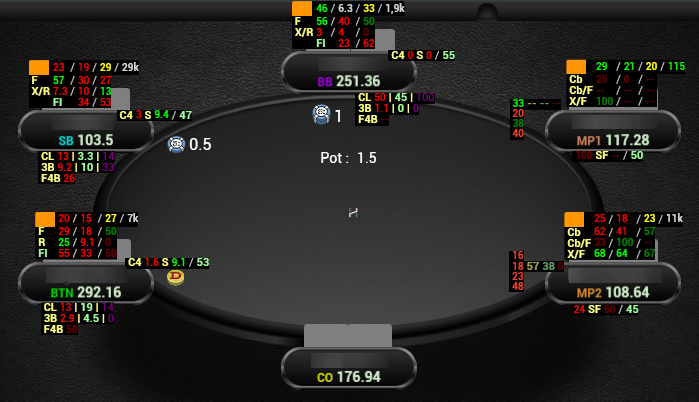 ​
In other words, the program can display some stats on players who have already made their actions in front of you. Also, it can show completely different stats on those whose turn is still ahead.

Dynamic
This type encompasses all the features of positional HUD and offers even more flexible options for displaying poker statistics.
Dynamic HUD can change depending on the player's actions. It displays additional statistics only after appropriate actions: change of stats when using certain bet sizes, displaying of required ranges directly on the poker table in the form of preflop matrix or postflop range diagrams, and other options that make the game more convenient.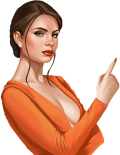 Player to note!
Positional and dynamic HUDs are banned on PokerStars. The poker client automatically blocks their functionality in adherence to the room's policy. All other essential functions, including the classic HUD, will be working correctly.

Popup Editor, Quick Notes and More

The embedded editors allow you to create your own HUDs and change the entire blocks of pop-ups, by developing the combined pop-ups, including the diagrams, notes, filtered lists of hands and multilevel tabs.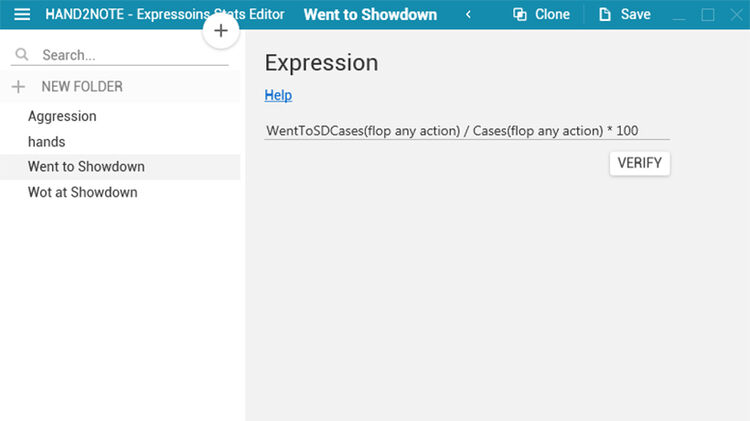 ​
For more advanced users, the program offers a special section that allows for creating complex statistics with the use of mathematical formulas.
Segmenting statistics based on "reg vs fish" and "reg vs reg" spots

Regs often face a common problem when playing with other regs. This problem lay in a distortion of statistics due to the fact that everyone plays against recreational players from time to time, but the game strategy against fish differs significantly from approaches against regular users.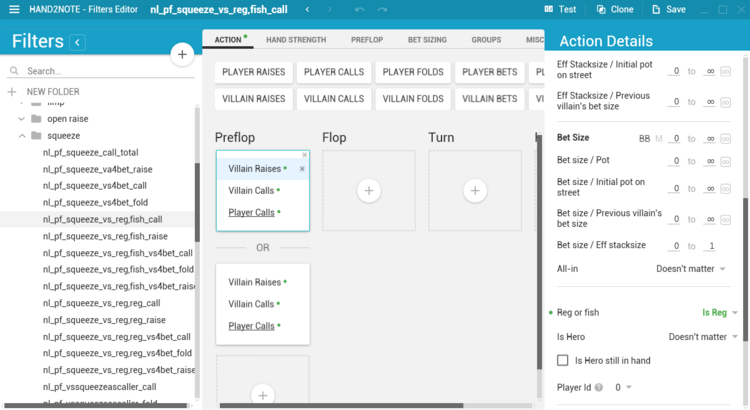 ​
Considering this, the software developers have included a feature that allows for the division of hands (and statistics) based on game situations like "regular versus fish" and "regular versus regular".
"Quick note" option

This function is designed to speed up and simplify the process of notes creation on the opponents by means of making the templates.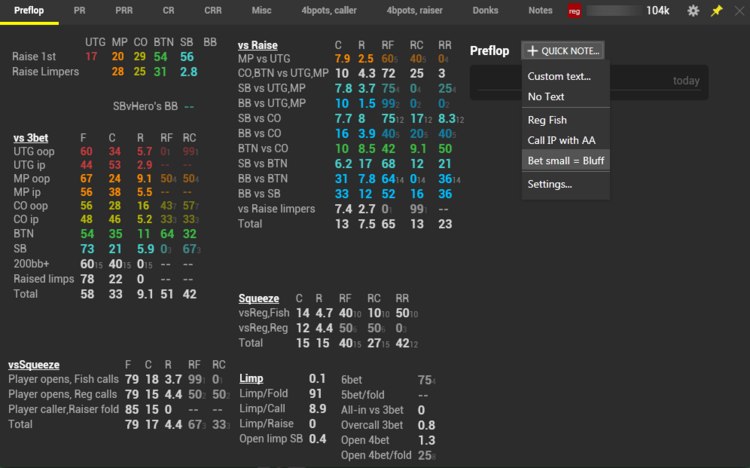 ​
Moreover, if you have a large number of notes, the program offers to "tie" the notes to corresponding stats or add them to certain groups. For example, you can create groups of notes such as "preflop", "3-bet pots", and "2-bet pots", and then add each note to a specific group.
Analysis of opponents
The process of analyzing the opponents' play outside the tables is facilitated in Hand2Note. For example, you can get information about the opponent's ranges in certain situations by simply hovering over a certain stat.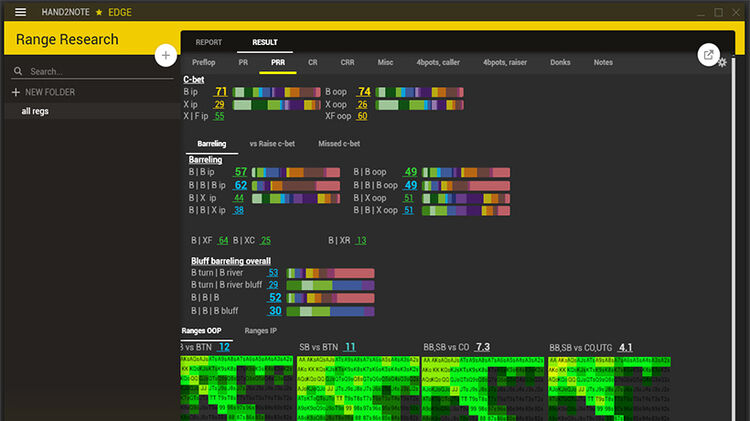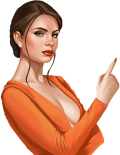 By the way
The creators guarantee a high speed of program operation when working with pop-ups and diagrams. It has a small database size (for example, a database that consists of a million hands takes only 200-300 megabytes). Import speed implies 1500-3000 hands per second.

Range Research & Decision Analysis

Let's talk separately about such tools as Range Research and Decision Analysis, which are available only for "Edge" subscriptions (39$ a month or 359$ a year).
Range Research is a tool for analyzing a range of players on which we do not have enough hands. The mechanism of work is very simple. For instance, when you have a situation where you need to choose between call and 3-bet, you open a tool window and fill in the required fields. The program analyzes the players with similar indicators and displays the averaged statistics.
Decision Analysis is a tool of research the profitability of your actions in different situations, which includes three functions:
Action Profit – displays what profit you had when collecting different combinations (on big blinds for 100 hands):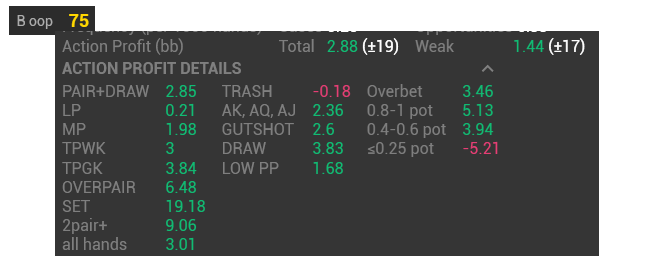 ​Action Profit of your actions is calculated as a difference of your stack at the end of the hand and before committing a certain action.
Spot frequency shows the frequency of occurrence of certain game situations.

​In the picture above, Spot Frequency shows that the statistical indicator "a continuation bet of opponent with no position on you" is 5.34. At the same time, a situation, when the continuation bet was justified (it was not a bluff), has occurred 6.45 times per 1000 hands.
Cases – the frequency of committing the action.
Opportunities – the possibility to commit the action.
Next Villain's Actions. With the help of it, you will learn how your opponent will react to your bet.
In the illustration below, an FCR stat (CHECK RAISE) shows a percentage of opponents' fold to your raise/call percentage / raise percentage. BX is Bet and Check.

Hand 2 Note Price and Free Trial
The program offers several types of subscriptions that can be issued both monthly and yearly. Here are examples of the monthly costs for this software:
Base – free of charge (unlimited stakes).
Asia – $29.90 (for players using Asian apps and sites).
Edge – $19.90 (dynamic HUD, range analysis).
PRO (Asia + Edge) – $49 (all rooms, full functionality).
Currently, there is no lifetime license for H2N, but you can download it without cost.

How to get H2N for free?
The trial period lasts 30 days and covers the whole functionality except for a Range Research feature (no restrictions on stakes). It activates automatically once you launch the program for the first time. There is a separate testing version designed specifically for Asian rooms, but it is freely available only for the initial 14 days (activation process is identical). This is a great offer for micro-stakes players who are just starting to explore poker software.
Do you want to start right now? Download Hand2Note from the official website and use the program for the first month without cost in order to estimate all its features and advantages in practice.

Main Advantages and Benefits

Ability to create graphs, sessions and reports for the cash tables and tournaments. Using filters, you are able to create unique reports like "Winrate on the tables without fish".
Easy-to-use and quick tools for analyzing the opponents' game. The program displays interactive pop-ups for each stat, makes preflop and postflop diagrams, compiles a list of hands, etc.
High-performance rate. The program imports from one and a half to three thousand hands per second from the database. Pop-ups, diagrams and notes open instantly. The hand history doesn't take much space. A million hands will take no more than 200-300 Mb.
Productive and accessible editor of HUDs, pop-ups and stats. You can easily create and edit all this, based on the players' position at the table, board strength, bet size, hole cards and more.
A qualitative approach to the notes' recording. You can insert notes into your hand with just a few clicks or by dragging them with a cursor. You can use the templates and write notes on individual stats.
If you want to visually get acquainted with this program, we offer you to watch the following video:

Poker rooms that allow using H2N software

888poker
The following are the terms and conditions of the "£20 Bonus Package Promotion" (the "Promotion") for www.888poker.com (the "Site"). The Promotion is organized by 888 UK Limited.

This Promotion is an ongoing Promotion, currently without an end date, we will provide reasonable notice of when the Promotion is to come to an end (the "Promotion Period").
888poker may cancel, modify or suspend the promotion, and any of the bonuses or benefits offered hereunder, where required for security reasons, to comply with applicable law or regulation, due to abuse or otherwise where the promotion is not capable of being conducted as specified as a result of exceptional circumstances. Other than where necessary to prevent fraud or other similar unlawful behavior, any such modification, suspension or cancellation will not apply to you if you have already opted into the promotion, made a deposit in expectation of receipt of a bonus or other benefits offered, and/or commenced play in relation to the promotion, bonus or special offer prior to the date of the communication of the modification, suspension or cancellation.
No-one under the age of 18 may participate in the Promotion and the Promotion is only available to eligible members located in the UK.
You may be asked at any stage to provide us with a proof of age and/or identity.
You may only enter this Promotion once.
For security and verification purposes, we reserve the right to limit participation in this Promotion to: (i) one per household; (ii) one per computer terminal; or (iii) one per mobile device.
During their engagement period and for a period of 24 months thereafter, none of our officers, directors, employees, consultants or agents or any other company within our group of companies or our suppliers, vendors or white label partners are permitted to participate in the Promotion, nor is any supplier or vendor. This restriction also applies to relatives of such persons and for this purpose 'relative' means any of a spouse, partner, parent, child or sibling.
If you have a pending message on the Site's cashier regarding your recent gaming activity, we reserve the right to revoke your eligibility to participate and/or continue to participate in this promotion. In such event, any bonus and/or other benefit which you have received and/or are eligible to receive under this promotion, shall be forfeited by you.
The Promotion is a new registration offer with the Site and completely replaces any similar registration offer with the Site.
All bonuses and promotional offers, and any winnings generated through the wagering of either of the aforesaid, will be cancelled at withdrawal if any of the applicable conditions have not been met in full.
You hereby agree to these terms and conditions which govern the Promotion, along with the "User Agreement" which includes but is not limited to the "Bonus Policy".
Withdrawing funds your deposit balance (otherwise known as "Transaction Balance" in our Withdrawal Policy) is available for withdrawal at any time. General withdrawal terms apply, for further info see our Withdrawal Policy.
In order to meet the applicable wagering requirement, no real money shall be deemed to contribute (in full or in part) to the wagering requirement, unless otherwise specified by us.
Available funds will always be used before Restricted Funds (to include Money transferred) and the balance of both will be displayed in your My Account
Promotion

You may only participate in the Promotion, if you have not previously registered with the Site. If you benefit from this Promotion you will not be eligible to benefit from any other first deposit bonus or first deposit offer with the Site. If you have benefited from another first deposit offer with the Site you are not eligible to benefit from this Promotion.
You may not combine this registration offer with any other type of registration offer provided by the Site.
In order to be eligible and receive the Tournament Tickets (as defined below) granted under the Promotion, during the Promotion Period: (i) you must either download the 888poker client on PC or mobile application or click 'Instant Play' on the English non-download version of the Site; (ii) open a new user account with the Site; and (iii) verify his/her e-mail address by clicking on a link within the e-mail body or by SMS to the phone number entered within 14 days of the Site sending the email to you, otherwise the bonus offer will expire and you shall forfeit the bonus offer.".
Under the terms of this Promotion, eligible players will be entitled to receive £20 worth bonus (granted in USD at equivalent value of USD 25 in accordance with the Exchange Rate as defined in the User Agreement referenced above) that will be given as Tournament Tickets, according to the following allocation: 50 tickets of $0.1buy-in and 20 tickets of $1 buy-in.
Once claimed, Tournament Tickets will be granted in batches as follows:
First batch worth $5 (10 tickets of $0.1buy-in and 4 tickets of $1buy in) will be granted following your fulfilment of point 3 above.
Second batch worth $10 (20 tickets of $0.1buy-in and 8 tickets of $1buy in) will be granted 3 days after the bonus was claimed.
Third batch worth $10 (20 tickets of $0.1buy-in and 8 tickets of $1buy in) will be granted 7 days after the bonus was claimed.
If you don't use the Tournament Tickets granted under the Promotion within 24 hours of being credited to your account, such Tournament Tickets shall expire and you shall forfeit each of such Tournament Tickets.
Tournament Tickets
A Tournament Ticket possesses a fixed value and may only be used in tournaments that have a buy-in equal to that of the value of the Tournament Ticket. For the avoidance of doubt, Tournament Tickets may not be used as a buy-in for a tournament where the buy-in is less than the value of a Tournament Ticket.
A Tournament Ticket can't be used by a player to re-buy chips or to add chips to his/her stack during a tournament.
Tournament Tickets may not be: (i) exchanged or converted into cash; (ii) joined together to create a higher value ticket; or (iii) transferred by a player to another player.
For further terms and conditions in relation to the use of Tournament Tickets, please see our Bonus Policy.

A

Available for players from your country

PokerStars
100% First Deposit Bonus
Make your first-ever real money deposit using the bonus code 'STARS600', and we will give you a 100% bonus up to $600. To claim the full value of the bonus, you can make up to three qualifying deposits in 60 days.
Alternatively, deposit using code 'THIRTY' and claim $30 of free play.
How the 100% First Deposit Bonus works
Once you've made your deposit, you need to earn redemption points by playing real money games. Unless stated otherwise, you will earn 5 redemption points for every USD $1 you pay in rake or tournament fees (6.5 points per £1, 4 points per CAD $1, or 5.5 points per EUR €1).
Every time you reach 180 redemption points we'll credit your Stars Account with $10 cash. You have four months after each qualifying deposit to earn all the redemption points needed to release your bonus.
You may only take advantage of one of our first deposit offers, but may be eligible for further deposit bonuses open to existing players. You can view any bonuses you have, alongside information on expiry dates, redemption point requirements and more, under the 'My Stars' menu.
Please note that redemption points will not be earned at pot-limit or no-limit tables with blinds of $5/$10 or higher, 8-game tables with stakes of $20/$40 or higher, or other limit games with stakes of $20/$40 or higher.

B

Not available for players from your country

Partypoker
For sender corporate and licence details please visit our Imprint page.
The promotion will run from 11:00 on 15 June to 23:59 (CET) on 31 December 2022 (the "Promotional Period"). This offer is not available in conjunction with any other offer. By taking part in this promotion, you hereby agree to these Specific Promotional Terms and Conditions and to our General Terms and Conditions. In order to participate in this promotion, an Eligible Player (as defined below) must place an Eligible Deposit (as defined below) during the Promotional Period.
Players must:
be aged 18 or over;
be a new player on www.partypoker.com.
(an "Eligible Player")
An Eligible Deposit is a real money deposit that complies with the following requirements:
it is made within the Promotional period;
it is a minimum of $10 USD made in one transaction (split deposits will not qualify).
(an "Eligible Deposit")
Mechanics
If an Eligible Player makes an Eligible Deposit (as defined above) during the Promotional Period, we shall credit them with a pending bonus equal to 100% of their Eligible Deposit up to a maximum of $600 USD ("the Deposit Bonus"); plus up to $30 USD in tickets. The Deposit Bonus shall be credited to the Eligible Player's account automatically on a successful Eligible Deposit.
Bonus type: 'release restricted': the Deposit Bonus funds are pending and shall be visible in the account section, but shall not be available to play with until the loyalty point requirements (as set out below) are met and the bonus funds are released. The pending Deposit Bonus shall be released to a player in increments of 10% of the Deposit Bonus amount as a player accumulates 10% of the Total Loyalty Points (as defined below). The tickets bonus will be credited up to 6 days as part of the up to $30 USD.
100% up to $600 USD Terms and Conditions
To release the full Deposit Bonus amount the player must accumulate 4x the Deposit Bonus amount in loyalty points ("Total Loyalty Points"). The Total Loyalty Points must be accumulated within 90 days from the date of the Eligible Deposit (the "Time Limit"). Each time the player accumulates 10% of the Total Loyalty Points required, they will receive a 10% increment of the Deposit Bonus.
For example:
Player A makes an Eligible Deposit of $20 USD and receives a pending Deposit Bonus of $20 USD. To release the full Deposit Bonus amount ($20 USD), Player A is required to accumulate 4 x $20 USD in loyalty points = 80 (Total Loyalty Points) within 90 days from the date of the Eligible Deposit. As Player A accumulates 10% of the Total Loyalty Points requirement (i.e. 8 loyalty points), 10% of the Deposit Bonus ($2 USD) is released 
A player accumulates 1 point for every $1 USD (or currency equivalent) rake on poker. Loyalty points may only be accumulated on poker. The player shall lose any increments of the Deposit Bonus that are not released within the Time Limit. Each increment of the Deposit Bonus that is released shall be credited as cash to the Eligible Player's account automatically once the player reaches the loyalty point requirement.
Up to $30 USD in tickets Terms and Conditions
When an Eligible Player places an Eligible Deposit on the Website on any day during the Promotional Period, their account will be credited with a bundle of their choice up to $30 USD worth of free play tickets over a six-day period as follows:
Option 1: $10 USD Free Play

Day 1 = 2x $1 USD SPINS tickets + 1x $5.50 USD MTT ticket
Day 2 = 4x $0.25 USD SPINS ticket
Day 4 = 1x $3.30 USD MTT ticket
Day 6 = 4x $0.25 USD SPINS tickets
Option 2: $30 USD Free Play

Day 1 = 1x $5.50 USD MTT ticket
Day 2 = 2x $1 USD SPINS ticket
Day 3 = 1x $5.5 USD MTT ticket
Day 4 = 1x $5 USD SPINS ticket
Day 5 = 3x $2.20 USD MTT tickets
Day 6 = 2x $3 USD SPINS tickets + 1x $3.30 USD MTT ticket.
SPINS & MTT Tickets Terms and Conditions
Tickets awarded as part of this promotion:
will be credited to an Eligible Player's account automatically each day over a six-day period from the date the Eligible Deposit is made;
will allow entry into SPINS and/or Multi-Table Tournaments. Details will be specified on the tickets themselves, details of which can be found in the "My Tickets" section of the Eligible Player's Website account;
will expire after 7 days from issue;
cannot be sold or transferred to other players; and
are not refundable and cannot be exchanged for cash.
General
Where a sum of money is noted in this promotion ("Promotional Amount"), and there is a requirement for such Promotional Amount to be converted from the advertised currency into your account currency, then this will be subject to the exchange rates offered by us at the time of conversion. You can keep track of your bonuses in the bonus section of your account. You may withdraw your cash funds at any time before the Total Loyalty Points have been generated, this will mean you forfeit any increments of the Deposit Bonus that have not been credited to your account yet. Where the company suspects that a winning player is guilty of fraudulent activity, the company reserves the right to suspend or remove that player from the Promotion, and/or suspend that player's account and/or suspend the Promotion pending further investigation. We reserve the right to alter, discontinue or terminate the promotion in accordance with the terms of our Standard Promotional Terms and Conditions.
A

Available for players from your country
Welcome offer
Welcome bonus 100% up to 600$
FAQ
This is a specialised software designed to display poker statistics on the table, allowing one to create and use positional and dynamic HUDs, popups, visual presentation of preflop and postflop ranges as well as additional stats.

There's a free trial available for the initial 30 days after launch; then, you will have to buy a paid version. If you are looking for a flexible and intuitive interface with full statistics, pay attention to this tool – it is suitable for both novices and savvies.

⚙️ How do I set up Hand2Note?
Setting up the program interface, displaying stats and popups is intuitively simple, so it will not be challenging to do it yourself. You can just use the default HUD settings. Read our Hand2Note setup article to learn how to install and configure the discussed software.
You gave this material a grade 5 from 5: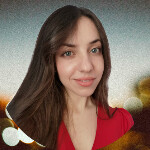 I've been working in the Cardmates team since 2018. Started playing poker the same way most people usually do – socially, with friends and fellow students. I adored those exciting poker nights but never thought my life would be connected with this game, even tangentially.