Has my ship finally steadied?

Has the ship has been finally steadied?
It's taken years and making every mistake in poker you can think of, but I'm now excited about the path that I am on. I am excited about where this is going to be honest with you and if I maintain the course I am currently on, then I will reach my overall goal of building my bankroll this month and who knows beyond?
However, I have an unrelated poker habit I'd like to tell you about first, one that really helps me cultivate a positive mental attitude towards money and therefore on the path to become a better player. My girlfriend thinks I'm silly for picking up coins off the street, but I do it anyway; it's kind of like a mental challenge for me. In my opinion, by getting into the habit of collecting 'free' money (quite literally) this is a good habit to get into. I read somewhere that the mind doesn't differentiate between values of money, it's more about the act of 'receiving' that's important. Dr. Dwayne Dyer did it. I do it. My used empty plastic water carton is already filling up nicely with the local currency coin from around here. It was at times strangely embarrassing at first to do this, but now I'm not embarrassed at all; I'm just glad!
Getting into good poker habits is like this too. Don't throw your money away on football bets like I used to (and did yesterday...losing £5 and the chance to cash out a bankroll boosting £40 when my 3 match accumulator of Tottenham (win)/ Leicester (win) and Liverpool (win) was reigned by Jesus' equalising goal), or tilting or cashing out. Collect money slowly and value each hand you are involved in. It matters. Don't think it doesn't! That's why Brexit happened! Apart from the £5 loss on the football bet, I've maintained great discipline by sticking to the same level correct for my bankroll (0.05c/0.10c 10 player max) and I even won some of it back already in an early morning Monday cash game.
TWO HANDS THAT MADE A BIT OF A DIFFERENCE AS WELL AS WINNING ONCE WITH POCKET ACES. BOOOHJAAAH.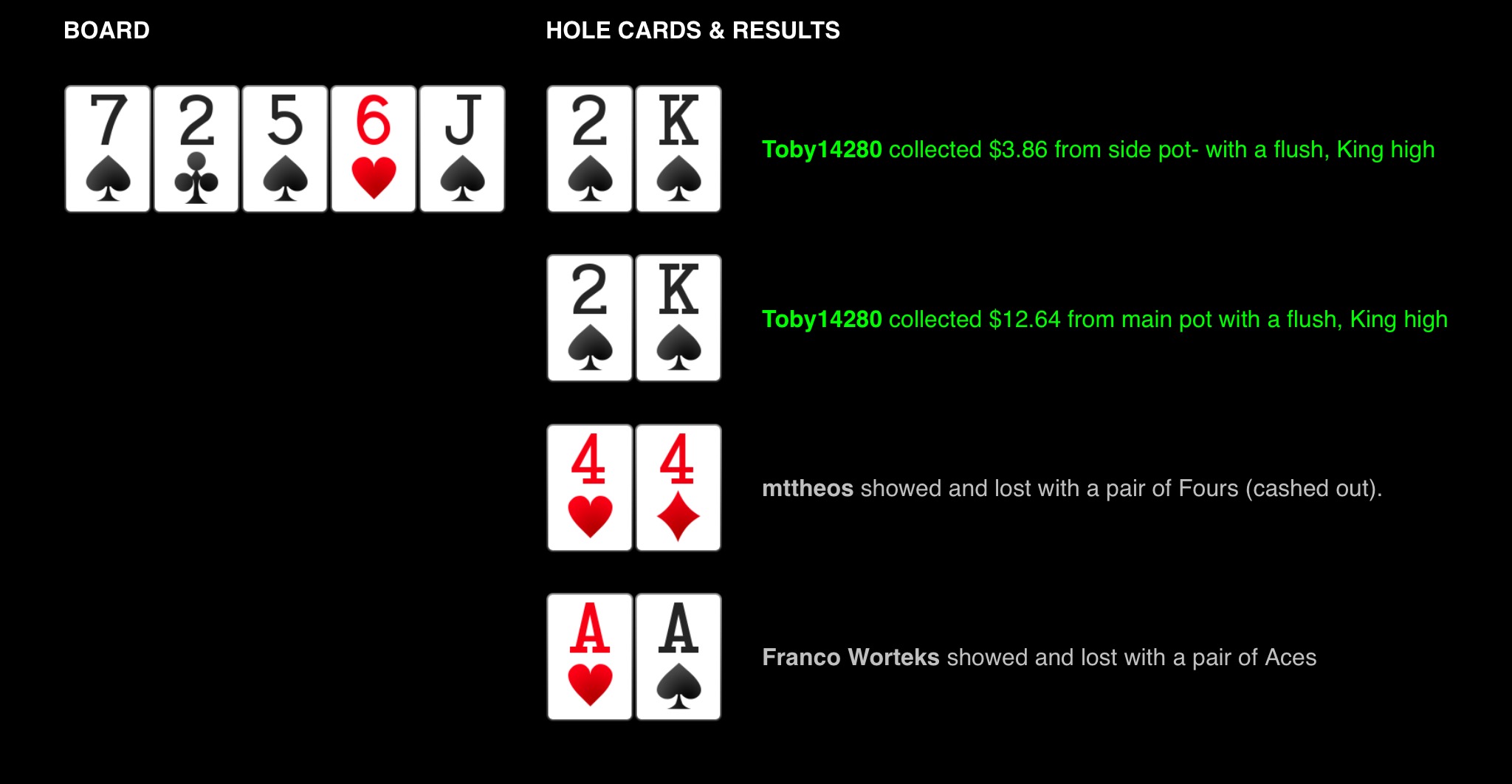 Time pressure and boredom
Last night I got that feeling to try to win my money back quickly and in the past I would have done. I even jumped onto a table again, but something stopped me from continuing. I thought to myself 'why?' 'What's the rush?' 'In this mental/emotional state of losing out on a bankroll booster I'm going to lose money anyway! Just wait.' So instead of playing I read a bit more from 'Small Stakes Hold'em' followed by a bit of 'War and Peace' by Tolstoy which has already taken me one year to get to just 300 pages. There are about 900! I'm actually quite excited by it though; I can't wait to read from it again as it was such an enjoyable read this time around. Anyway, the point is that I didn't play when I felt forced, and it worked. When you are bored or agitated or feel like you need to 'catch up' to win back money you'll only play badly and this will give the other players an edge. I used to do this. I don't now.
So in conclusion, there are two main things that you must do as a winning or improving poker player. Firstly, Don't play just for the sake of it or when you are not mentally prepared or when you feel you are under time pressure. For example, when about to go to work with half an hour spare or when you should really spend some quality time with your girlfriend or wife in a Sunday evening. Secondly, grow your bankroll slowly and you'll grow just as much in confidence. Success, winning and a bigger bankroll will lead to good things!
A bit of information about why I used the name 'Maroonfish' Maroon is probably my favourite colour, but is also associated with the Buddhist cloth the monks wear, while the fish is a symbol associated with early Christianity when Jesus and his followers had to use this symbol to hide their religious affiliation from the Romans or any individuals who would betray them for a gold crown, to send each other messages. So the two religions go hand in hand with this name and I also just liked the contrast of a colour you wouldn't normally associate with a fish.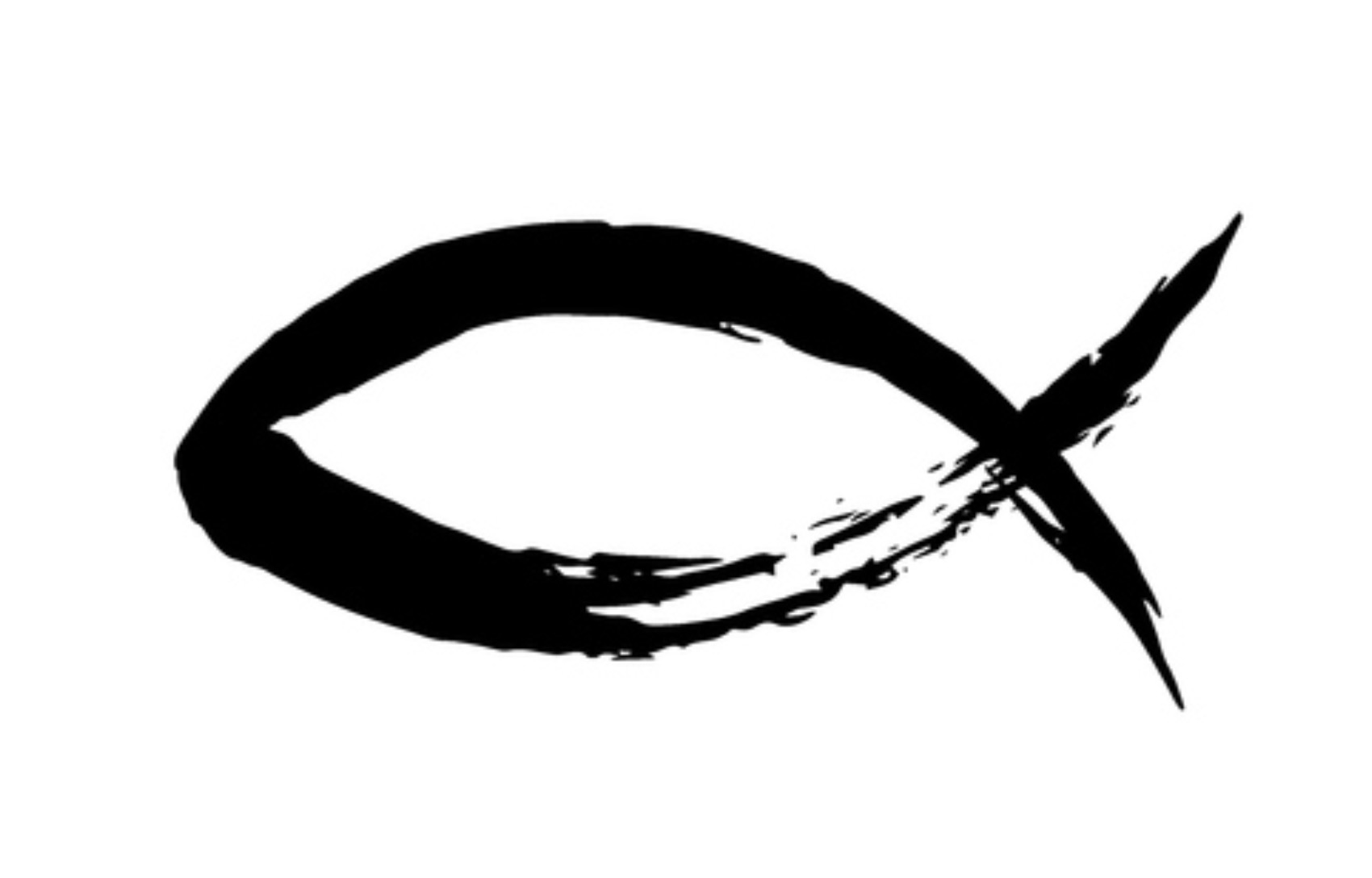 Treating Poker as a spiritual journey.
Final note: Why did Liverpool not beat Man City? Basically, they lacked their usual aggression in the second half and they grew tired. At the end of the day, footballer players are just human beings and a lot of football is being played week in, week out and the moment. On the whole they are successful because they play aggressively. In comparison, I call the winning style of play that Liverpool play similar to this; rock and roll poker. Play aggressively, but don't play when over tired.
Thanks for reading - you're the best!!
Overall rating of this post:

I have been playing poker for about 15 years. I play online currently and I've played poker in casinos, card rooms, local games and with friends. I play NL hold'em tournaments and cash games and can also play Pot Limit Omaha, a game I also love.