High Stakes Duel: Hellmuth's next rival has been determined
​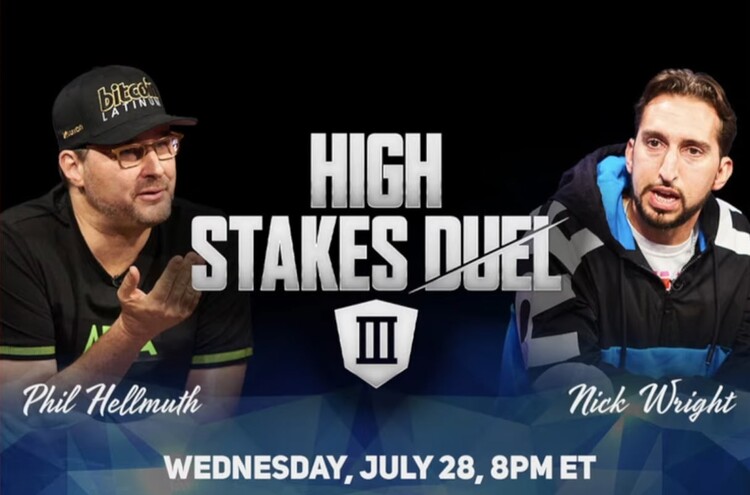 As part of the "High Stakes Duel" show, Phil Hellmuth managed to beat both Antonio Esfandiari and Daniel Negreanu three times. Phil's third opponent for the HSD has been finally determined, and it was Nick Wright. Who is Nick Wright?
Nick is a sports journalist and an amateur poker player. Hendon Mob remains silent about Nick's successes in live poker, but it's known that Wright has appeared on the big screens when participating in the Poker After Dark show. We wonder whether the amateur can resist such a strong poker professional as Phil Hellmuth.
Read also: Phil Hellmuth played poker with famous rapper Drake
The first match of their heads-up battle starts on July 28 at 00:00 GMT. Each player will pay a $50 000 buy-in. People subscribed to the PokerGO video service will be able to watch the match live stream, which will take place in Las Vegas.
Hellmuth seems to underestimate his opponent, and Wright hopes that it will work to his advantage. Nick understands that Phil has achieved tremendous success in the show, playing against pros who consider themselves stronger than him, but being an amateur, Wright has no such delusions.
«I am almost incalculably worse than Phil at all forms of poker, most notably this form that he may have mastered. I think that should work in my favor! It might actually throw him off», – Nick Wright said.
Under the High Stakes Duel rules, the loser is entitled to ask for two rematches with double bets. To be blunt, Wright is not the most interesting contender. Most poker fans are waiting for the Hellmuth vs Dwan heads-up battle, and they'll get it! The winner of the Wright vs Hellmuth duel will play with Tom Dwan.