Holdem Manager 3 setup for PokerStars and FullTilt
Holdem Manager 3 is set differently in every poker room. The setup process the program is basically similar, however, for convenience, we offer you the detailed instructions on HM3 setup for PokerStars and Full Tilt for the program to operate correctly.
Both rooms operate under the same platform, therefore the setup process is almost identical.
If you conduct a full setup for the first time – we suggest you read the whole article not to miss a thing. If you are interested in certain information, then you can use a menu on the left for fast access to the section of your interest.
1. «Hand History» setup
Having started to work with the client, you need to set up a «Hand History» option first. After «Save My Hands History» function is activated, set a place on a hard drive to store hand histories from PokerStars client. This item is necessary to allow HM3 to import the hand history for the database and to display HUD.
To save hand histories on PokerStars, you need:
In the PokerStars lobby click on Settings > Playing History > Hand History.
Put a tick next to the «Save My Hands History».
Pay attention to the «Default Location». PokerStars saves your hand histories at the place, specified in «Where To Save» column. You are able to manually change the folder for storing.
English language must be set in the client.
Click on «Оk» to save the settings.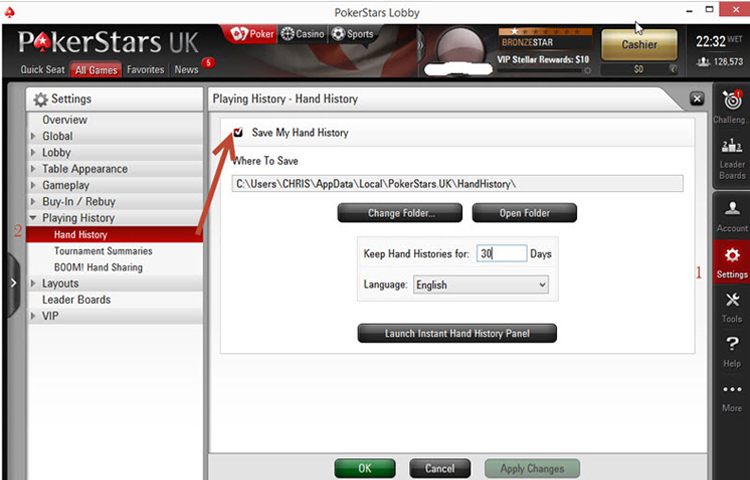 2. «Tournament Summaries» setup
As well as hand histories, the information about PokerStars tournaments ("Tournament Summaries") should be saved in specific storage on your hard drive. It is necessary in order to allow HM3 to import tournament results. Without this data, your tournament results will be incomplete.
You can save «Tournament Summaries» on PokerStars in the following way:
Go to PokerStars lobby and click on Options > Playing History > Tournament Summaries.
Put a tick next to the «Save My Tournament Summaries».
Choose a storage location for information or keep a default location.
Set English as the language of the room.
Click on «Ок» to save the settings.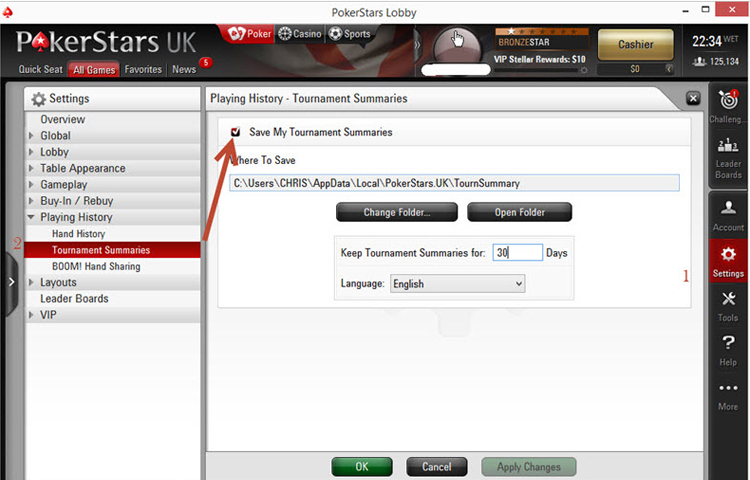 3. Holdem Manager 3 auto-import settings
To set up Auto Import Folders Holdem Manager 3, you need to implement the following steps:
Open HM3 and go to Tools > Site Settings… Click on PokerStars or Full Tilt on the left and press «Auto Detect» on the right side.
If automatic detection doesn't find the right folders, then you will need to add them manually. Specify the location you chose earlier when setting up PokerStars (first two items in the article). After that, all the hand histories should be imported, and the information on tournaments is updated automatically.
To update the information about older tournaments, request "Tournament Summaries" from a poker client's support via email. You need to ask for files in html or .csv format.
Import these files using tabs File > Import Files...Then click on «Refresh» and the results should be updated and displayed correctly.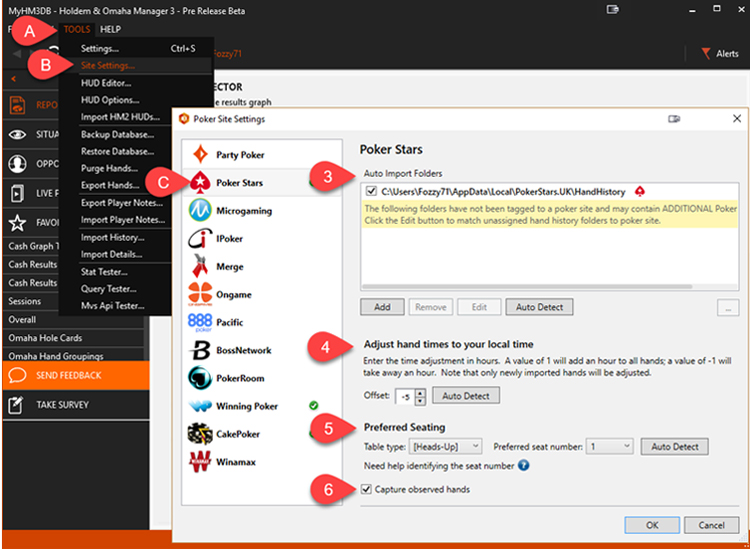 4. Time setup (Hand Times)
For HM3 to operate properly, the time in Reports >Time column has to coincide with your Windows time during online-game. If the automatic detection pulls up the wrong time, then adjust the bias value.
5. Preferred Seats
You can use the «Preferred Seat» option in the PokerStars to always seat in the same place at each table.
To setup «Preferred Seating» on PokerStars or Full Tilt, you need to follow the given instructions:
Go to PokerStars lobby and click on Options > Table Appearance > Preferred Seat.
For maximal efficiency, you should choose "Always Auto-Center Me" (always seat in the center). When selecting this function, you will automatically be placed down in the center of the table, unless you specify another place. You can also choose "Don't Auto-Center" and specify the desired seat at each type of tables (9-max, 6-max, etc.).
Click on «Оk».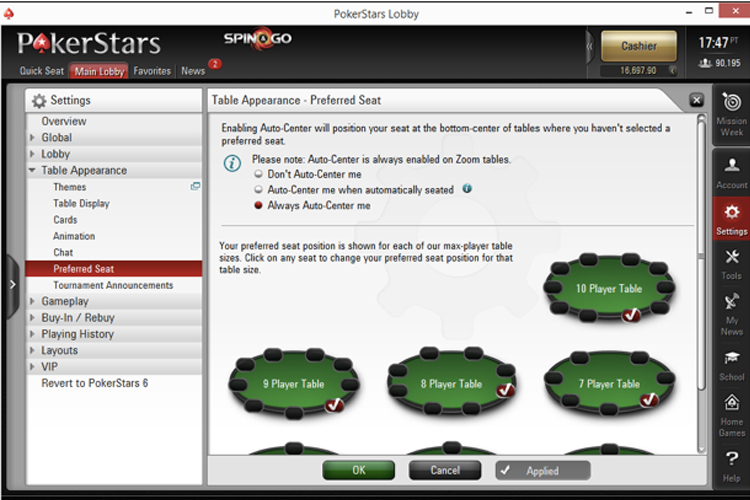 6. Collection of observed hands
Collection of observed hands is a special function that interacts with the PokerStars application to collect hands stored in memory. It extracts a selected number of the previous hands from the client's memory. Thus, HUD HM3 can be filled with results when you sit down at the table.
If you have problems with the software, you need to disable the "Memory Grabber" to improve the results.
This option doesn't work at the Zoom-tables.
7. Hot keys
In order to use hot keys while Holdem Manager is operating, you need to run PokerStars as administrator.
To do this, click on a shortcut you use to start the PokerStars application and choose «Properties»: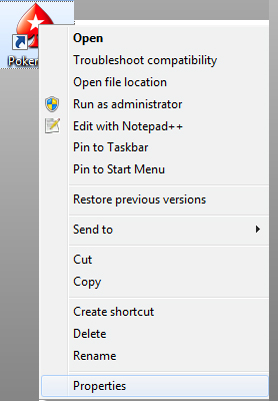 Then go to «Advanced» tab and press «Run as administrator»> «Оk».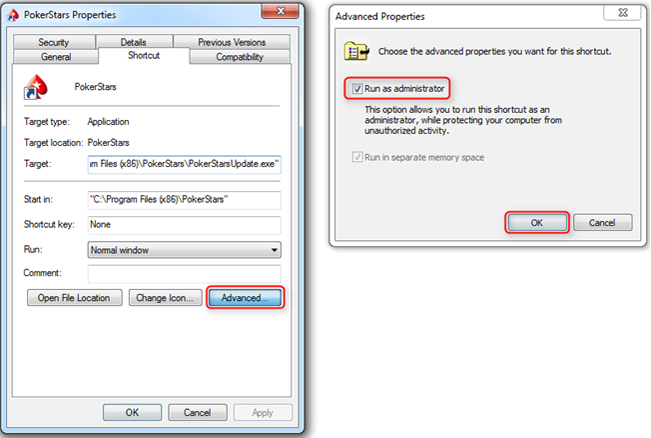 8. Language
The PokerStars client should operate in English since it is the only language, supported by the feature of HM3 hand history import. Despite this, the HM3 program itself can operate in other languages.
To set up the language on PokerStars, you need to implement the following actions:
Open the PokerStars lobby and select Options > Global > Language. Choose English in «Play in» column.
If you play tournaments, then you should also set the English language in «EMAIL IN» column.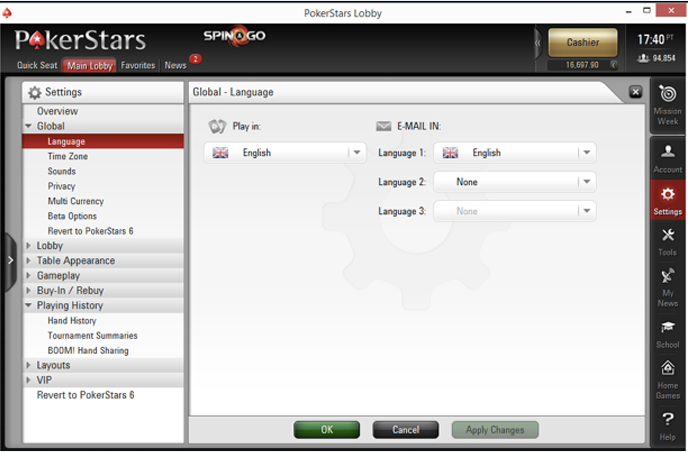 These basic settings will help you to organize the operation of Holdem Manager 3 on PokerStars right after the program is installed on your computer. On our website, you can also find articles about HUD HM3 configurations and other information on the operation of a new version of the popular software. Watch for updates on cardmates.net and subscribe to our pages on the social networks to always be aware of poker events and new products in the poker industry.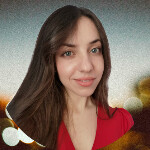 I've been working in the Cardmates team since 2018. Started playing poker the same way most people usually do – socially, with friends and fellow students. I adored those exciting poker nights but never thought my life would be connected with this game, even tangentially.