PartyPoker Download on PC and Mobile Device

​
Today Partypoker is rightly among the top poker sites, with excellent software, regular promotions and a great rakeback offer.
Party Poker download process is easy and will only take a few minutes of your time. To play poker online on the move, you can install a mobile application on Android or iOS. Note that a browser-based client is also supported for all kinds of devices (stationary and mobile).
Installing the software on desktop computers and portable gadgets is fast and does not require much time as well, and following our detailed instructions with screenshots will save you from possible download & launch issues.
PartyPoker Download and Installation on Windows
You need first to make sure that your device and Party software are compatible. The minimum system requirements for installing the poker client on Windows OS are as follows:
| | |
| --- | --- |
| OS (versions) | Windows XP / Vista / 7 / 8 / 10 |
| RAM | at least 512 MB |
| Screen Resolution | 800x600 pixel screen with at least 256 colours |
Go to the official website of the orange diamond platform (make sure you're visiting an original portal and a phishing one!). Then click on the big orange button with the inscription "Sign Up" and fill out the provided form to create a new user account on the site. If you have already joined Party, you can freely proceed to execute the following instructions:

Step 1
Press the "Download" button (top left). Save the installation file PartyPokerSetup.exe on your device. That's it – the installer download is complete. Half the battle is done, so to speak.


Step 2
Open the downloaded file and in the resulting window select the most convenient interface language from the list provided. Click "Next".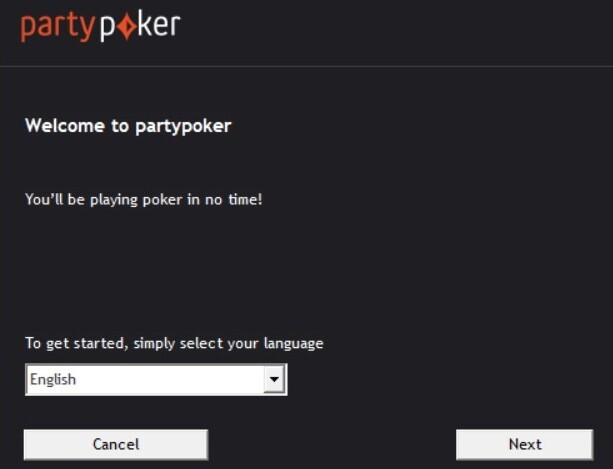 ​

Step 3
Start an installation process and wait for a while. It does not last long, only 1-2 minutes, so do not move away from your computer.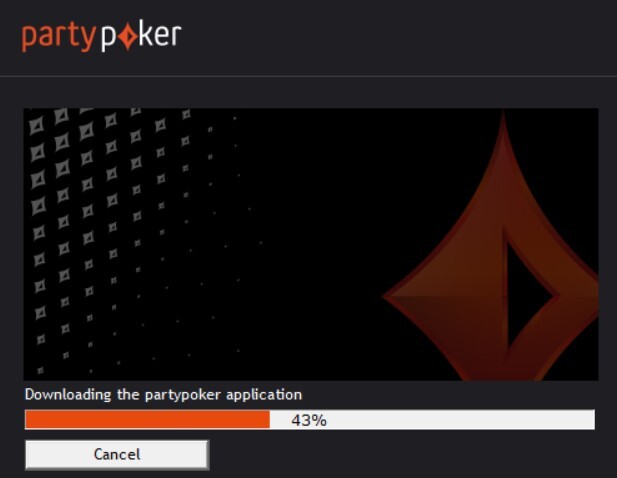 ​

Step 4
Once everything is complete, the poker client's login dialogue box will appear. To sign in, use the email (or username) and password that you entered during account registration.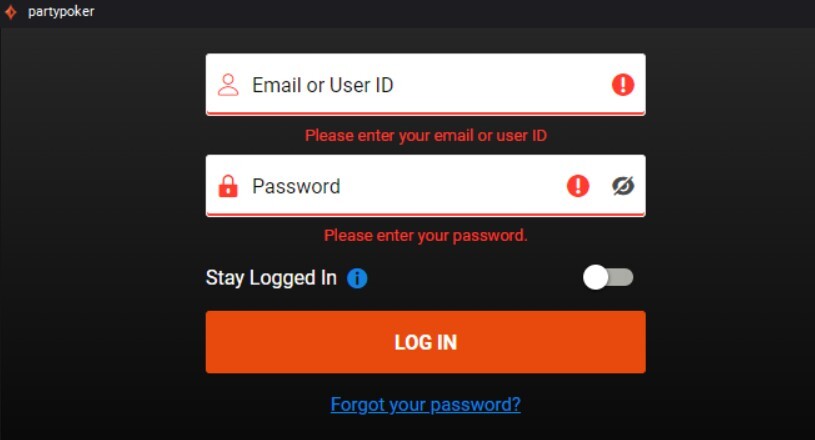 ​
And if you activate the "Stay Logged In" option, then subsequent authentications will be even faster.
Now's the time to create an account if you skipped this step before downloading the software. You also have a chance to get acquainted with the room's game options, check if a particular tournament is available, and get used to the program interface before authorization/registration.
How to Download Party Poker for Mac
The process of downloading and installing Party client on macOS is virtually identical to the algorithm described above (for Windows) and takes a few minutes as well. The steps to be completed are in a slightly different sequence, and here is what you need to do to be able to use the Mac client.

Step 1
Go to the official website, sign up and download the installation file.

​

Step 2
Open the file to enter the Partypoker installer lobby and press "Continue".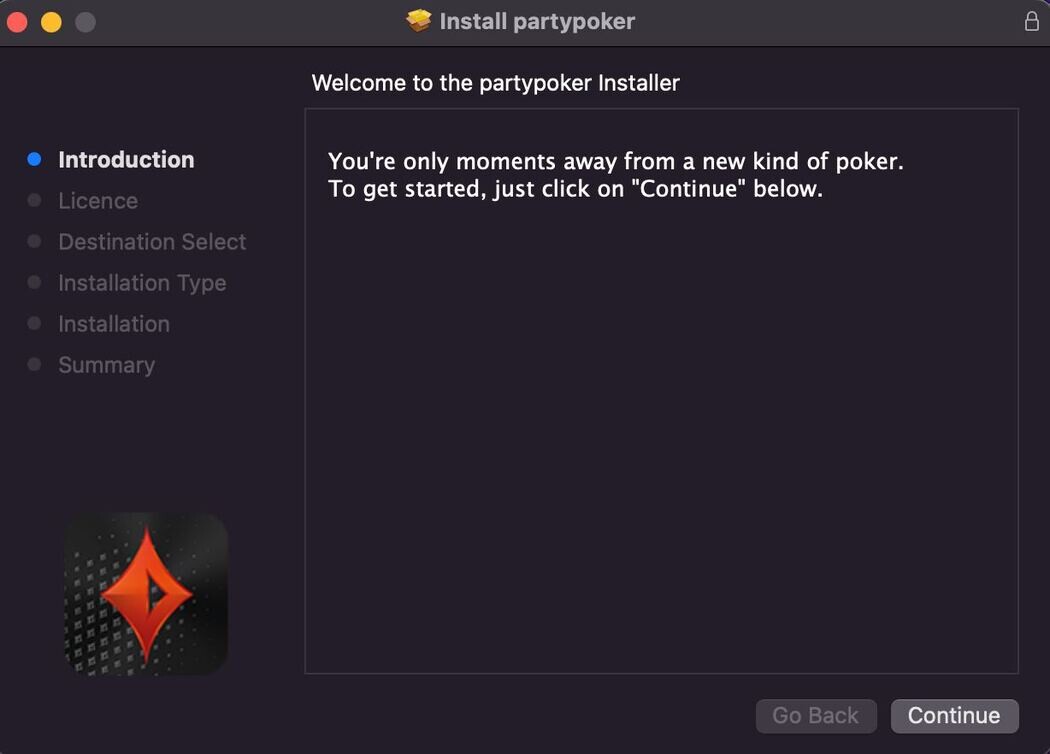 ​

Step 3
Accept the license agreement ➩ press the "Agree" button.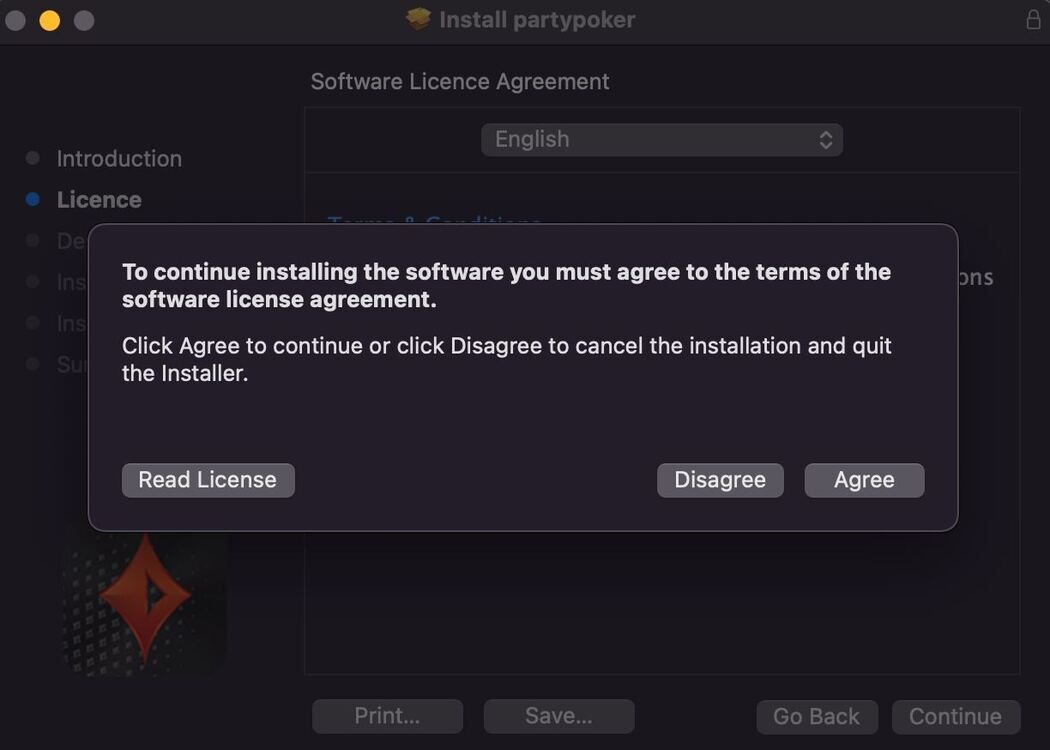 ​

Step 4
Start the app installation by clicking on "Install". After it is completed, log into your Party account.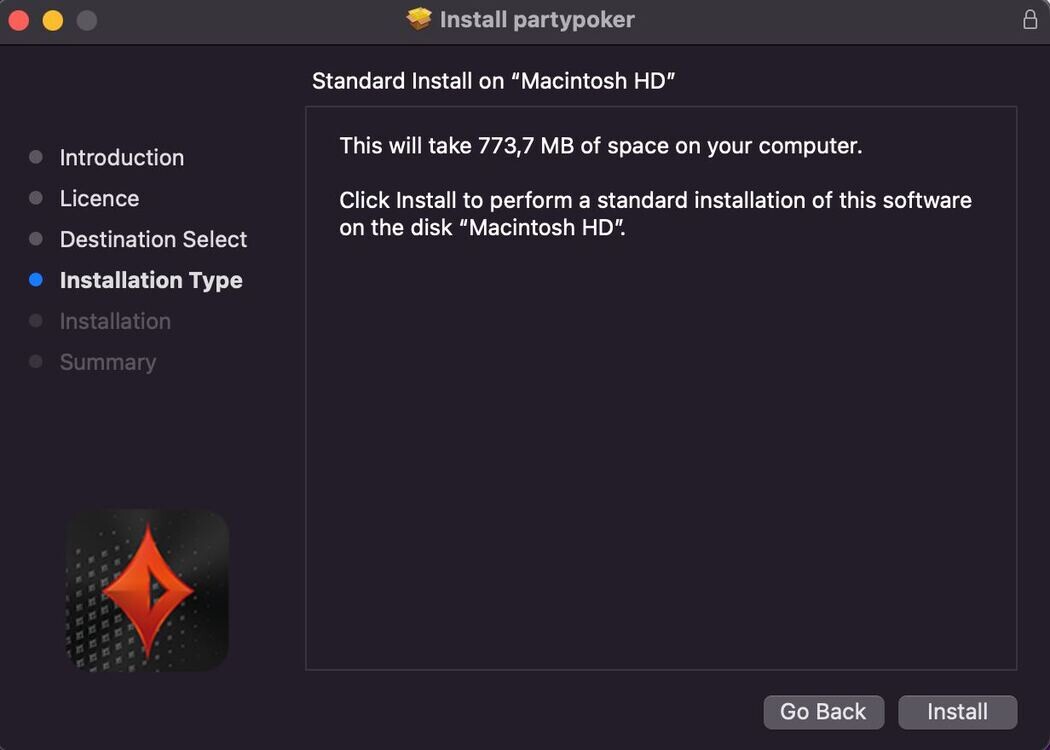 ​
Now just one action separates you from playing for real money: account top-up. By the way, Party Poker sign up bonus is really juicy. Don't miss your chance to double your deposit or get free tickets.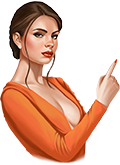 Can you play Partypoker on Mac without download?
Of course. All eligible users can open a web browser and enter their accounts via all devices (PCs/laptops, smartphones/tablets) and OS.

Partypoker
For sender corporate and licence details please visit our Imprint page.
The promotion will run from 11:00 on 15 June to 23:59 (CET) on 31 December 2022 (the "Promotional Period"). This offer is not available in conjunction with any other offer. By taking part in this promotion, you hereby agree to these Specific Promotional Terms and Conditions and to our General Terms and Conditions. In order to participate in this promotion, an Eligible Player (as defined below) must place an Eligible Deposit (as defined below) during the Promotional Period.
Players must:
be aged 18 or over;
be a new player on www.partypoker.com.
(an "Eligible Player")
An Eligible Deposit is a real money deposit that complies with the following requirements:
it is made within the Promotional period;
it is a minimum of $10 USD made in one transaction (split deposits will not qualify).
(an "Eligible Deposit")
Mechanics
If an Eligible Player makes an Eligible Deposit (as defined above) during the Promotional Period, we shall credit them with a pending bonus equal to 100% of their Eligible Deposit up to a maximum of $600 USD ("the Deposit Bonus"); plus up to $30 USD in tickets. The Deposit Bonus shall be credited to the Eligible Player's account automatically on a successful Eligible Deposit.
Bonus type: 'release restricted': the Deposit Bonus funds are pending and shall be visible in the account section, but shall not be available to play with until the loyalty point requirements (as set out below) are met and the bonus funds are released. The pending Deposit Bonus shall be released to a player in increments of 10% of the Deposit Bonus amount as a player accumulates 10% of the Total Loyalty Points (as defined below). The tickets bonus will be credited up to 6 days as part of the up to $30 USD.
100% up to $600 USD Terms and Conditions
To release the full Deposit Bonus amount the player must accumulate 4x the Deposit Bonus amount in loyalty points ("Total Loyalty Points"). The Total Loyalty Points must be accumulated within 90 days from the date of the Eligible Deposit (the "Time Limit"). Each time the player accumulates 10% of the Total Loyalty Points required, they will receive a 10% increment of the Deposit Bonus.
For example:
Player A makes an Eligible Deposit of $20 USD and receives a pending Deposit Bonus of $20 USD. To release the full Deposit Bonus amount ($20 USD), Player A is required to accumulate 4 x $20 USD in loyalty points = 80 (Total Loyalty Points) within 90 days from the date of the Eligible Deposit. As Player A accumulates 10% of the Total Loyalty Points requirement (i.e. 8 loyalty points), 10% of the Deposit Bonus ($2 USD) is released 
A player accumulates 1 point for every $1 USD (or currency equivalent) rake on poker. Loyalty points may only be accumulated on poker. The player shall lose any increments of the Deposit Bonus that are not released within the Time Limit. Each increment of the Deposit Bonus that is released shall be credited as cash to the Eligible Player's account automatically once the player reaches the loyalty point requirement.
Up to $30 USD in tickets Terms and Conditions
When an Eligible Player places an Eligible Deposit on the Website on any day during the Promotional Period, their account will be credited with a bundle of their choice up to $30 USD worth of free play tickets over a six-day period as follows:
Option 1: $10 USD Free Play

Day 1 = 2x $1 USD SPINS tickets + 1x $5.50 USD MTT ticket
Day 2 = 4x $0.25 USD SPINS ticket
Day 4 = 1x $3.30 USD MTT ticket
Day 6 = 4x $0.25 USD SPINS tickets
Option 2: $30 USD Free Play

Day 1 = 1x $5.50 USD MTT ticket
Day 2 = 2x $1 USD SPINS ticket
Day 3 = 1x $5.5 USD MTT ticket
Day 4 = 1x $5 USD SPINS ticket
Day 5 = 3x $2.20 USD MTT tickets
Day 6 = 2x $3 USD SPINS tickets + 1x $3.30 USD MTT ticket.
SPINS & MTT Tickets Terms and Conditions
Tickets awarded as part of this promotion:
will be credited to an Eligible Player's account automatically each day over a six-day period from the date the Eligible Deposit is made;
will allow entry into SPINS and/or Multi-Table Tournaments. Details will be specified on the tickets themselves, details of which can be found in the "My Tickets" section of the Eligible Player's Website account;
will expire after 7 days from issue;
cannot be sold or transferred to other players; and
are not refundable and cannot be exchanged for cash.
General
Where a sum of money is noted in this promotion ("Promotional Amount"), and there is a requirement for such Promotional Amount to be converted from the advertised currency into your account currency, then this will be subject to the exchange rates offered by us at the time of conversion. You can keep track of your bonuses in the bonus section of your account. You may withdraw your cash funds at any time before the Total Loyalty Points have been generated, this will mean you forfeit any increments of the Deposit Bonus that have not been credited to your account yet. Where the company suspects that a winning player is guilty of fraudulent activity, the company reserves the right to suspend or remove that player from the Promotion, and/or suspend that player's account and/or suspend the Promotion pending further investigation. We reserve the right to alter, discontinue or terminate the promotion in accordance with the terms of our Standard Promotional Terms and Conditions.
A

Available for players from your country
Welcome offer
Welcome bonus 100% up to 600$
Mobile PartyPoker Client for Your Phone and Tablet
Modern life is unimaginable without a smartphone. Almost every minute we have it in our hands, we use it both for work and entertainment. And Party also has a poker client for those who like placing bets, calling & raising on the go.
Those who download the app will not feel disadvantaged in anything as duplicates the desktop version. Players will find popular poker formats, as well as top-up their accounts and withdraw prize money.
​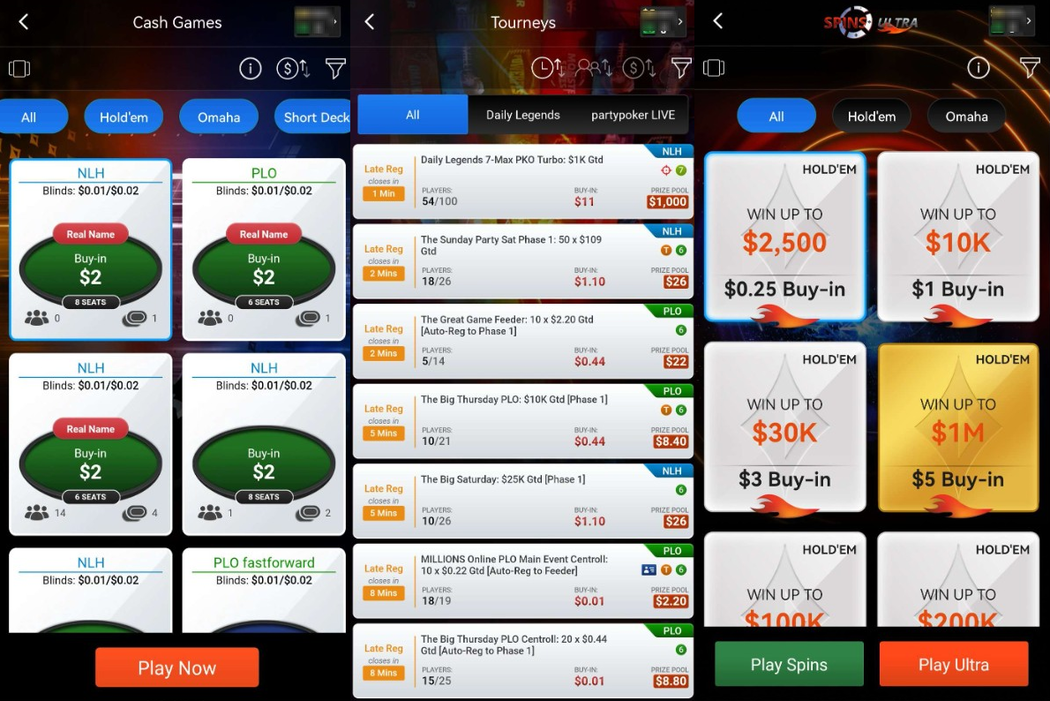 Compatibility and system requirements
The Android app operates on Android 4.0 or higher. The iOS app for iPhone, iPod touch, and iPad gadgets requires iOS 4.3 or higher.
Compatible Android devices (or newer models)

​
Compatible iOS devices (or newer models)

​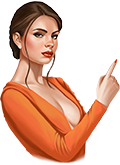 Player to note!
Mind that only the countries Party operates in can download and play on the mobile app or the website.
Party Poker app for Android
Poker platform applications are generally not shared on Google Play due to internal policies. The room's mobile client is available there for some regions, however, customer support doesn't recommend downloading the program from the Google Play market (and the same goes for App Store) as there are fraudulent apps that mimic the Party website.
So, to play cash games, SnGs and regular tournaments, satellites and freerolls from your Android-based device, you'll have to install the app manually.

Step 1
Go to the official website of the discussed poker room and click "Download Here" on the main page or "Get the App" in the drop-down menu.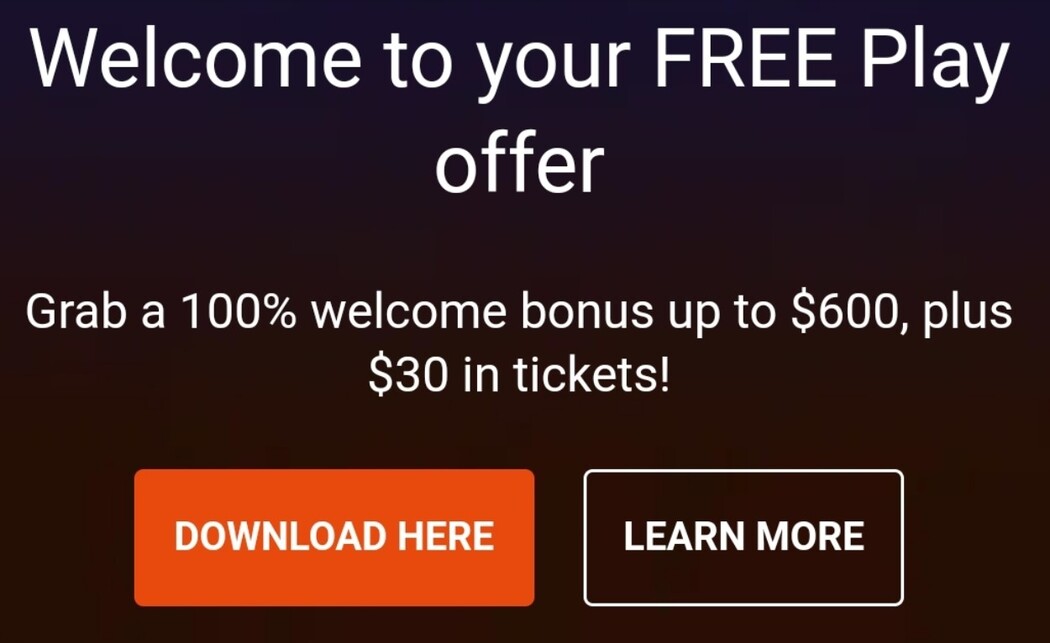 ​

Step 2
Confirm your desire to download the apk file. Then go to the appropriate folder and click "Install" for installing the package.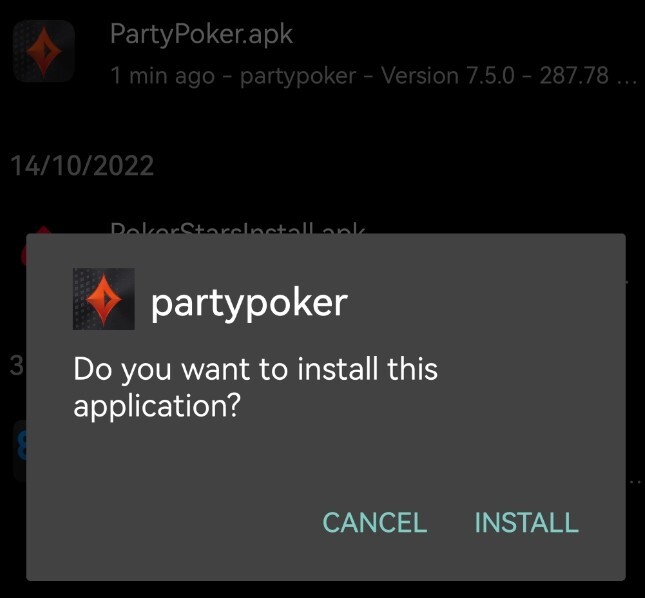 ​
You may need to enable an "Off-market applications" option on your phone by turning to "Security" ➩ "More Settings" ➩ "Install apps from external sources". Don't worry! The mobile client is completely safe and you can resume these security settings after it is installed on your device.

Step 3
Fill in your login details (or sign up) and start playing.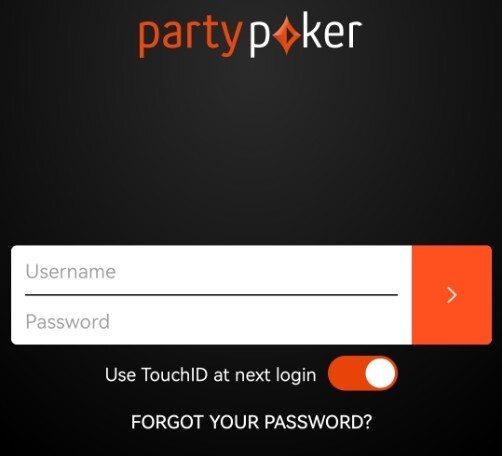 ​
PartyPoker app for iPhone and iPad
Some users can find the app in AppStore, while others cannot. That is intentional: the company tries to limit it to the site only, so to avoid any confusion regarding what is the correct app to download (which is reasonable and seems normal). So you should better use the official PartyPoker or PartyCasino website to get the game client on your Apple device, and this is a recommendation from the support team.
In case you have any difficulties, feel free to contact the 24/7 technical support and ask them anything basically. They can also give you a proper and official link to download the mobile software.
Reasons to Download PartyPoker
The poker room has a top-quality mobile client. Here are some grounds to download the software on your tablet or smartphone:
The Party app does not require high-speed Internet, so you can easily play using mobile Internet. Traffic is spent more economically compared to other poker platforms.
Multi-table feature is available, so you are able to play several tables at once.
Vertical table display format (portrait mode) makes it convenient to play with one hand.
Broad functionality, all game types and formats as in the desktop application.
To be as objective as possible, let's consider Party's shortcomings:
The mobile client quickly discharges gadgets, therefore, you need to charge your smartphone up to 100% before playing an important tournament, or better yet, stay near the charger.
Partypoker stands out with its tournament grid amongst the online market competitors – the match between MTT buy-ins and guarantees will pleasantly surprise you. Users of this poker room have the opportunity to download the app both on computers and portable devices.
Mobile poker is more suitable for hobbyists, while professionals who grind long hours will find playing from a PC more beneficial. But, of course, you are free to choose a more convenient way to play yourself. If one has difficulties with installation, they can run an online chat and Party support specialists will be happy to help.
FAQ
💻 How do I download PartyPoker?
Both Windows and Mac computer owners are able to install the game client and gain a fantastic online poker experience. You can easily do this on the official resource of the room. The software downloads quickly; it is intuitive and has quite wide functionality.
In the article, we've covered the installation procedure in detail for all types of devices, so scroll up and follow the appropriate guide.
📲 Is there a PartyPoker app for mobile?
Yes, the site has a premium mobile app that everyone can download – both iOS and Android gadgets are suitable. For your convenience, we have prepared detailed instructions with pictures so that you can install Party client on your phone/tablet in a matter of minutes.
In general, mobile software contains functionality that is available in the desktop client. The app allows you to participate in poker tourneys & cash games everywhere you are, as long as you have access to the Internet.
👀 Why can't I download Party Poker?
Downloading and installing the Party software may not be achieved for several reasons:
network connectivity problems – you should check if there are any debts to pay for Internet services ➩ restart both your router and device ➩ check with your provider whether they have a failure;
blocking by security browser extensions or your antivirus – disable them temporarily and try again;
the operator does not serve your country – check with the Party support service if players from your region are allowed to open an account in the room (write to

[email protected]

or contact them through a live chat on the site).
You gave this material a grade 5 from 5: