How to register on 888poker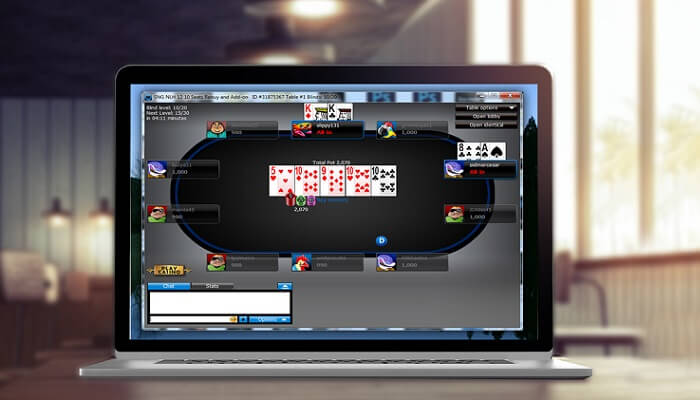 Do you still have no 888 poker account? It's time to rectify this absurdity since this is one of the most popular online poker rooms, which offers many profitable promotions, including the largest no deposit bonus!
It's not possible to play on 888 without registration. You can test the poker room, get familiarized with its functionality and software by playing for virtual chips (for free), but even in order to play on PlayMoney, you will still need to register in the poker room.
888poker registration
There are several ways to create an account in the poker room: go to the official website, open the game in the browser, launch the client, etc.
You may also register on 888poker with the help of your mobile device, via browser or by installing a special application of the poker room on your smartphone and/or tablet.
But as a result, all of these methods will lead you to the same form to fill the data in.
In order to start the process of 888poker registration, you need to specify general information about your identity. Fill the data in very carefully, because later you may be asked to pass an identity check with the help of passport or other documents that confirm your identity (for example, when withdrawing funds). In case of a typographical error or incorrect data, you may have problems right up to your account blocking. In addition, such data as e-mail will be useful to you to access the account and get a no deposit bonus and a number of other bonuses.
In the first tab, you need to indicate your first name, last name, country of residence, email address, date of birth (day, month, year) and gender.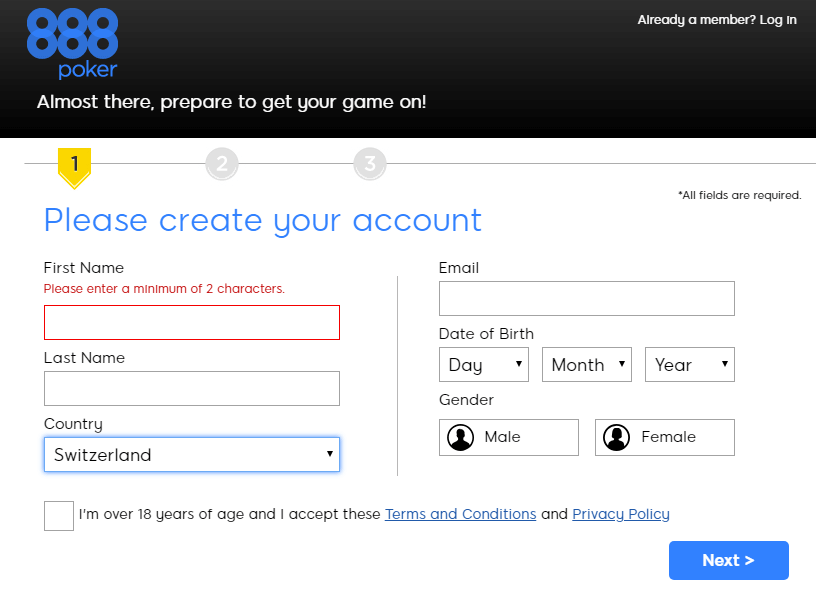 The form must be filled in exclusively with English letters and derivatives from them. All fields are required to be complete.
After you complete all the fields, do not forget to put a tick that confirms your legal age and that you agree with the terms and conditions of the game in the poker room.
In the second tab, you have to specify 888 username (in other words, a nickname). The nickname must be unique. There can't be two players with the same screen name in the poker room. Invent a nickname with a length of 5-12 characters, consisting of numbers and English letters. You are not able to use spaces, but you can replace them with some characters, for example, a hyphen (-) or underscore (_). If the chosen nickname is not unique, the system will immediately inform you about this and ask you to choose another one.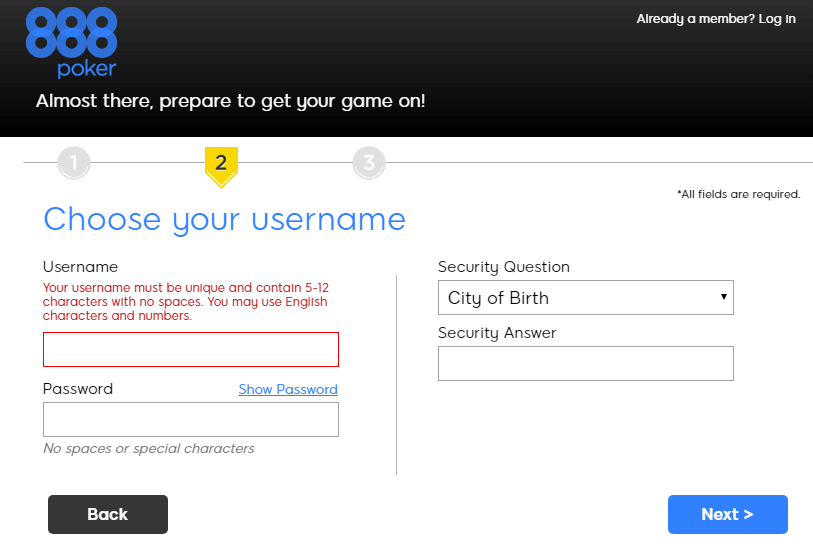 Here you also need to specify an account password.
888 password requirements are as follows:
use letters of the English alphabet only and numbers;
7-12 characters;
1 uppercase letter minimum;
1 lowercase letter minimum;
1 number minimum;
it is impossible for the password to put 4 identical characters in a row;
it is not possible to use spaces or special characters.
The 888 password can't contain your name, nickname or email address.
For additional protection of your account, 888 offers to choose one of the secret questions they have proposed and give a reply that is memorable to you and which is hard to guess to swindlers. This could be your mother's maiden name, pet's name, sports team name, city of birth, or school number.
In the third tab, you need to enter contact information: postal code, address and phone number.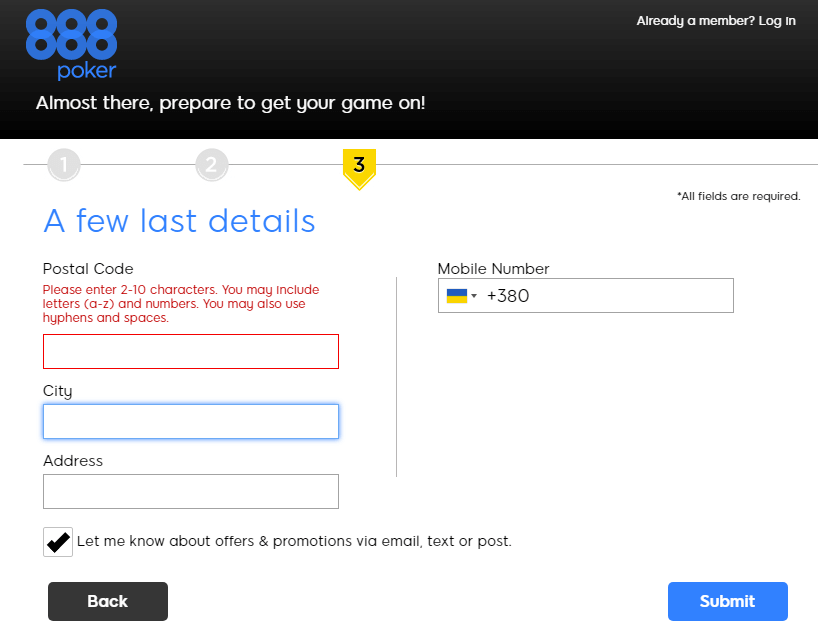 When all three forms are complete, click on the "Submit" button.
Then, you will see a text in front of you stating that you have registered at the poker room and that you were sent an email with a link to confirm the registration. On this page, you can download the 888 poker client to your computer or mobile device.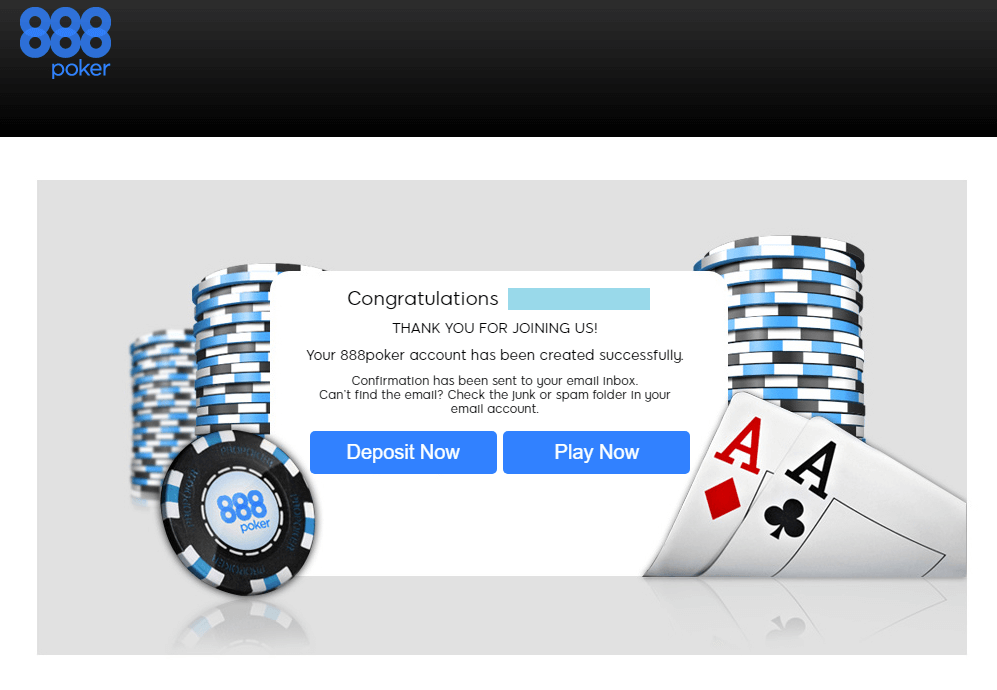 You will find a mail from 888poker sent to the email, indicated during the registration. It confirms that the registration was successful and informs you that a no deposit bonus will be credited to you in the next 72 hours. You can already log into your account and start playing on 888 or make your first deposit, but do not forget to monitor your email within three days in order to check if you have a bonus.
When you get a mail with a bonus, you need to follow the link indicated in the mail in order for the bonus to be credited.
To get the bonus for registration, you are not required to do any additional actions, such as making a deposit or specifying a promotional code. However, when you decide to replenish your 888 account for the first time (after registering in the room) - make sure you check out current promotional codes of the poker room not to miss the profitable promotion with cash bonuses and other gifts.
We also advise you to figure out how to protect your account in 888 network from hacking in our special material.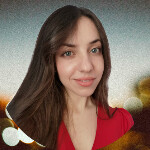 I've been working in the Cardmates team since 2018. Started playing poker the same way most people usually do – socially, with friends and fellow students. I adored those exciting poker nights but never thought my life would be connected with this game, even tangentially.