PokerStars Money Transfer between Players

​
PokerStars room is constantly working to create the most comfortable conditions for its players. It provides its users with the opportunity not only to make deposits using a variety of payment systems, but also with the ability to send funds between accounts.
The PokerStars money transfer system can only be used to replenish the balance of your friends or other players in order to play real money poker. If a player attempts to use this system for fraudulent purposes, the transaction will be canceled and the account will be subjected to security checks.
Instructions for PokerStars Money Transfer
In order to transfer money to another player, you need to take the following steps:


Step 1
Log in to your account. Note that it must be verified.


Step 2
Open the Cashier of the poker room and click on the "Transfer to Player" tab. It is the third one, after Deposit and Withdraw options.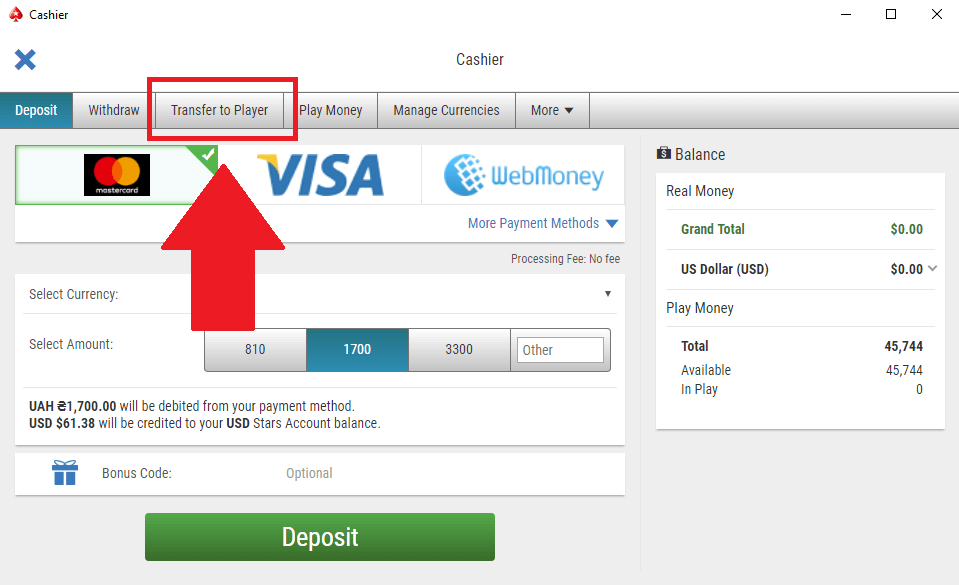 Step 3
Fill in the data in the opened window:
Enter the amount you want to transfer;
Enter the recipient's ID (nickname).


Step 4
Confirm the details of your transfer request by clicking OK. Your request will be sent to the security service for processing, and the funds will be written off from your account.

You may see the following information "The player ID you have entered is not eligible to receive Real Money Transfers". This means that this function is not available for this user. If you are sure that the transfer should be possible, check the spelling of the nickname. You can also contact the room support with this question.


How to transfer play money on PokerStars?
Previously, it was available and the operation was carried out by analogy with the sending of real money. However, player-to-player transfers are currently not available for play money. The reason is simple: each user can receive play money in his account absolutely free of charge at any time. This option is available every four hours and gives you 15,000 chips. Therefore, everyone can get these chips easily without any transfers.

Basic Funds Transfer Rules
PokerStars has imposed some restrictions on the transfer of funds and created rules that protect users from potential fraud:
The minimal transfer amount is $0,01 and the maximal one depends on the player's status and history of the account;
PokerStars money transfer can be used only for the purpose of replenishing accounts of other players who will continue to play in the room using this money;
All restrictions on the transfer of funds are set as an additional security measure of the player's account;
If there are large amounts of money in transfer, the security service of the room may contact you to further confirm the transaction;
Security service of the site may request documents to prove your identity;
The poker room doesn't consider receiving funds from another player as a deposit, so you will not be able to get any bonuses from PokerStars. In order to receive the first deposit bonus, you need to replenish your account yourself.
These transfer rules also apply on PokerStars.es and other skins of the network.

Important!
You should not try to send money between poker rooms. This option only works within the Pokerstars platform. It is also important to consider the currency of your account and the one that should receive the money. These currencies must match, otherwise you will get an error.


PokerStars
100% First Deposit Bonus
Make your first-ever real money deposit using the bonus code 'STARS600', and we will give you a 100% bonus up to $600. To claim the full value of the bonus, you can make up to three qualifying deposits in 60 days.
Alternatively, deposit using code 'THIRTY' and claim $30 of free play.
How the 100% First Deposit Bonus works
Once you've made your deposit, you need to earn redemption points by playing real money games. Unless stated otherwise, you will earn 5 redemption points for every USD $1 you pay in rake or tournament fees (6.5 points per £1, 4 points per CAD $1, or 5.5 points per EUR €1).
Every time you reach 180 redemption points we'll credit your Stars Account with $10 cash. You have four months after each qualifying deposit to earn all the redemption points needed to release your bonus.
You may only take advantage of one of our first deposit offers, but may be eligible for further deposit bonuses open to existing players. You can view any bonuses you have, alongside information on expiry dates, redemption point requirements and more, under the 'My Stars' menu.
Please note that redemption points will not be earned at pot-limit or no-limit tables with blinds of $5/$10 or higher, 8-game tables with stakes of $20/$40 or higher, or other limit games with stakes of $20/$40 or higher.

B

Not available for players from your country
FAQ
💸 Can you transfer money on PokerStars?
Yes, Pokerstars room has a function for transferring funds between players. If it is available for your region, then there will be a special tab in the Cashier. The details of this operation are indicated in our material. To make a transfer, you need to have won money on your account, as well as know the nickname of another player.

💡 How long does it take to transfer money on PokerStars?
If the transfer of funds was successful and you received a confirmation, then most often the recipient will get them within a few minutes. He will also receive a letter with information about the transfer to the email associated with the account. If the funds do not appear on the account within half an hour, we recommend contacting the support of the room.

🎯 Why can't I transfer money on PokerStars?
For some regions, the function of transferring money in the room is not available. You can check the availability of this option in the Cashier or ask the support service. It is also possible to transfer only the money won, and not the money deposited. And you can not send funds to players who have this option blocked.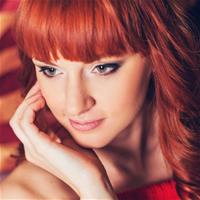 Editor, translator. Part of Cardmates team since 2015. Started playing poker and other card games in high school, played a lot with friends and relatives. While studying at the university, I explored online games on various websites.